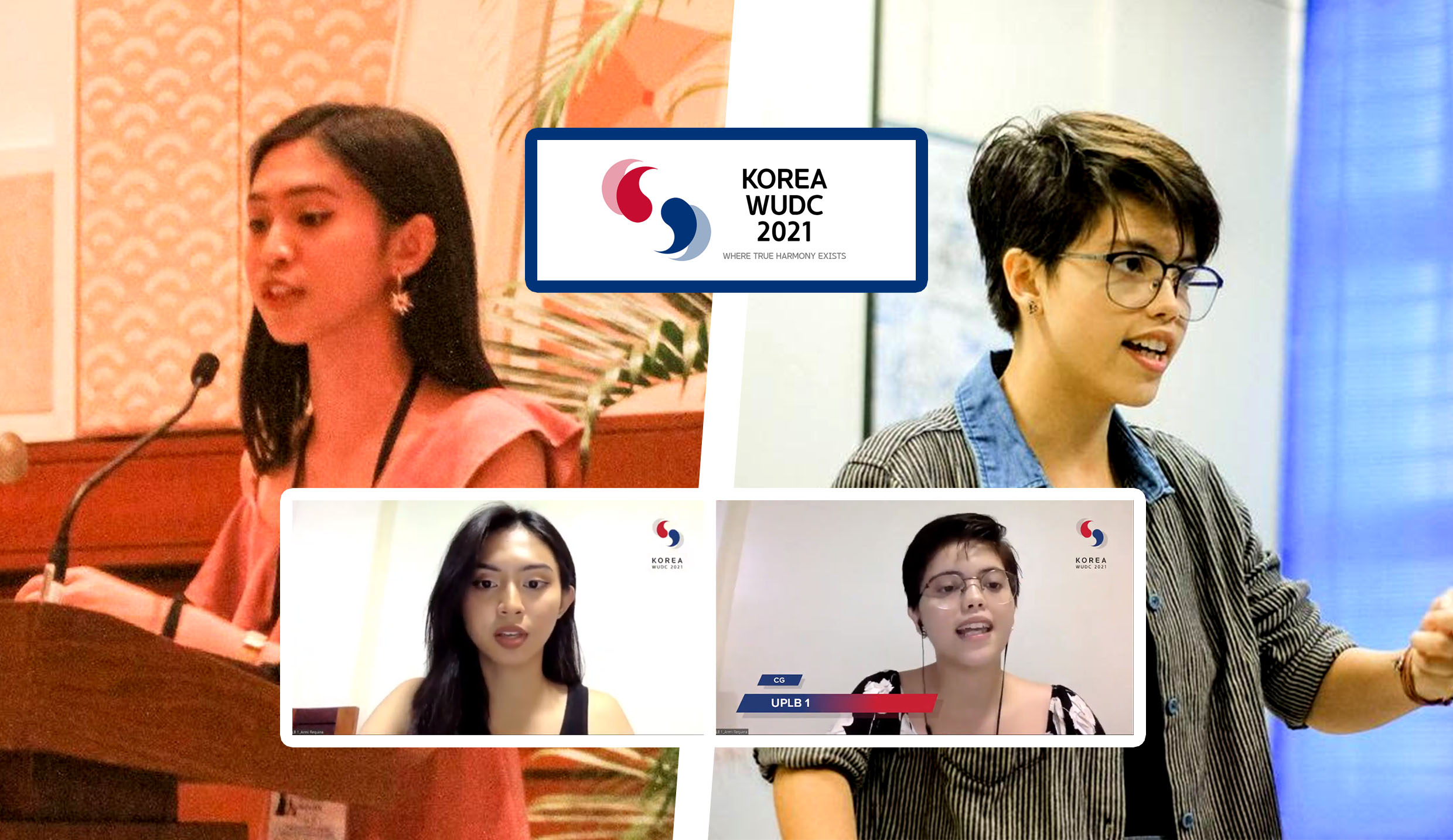 UPLB team rewrites history as it reaches finals in world universities debate
UPLB marked history as Gielarmi Julie Requina, BS Development Communication and Arabelle Iza Barbin, BS Agricultural Biotechnology, both third year students and members of The Parliament: UPLB Debate Society, reached "English as Second Language (ESL) Grand Finals" in the World Universities Debating Championship 2021.
Requina and Barbin recorded a first in the 20-year history of The Parliament in securing a spot in the final series of the most prestigious debating competition in the world, hosted this year by South Korea and held virtually on July 14. The Parliament is the lone recognized debate organization of UPLB.
The debate was a battle of minds on pressing issues in international relations, politics, science and health, technology, religion, and many other topics in a series of elimination rounds which eventually swept other teams out.
With a 15-minute preparation, the UPLB team continued to progress through nine elimination rounds, clinched the quarter and semi-finals, and then finally stepped up to the grand finals.
Beginning with 380 participating teams worldwide, only 16 teams eventually advanced to the quarter finals for the ESL category, and four teams for the championships, namely: UPLB 1 (Philippines), De La Salle 1 (Philippines), Tel Aviv University 1 (Israel), and Zagreb University B (Croatia).
The four teams moved to outwit each other in the battle of minds as they debated on the motion, "This house believes that (THBT) governments would be justified in heavily pursuing Longtermism." Longtermism refers to the idea of focusing on long term gains from a course of action.
"The competition was very huge for me because I've been debating for three years, and when I came into the debating scene noong first year ako, I thought that it was even impossible for me to reach the grands of the nationals, and so coming into the 'world's,' I didn't expect to break. I didn't expect after elimination rounds that I'd get to quarter finals, it was so surprising, so what more sa grand finals. The experience is also so scary as we were competing with so many talented teams around the world," Requina said when asked about her experience.
For her part, Barbin narrated, "it is one of a kind opportunity to get to the world's, because it is more accessible now given that it is now online. We would love to be in South Korea but we know that we can't afford going there. When I was in grands, I was just really focusing on winning. Because I know this might be the first and last time that I might be in the 'world's.' And I wanted it to matter for my university and the country."
The Parliament sent another team to the contest composed of Johann Javier, a junior BS Food Technology student and Rossel Ellaine Betez, a junior BA Communications Arts (BACA) student. They also sent Farley Bermeo, BACA student, as an adjudicator. Moreover, JJ Pine, a Master of Science in Community Development student at UPLB also qualified for the final series as invited adjudicator, one of the selected adjudicators all around the world by the "world's" committee.
"It was hard to catch up sa ibang universities kasi high school pa lang magagaling na sila, kami ni Armi ay ngayong college lang. We have the responsibility to catch up, we have been training every night, reading news and books, all of it every day. Hindi pwedeng wala kang alam today, hindi pwedeng hindi mo alam ang mga nangyayari kasi it might be a topic for debate," said Barbin as they mentioned having a try out inside their organization to identify the most qualified to represent UPLB in the WUDC 2021.
Requina and Barbin expressed how grateful they are to their mentor, Trisha Mapacpac, an alumna of UPLB and The Parliament. "She is our standard of how to represent ourselves on the world's stage, she is our standard on how we were going to train ourselves before "world's." She taught us everything we knew," they mentioned.
The ESL Grand Finals concluded with TAU 1 from Israel claiming the championship. With this, Requina and Barbin left a message for the young and aspiring debaters to always dream big.
"I see all these young Filipino debaters posting on twitter, being so happy because they are finally seeing someone that looks like them, speaks like them, and is from the same country that is already achieving. I personally want them to believe that it's not true that we're a small country; that we're not that famous and that we can't do it; truth is, we actually can, we're one of the best. We did it! I want these young debaters or aspiring debaters, to "dream big." I want them to see that we can do it and we should dream for it," Barbin emphasized.
Requina for her part noted that, "the essence of debate is we get to debate because we have the freedom to speak out and we have the freedom to voice ourselves, that is why debates are important. It is a manifestation of our power to speak out and be part of the truth of creating general ideas of how we understand things because we get to speak for ourselves." (Rizza B. Ramoran)