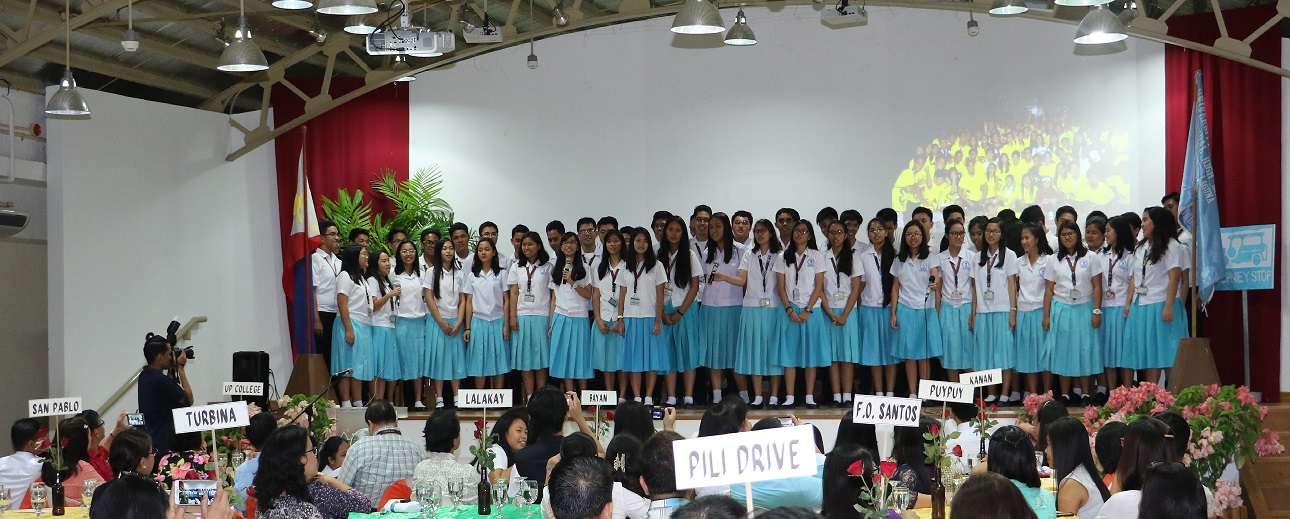 UPRHS honors its top-performing students
The UP Rural High School (UPRHS) hosted two awarding events to celebrate the dedication and determination of its students to their studies.
Sixty-five top-performing Grade 12 students, led by Richelle Mae B. Cortez, were recognized in the Testimonial Program held on May 30 at the Centennial Center for Digital Learning Auditorium at the UP Open University. Top students of Grades 7 to 11 were also honored during the program.
Dr. Rex B. Demafelis, vice chancellor for research and extension, who represented Chancellor Fernando C. Sanchez, Jr., congratulated the honor students for excelling in the new K-12 Basic Education curriculum. He also commended UPRHS for giving students the support that they need to excel and develop their full potential.
On the other hand, over 230 Junior High School (JHS) students celebrated their success at the program on June 1 at the DL Umali Auditorium. The Gawad Parangal was held to recognize their outstanding efforts in their academic and co-curricular activities.
Among the awardees were the top students of JHS: Ronald Alain G. Tavita, John Rozz SJ. Lapitan, Alexandra Hendrich P. Marco, and Mariko S. Tsuji for Grades 7, 8, 9, and 10, respectively. Tsuji received multiple recognitions, including being the most outstanding student in Literatura, Araling Panlipunan, Agham at Teknolohiyang Pang-agrikultura, andEdukasyong Pantahanan. She also received the Dr. Leonido R. Naranja Academic Excellence in Agriculture award.
Dr. Raphael A. Guerrero, chair of the Physics Department at Ateneo de Manila University and silver jubilarian (Class of 1993), was featured as guest speaker during the Gawad Parangal. He encouraged the students to work hard in their future endeavors and be positive influencers. A good student, according to him, should not only be skillful and eloquent, but should also be one who establishes good relationship with people.
Dr. Felino P. Lansigan, dean of the College of Arts and Sciences, and Prof. Liza C. Carascal, principal of UPRHS, spoke in both recognition ceremonies. Dr. Lansigan encouraged the students to inspire others as they continue to show excellence in all their actions; while Prof. Carascal expressed her confidence that the students have received the training needed to overcome the challenges that they will face in the future. Also in attendance were Dr. Jose V. Camacho, Jr., dean of the Graduate School, and UPRHS alumni representatives of Class 1987. (Jessa Jael S. Arana)