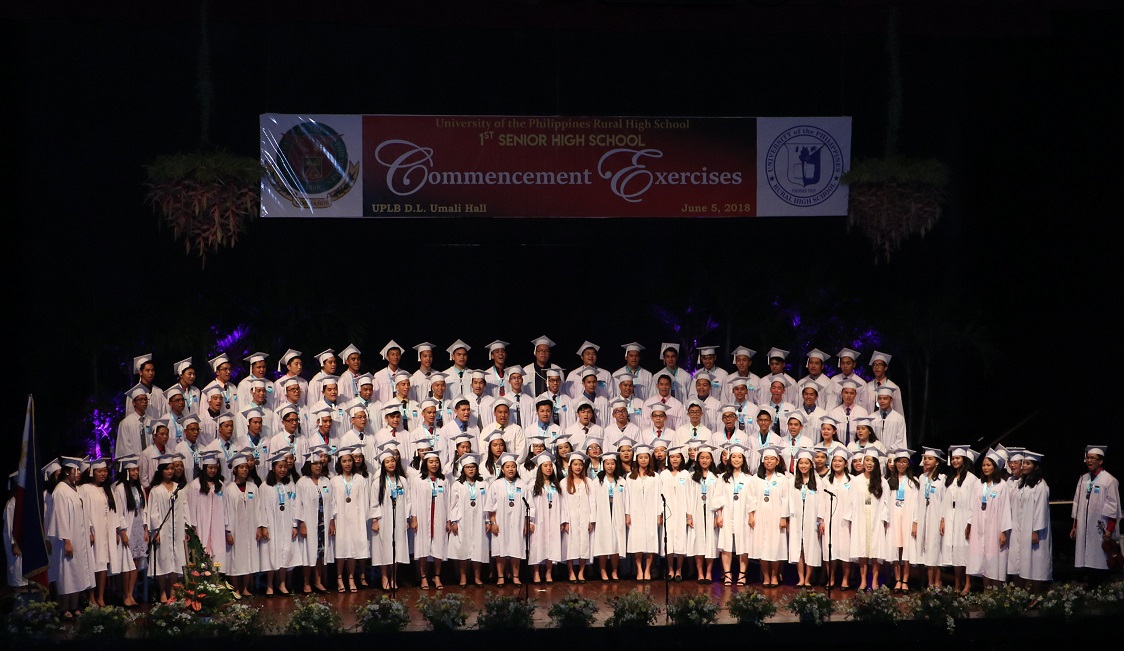 UPRHS produces first 'senior high' grads
"We're climbers who have already conquered several 'mountains' and are now at the peak of the sixth. Together, we explored the uncharted mountains numbered five and six and became the first ever batch of senior high at UPRHS," said Richelle Mae K. Cortez, UP Rural High School (UPRHS) Class 2018 outstanding honor student.
Cortez, who led the 124-strong first batch of UPRHS Senior High School (SHS) graduates, compared their high school journey to that of climbing six mountains, each representing the number of years of the new high school curriculum under the K to 12 Basic Education Program. The graduates received their diplomas during the UPRHS Commencement Exercises on June 5 at the DL Umali Auditorium, UPLB.
"I know you'll believe me when I say that the mountains of UPRHS are especially not easy to climb. Hand in hand, we worked our way through the steepest parts of high school," Cortez continued. Six graduates, including Cortez, finished SHS with high honors while 59 others graduated with honors.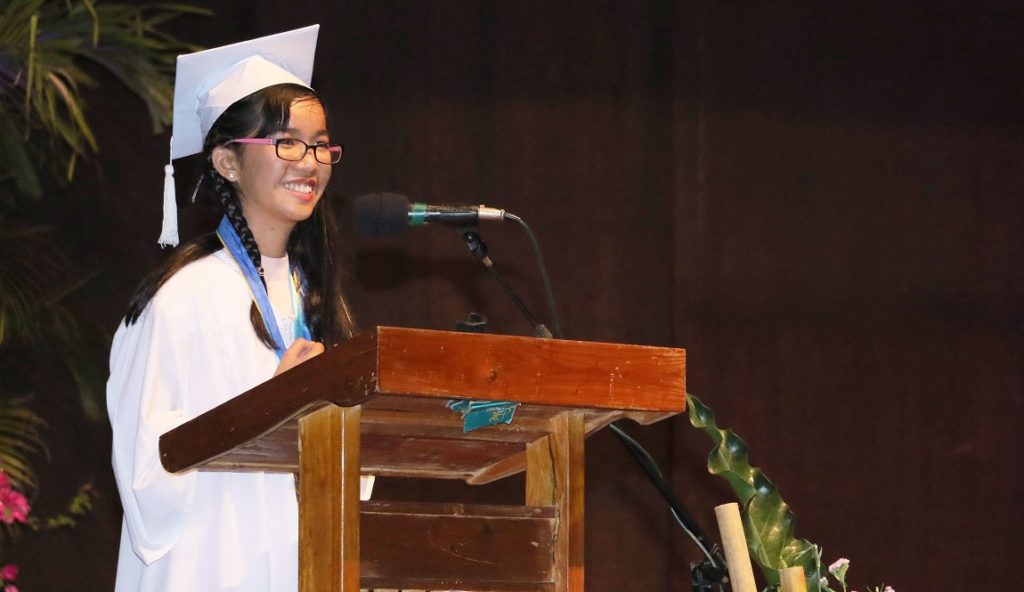 During the ceremonies, UPRHS Principal Liza C. Carascal presented the graduates to College of Arts and Sciences Dean Felino P. Lansigan, who confirmed their graduation. Chancellor Fernando C. Sanchez, Jr. was present in the event.
"Today, you make UPRHS history as the first batch of students to complete the SHS program," Chancellor Sanchez said. "Graduation from high school is a foray into a more complex world. It can be unsettling, it will be challenging, but it promises reward and satisfaction, too," he assured.
Dr. Daylinda Banzon-Cabanilla, retired UPLB professor and member of the UPRHS Golden Jubilarians, served as commencement guest speaker. In her message, she encouraged the graduates to live heroic lives.
"There are many heroes, some are unsung, that you can choose to emulate," Dr. Cabanilla said. She also urged the graduates to set goals and clear advocacies and to spread kindness and gratitude.
Dr. Cabanilla, together with her fellow Golden and Silver Jubilarians, or those who graduated from UPRHS in 1968 and 1993, respectively, were recognized during the program.
The graduates were also sworn in as members of the UP Rural High School Alumni Association, Inc., with its president, Adel Raymond A. Tuason, leading the induction.
This year's special awardees were Cortez, who received the Academic Excellence Award and Best in Science, Technology, and Engineering; Mariella Aubrey R. Gancia and John Robert M. Torres, both with high honors, who were named as Best in Mathematics and Statistics.
Torres also bagged the Best in English and Filipino medals and the Juana P. Gapud Memorial Award. Aia Andrea J. Rodriguez and Airi B. Hashiguchi were awarded as Best in Humanities and Social Sciences and Best in Business Studies, respectively; while Pablo Antonio W. Abuan and John Karl Andre I. Sy were Best in Physical Education. (Mark Jayson E. Gloria)