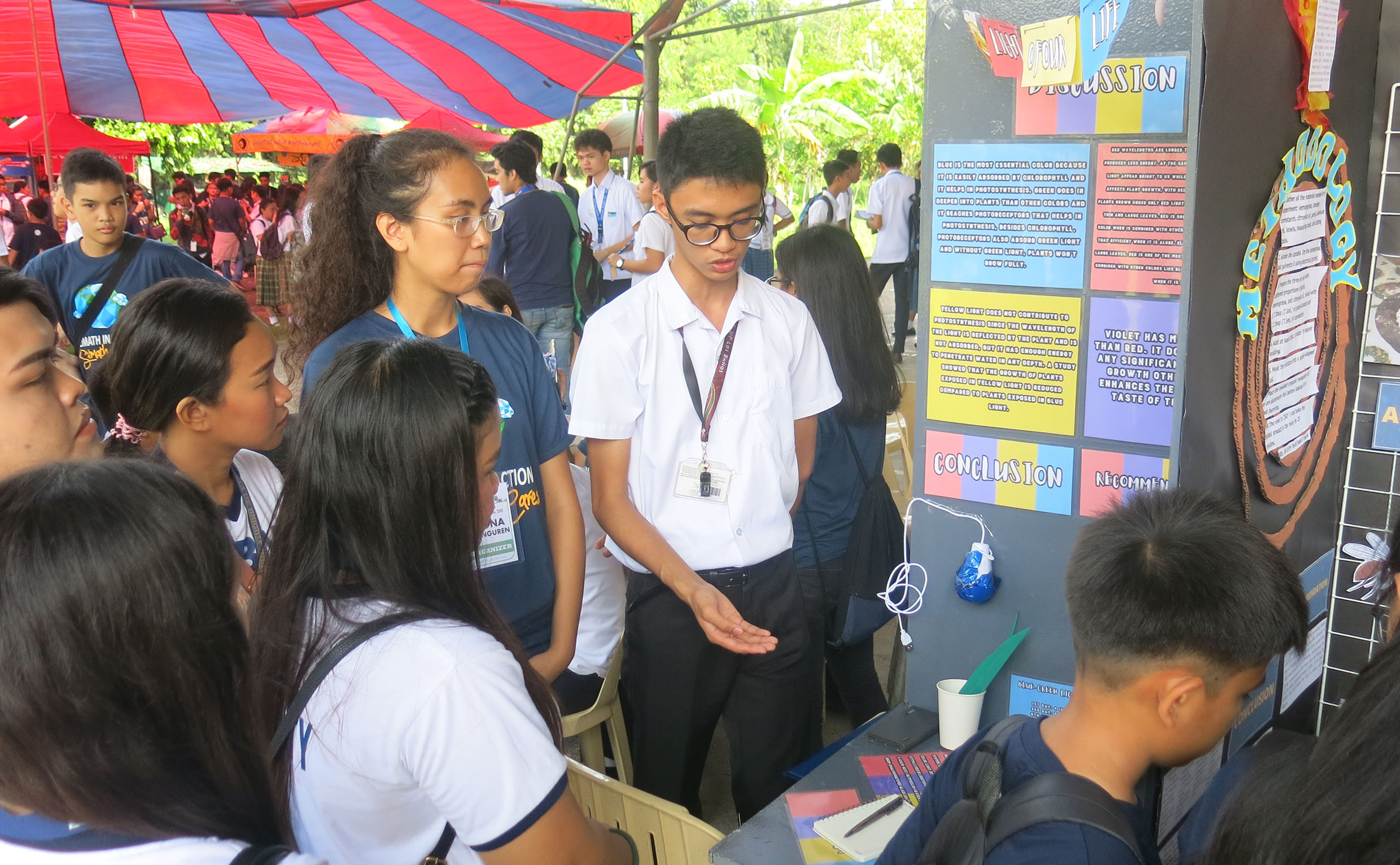 UPRHS Sci-Math Fair focuses on sustainable dev't
Natural resources degradation has long been attributed to man's continuous quest for progress.
It has only been in recent times that development which considers long-term environmental consequences and aims for a balance between technological progress and ecological preservation has been pushed to the spotlight – both as a method and as a perspective.
The importance of inculcating such a mindset to the youth is one that UP Rural High School (UPRHS) has taken to heart with the theme of this year's UPRHS SCIMATH Fair and Exhibits 2019, "SCIMATH IN ACTION: collaborative advances in reaching environmental sustainability."
The three-day event that consisted of seminars, exhibits, lectures, and other activities opened on Nov. 20 with a program that featured speakers from the university, each giving their take on sustainable development.
Rosemarie Eusebio, a faculty member at the Institute of Mathematical Sciences and Physics and program coordinator of BS Math and Science Teaching, lauded the organizers for aligning the fair with sustainable development.
She cited the importance of making the youth aware and involved in environmental and sustainability projects and encouraged the students to apply their learnings on the topic in their daily lives for the sake of environmental health.
Guest speaker Dr. Patricia Ann Sanchez, a faculty member at the School of Environmental Science and Management, discussed the 17 Sustainable Development Goals (SDGs) set by the United Nations and underscored how they are all integrated with one another.
As chair of the UPLB Interdisciplinary Studies Center for Water (Water Center), Dr. Sanchez gave more emphasis on SDG #6 (Clean Water and Sanitation) and how the center has contributed its part to achieve the goal with the conduct of projects on new technologies, geologic assessment, and disaster risk studies.
Dr. Sanchez told the students that a researcher's role was to ensure that the decision-makers of society were equipped with the best-researched information available so that they could craft policies that were grounded in factual science.
Representing Chancellor Fernando C. Sanchez Jr. during the program was Dr. Serlie Barroga-Jamias, vice chancellor for community affairs, who put the spotlight on the importance of "a mindset that places importance on sustainability, inclusivity, and cooperation."
Noting that sustainability was paramount in a world with finite resources that could easily be exhausted if not managed properly, Dr. Jamias put importance on spreading a sustainability and inclusivity-oriented mindset among the youth so that they could appreciate and put it into practice as early as possible.
Joining the speakers was Dr. Gregorio Ardales, officer-in-charge of UPRHS, who said that the fair is an important venue for learning and growth for both students and teachers.
Various elementary, junior high, and senior high schools from CALABARZON and Metro Manila attended the fair that was held at the UPRHS school grounds in Paciano Rizal, Bay town.
It was organized by the Delta Theta Epsilon Science Society (DTESS) and the Algebra Geometry Trigonometry Calculus Statistics (AlGeoTriCS) school clubs. (Albert Geoffred B. Peralta)