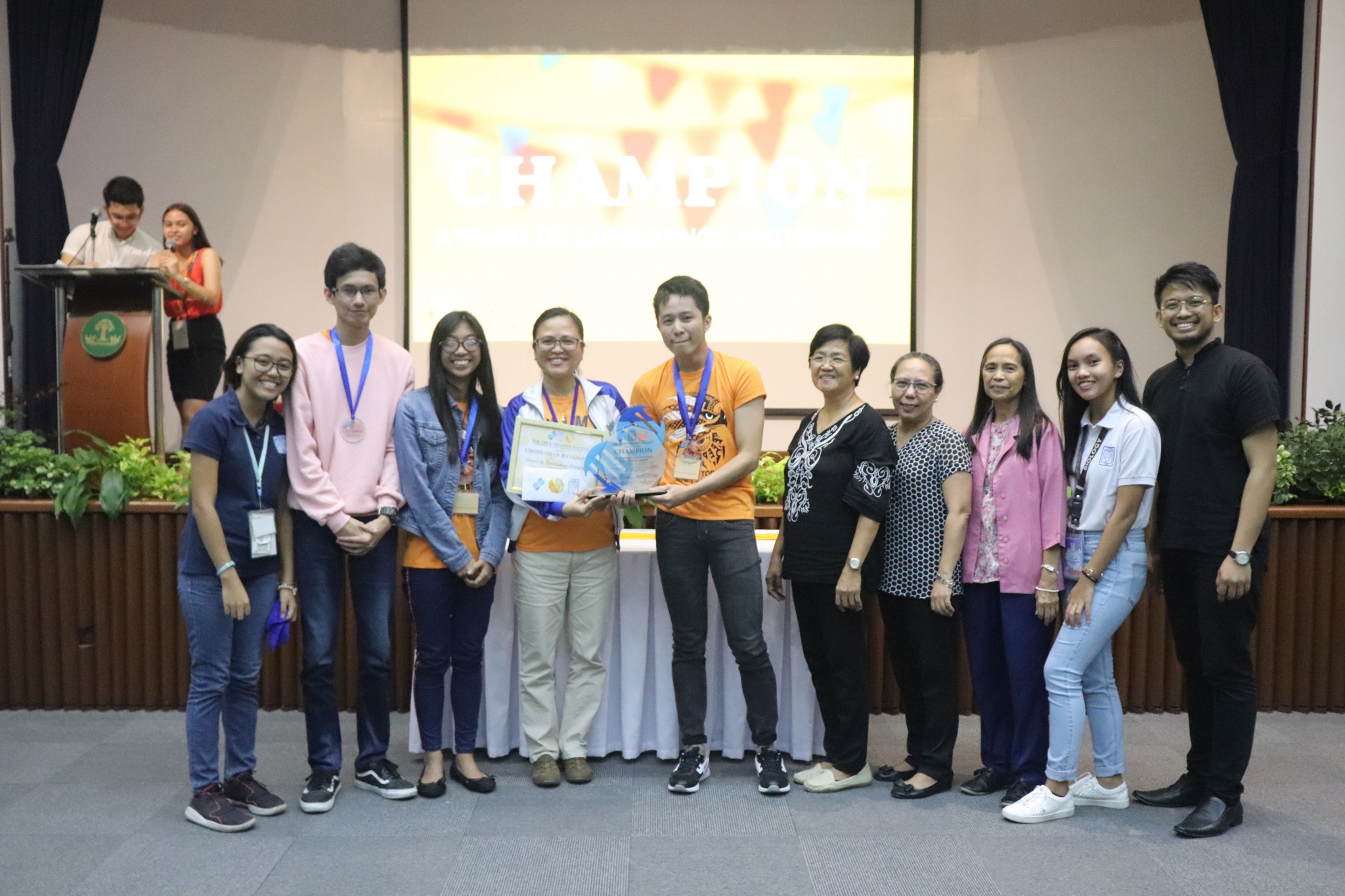 11 schools compete in the nat'l genetics quiz at UPLB
Los Baños, Laguna – Eleven universities from all over the country vied for the top prize at the 9th National Intercollegiate Genetics Quiz Contest (NIGQC) hosted by The UPLB Genetics Society (GeneSoc) held on March 16 at the Umali Auditorium, SEARCA in the UPLB campus.
In a historical feat, Ateneo de Zamboanga University (AdZU) snatched the trophy, becoming the first university from Mindanao to win the title.
"Everything was unexpected because, a while ago, we were already feeling unmotivated, thinking that there was no more chance left. But then we won. Also, the questions were very challenging and it was just luck that we knew the questions being projected. This is where we really banked on," said Ray Joshua Macrohon of AdZU. He and his team mates, Adzhar Tiplani and Najwa Hind Molina, received a cash prize of 15,000, a trophy, certificate of recognition, and a medal each.
Jay S. Valera, Kelly Rome Publico, and Justine Ryan Silvestre of UP Manila bagged the second place, while Gabriel Angelo Estampador, Joseph Raymund Sanchez, and Marianne Louise Antonio of Ateneo de Manila University (ADMU) ranked third. The UP Manila and ADMU teams received certificates of participation, medals, and a cash prize of 7,000 and 5,000 pesos, respectively.
Joseph Raymund Sanchez of ADMU was recognized as the top scorer for the individual round.
With the contest theme "Nourishing the Genome: Advancing the Conditions of Human Health through Nutrigenomics", the opening the program was graced by Dr. Glenn B. Gregorio, GeneSoc alumnus and incoming SEARCA director, who shared historical insights about NIGQC and some winning tips to the participants.
Blaire Jazlin de Borja, head of the activity, gave the general guidelines and contest mechanics. "This year's theme was to shed some light on how our genes can be affected by the food and drugs we intake; that nutritional genomics is still an emerging topic, and that this could be a good platform to discuss it," said de Borja.
A lecture seminar on Nutritional Genomics was given by Jacus Nacis, research specialist at the Food and Nutrition Research Institute of the Department of Science and Technology.
"A number of participating schools from all over the country, several supporting sponsors, distinguished guests and alumni, and hardworking members working for a successful NIGQC 2019 are manifestations of GeneSoc's never-ending passion and excellence anchored on UP's motto," said Michelia Merrill Linne Malabrigo, GeneSoc's executive committee head.
Other competing universities included the Bulacan State University, last year's defending champion, Mariano Marcos State University, Miriam College, Pamantasan ng Lungsod ng Maynila, Pangasinan State University, Polytechnic University of the Philippines, Southern Luzon State University, and Virgen Milagrosa University Foundation.
The 9th installment of the NIGQC was sponsored by Bayer, DekaLB, Diamed Enterprise, Pro-seeds Development Association Inc., ArmanCanDoIt! Ltd., Jared Genio and family, Jindra Samson, Bonito's Bar and Restaurant, Eat-Sumo Teri Haus, and The Original Buko Pie Bakeshop, in partnership with the Genetics and Molecular Biology Division of the Institute of Biological Sciences. (Jickerson P. Lado, Photo courtesy of The UPLB Genetics Society, AdZU interview courtesy of Sean Lemuel Santos)