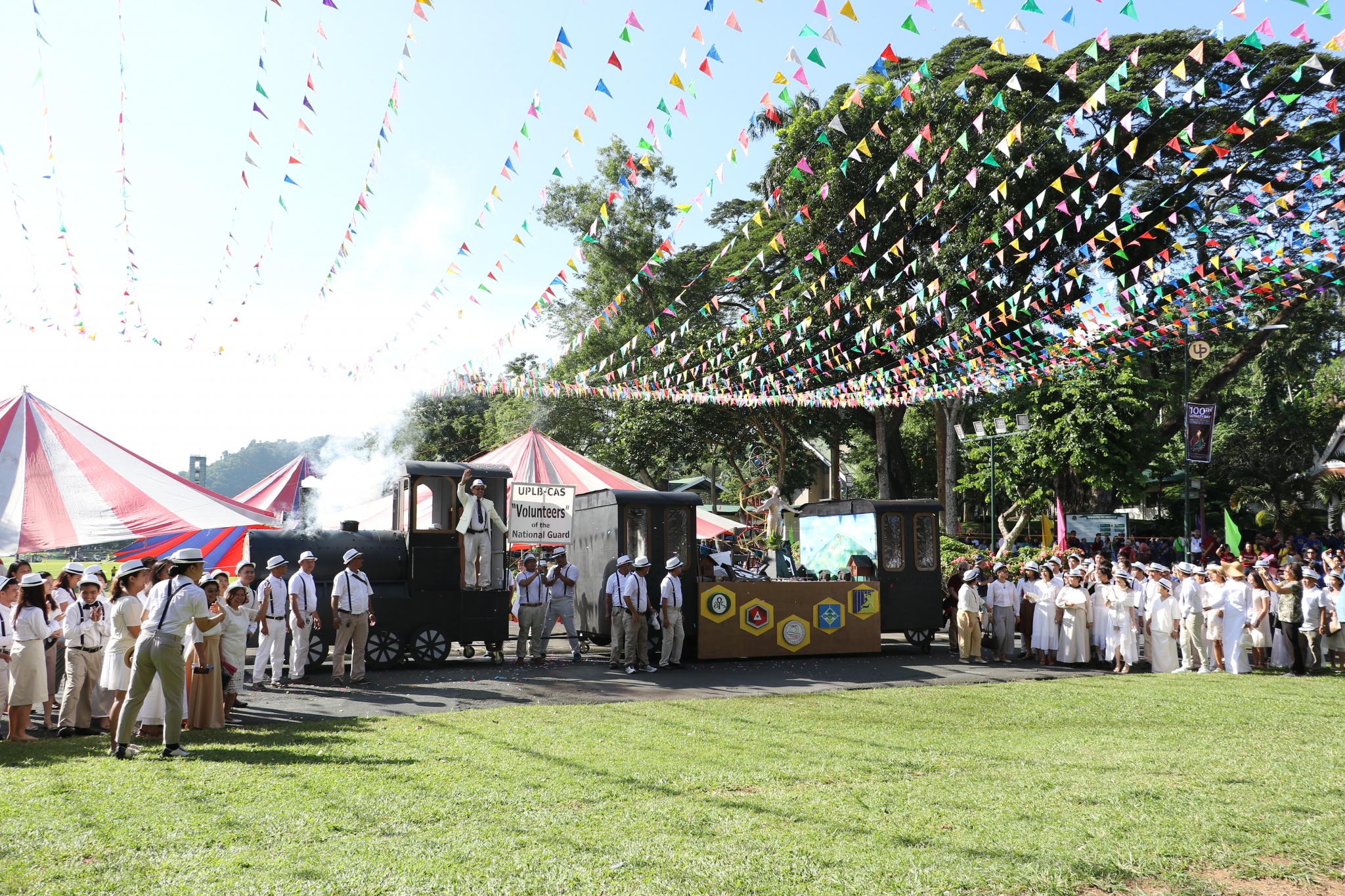 2018 best float brings LD milestone to life
Had they lived to this day, UP College of Agriculture (UPCA) pioneers must have been filled with nostalgia to see a moving masterpiece honoring their historic volunteerism to the Philippine National Guard (PNG) 100 years ago.
This volunteerism led to the annual Loyalty Day, which UPLB has been celebrating for a century now.
A replica of a late 19th century-model train, and men and women dressed in American colonial period fashion who came alongside the train as it rolled, was the College of Arts and Sciences' tribute to the UPCA volunteers.
It reenacted the volunteers' trip from UPCA to the PNG training camp in Parañaque a few weeks after their mass enlistment to fight in World War I.
The pioneers have not seen the float, but it impressed the judges and delighted the audience at the float competition during the Centennial Loyalty Day Parade on Oct. 10, making CAS this year's champion.
The official description of the CAS' float read "Katapatan, karangalan, at kagitingan ng mga iskolar ng bayan para sa bayan," reiterating the virtues of loyalty, honor, and bravery that have always been associated with that singular act of heroism of the UPCA volunteers.
CAS bested 14 other entries in the annual contest, including the College of Agriculture and Food Science, this year's second placer, and the College of Veterinary Medicine, third placer.
The entries of the College of Forestry and Natural Resources and the College of Engineering and Agro-industrial Technology bagged the most creative and most symbolic awards, respectively.
The parade served as the biggest activity of the Centennial Loyalty Day in terms of community participation.
UPLB officials, past administrators, faculty members, research, extension, professional, and administrative staff, and students took part in the parade that started at 7 AM from Jose B. Juliano Ave. and ended at the DL Umali Hall.
Joining the parade were the golden jubilarian Class of 1968 and other UPLB jubilarians, or those who graduated in years ending in 3 and 8.
Staff members of agencies under the Los Baños Science Community Foundation, Inc. and other partner organizations of UPLB also showed up at the parade.
The Local Government Unit of Los Baños provided intermission numbers with the street dance presentations from the winners of the local Bañamos Festival's "Bayle sa Kalye" and the rendition of the "UP Naming Mahal," UP's official hymn, from the Los Baños Municipal Brass Band.
Prior to the parade, UPLB officials and staff flocked at the DL Umali Freedom Park to form the "Human 100" symbolizing the centennial celebration.
Following the parade was the luncheon salu-salo that the alumni and staff participated in. A campus tour on Oct. 7 and in the afternoon of Oct. 9 was also held for returning alumni. Philippine games were also held at Baker Hall at 2 p.m. on Oct. 9, a cultural night followed by fireworks display at 8:30 in the evening. (Mark Jayson E. Gloria)