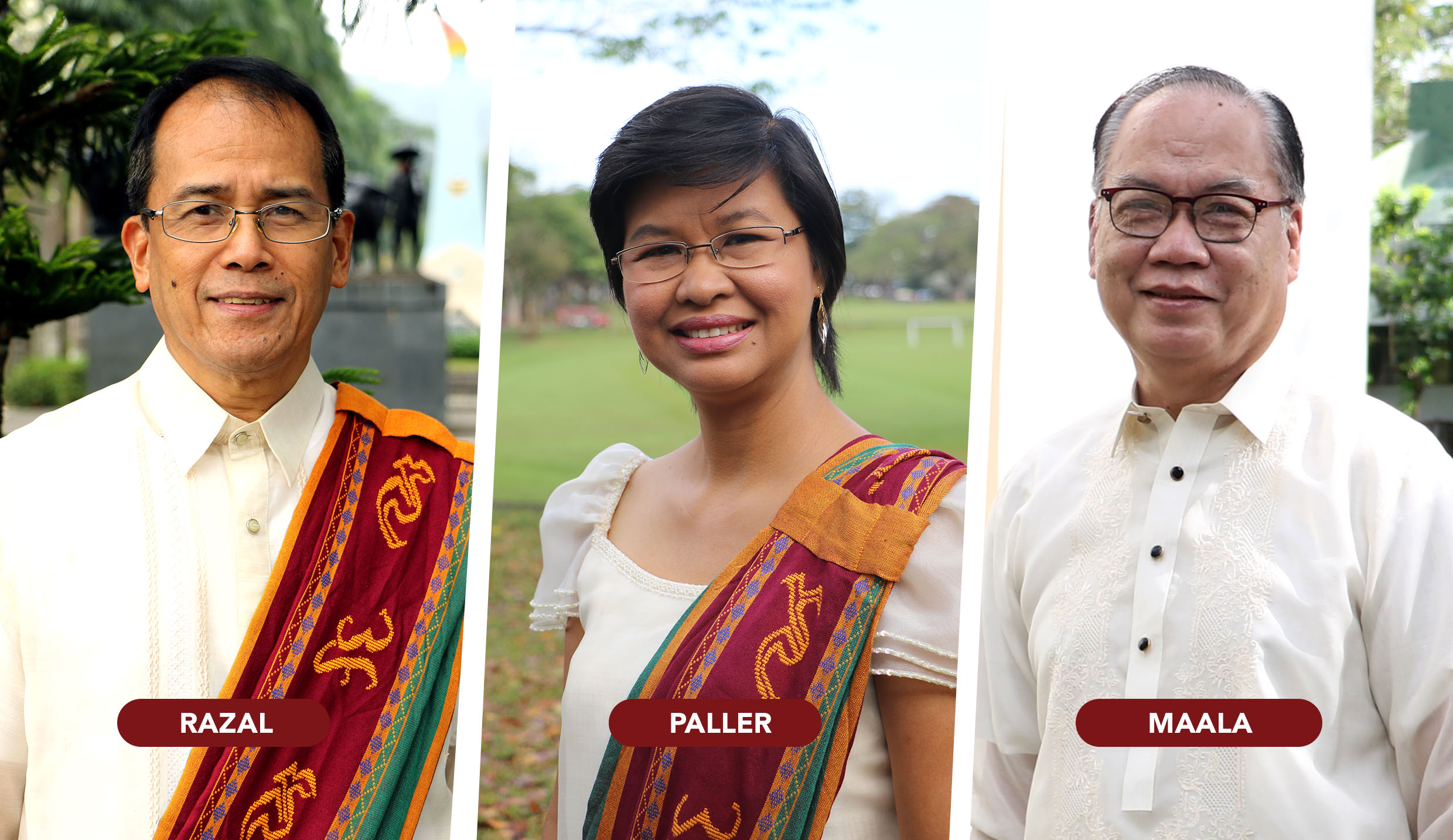 3 from UPLB to get NRCP awards
Three UPLB faculty members are among nine who will be given the NRCP Achievement Award and the NRCP Member Emeritus Award on the occasion of its 88th General Membership Assembly.
NRCP is the country's largest collegial body and premier agency for basic and fundamental research.
To receive the 2020 NRCP Achievement Awards are Dr. Vachel Gay V. Paller for biological sciences division and Dr. Ramon A. Razal for agriculture and forestry division.
Dr. Ceferino P. Maala will receive the 2020 NRCP Member Emeritus, Cluster 4 title.
Dr. Paller is a faculty member at the Institute of Biological Sciences of the College of Arts and Sciences who has made outstanding contributions in parasitology research. Her work fostered interdisciplinary and interagency approaches in addressing parasite control and prevention in resource-poor communities in the country.
She advocates the promotion of ONE HEALTH through evidence-based research, teaching, and extension.
A multi-awarded teacher and researcher, she is slated to receive another recognition – the Outstanding Researcher in the Natural Sciences Award from UPLB on March 6 at its 112th Foundation Day celebration.
She authored the NRCP Monograph entitled "Fish Parasites as Heavy Metal Absorbents" and was the project leader of the NRCP-funded project "Diversity and Ecology of Acanthocephalan Parasites in Freshwater Fishes from the Seven Lakes of San Pablo City, Philippines and their Potential as Heavy Metal Bioindicators." Dr. Paller has published over 50 original scientific articles in high-impact journals.
Dr. Razal is a full professor at the Department of Forest Products and Paper Science of the College of Forestry and Natural Resources (CFNR) where he was dean for two terms, from 2002 to 2005 and from 2005 to 2008. The deanship capped a series of administrative positions that he held at the CFNR.
His expertise is in wood chemistry and non-timber forest products (NTFP). His work in the latter, especially on bamboo and resin, contributed greatly to enriching knowledge and providing policy support to improve the lives of people in forest communities.
Dr. Razal is a well-published author of scientific papers in indexed and peer-reviewed journals, books and book chapters, and technical reports.
A string of awards are proof of his caliber as a teacher and researcher, the most recent of which are the 2020 UPLB Outstanding Senior Researcher in the Natural Sciences and the 2019 Kapisanang Kimika ng Pilipinas-Southern Tagalog Chapter Distinguished Achievement Award in Research.
Dr. Maala, a doctor of veterinary medicine is an Academician of the National Academy of Science and Technology and a professor emeritus of UPLB.
He is an expert in veterinary anatomy, especially of the Philippine water buffalo. His researches on its anatomy have significantly contributed to the improvement of Philippine water buffalo production.
Dr. Maala's monitoring work includes the muzzle and palatine printing method which could be adapted as alternative methods in the identification of the Philippine water buffalo.
Despite having retired from teaching, he still teaches graduate courses and serves as thesis adviser to both undergraduate and postgraduate veterinary medicine students.
He is a recipient of outstanding teacher and researcher awards in veterinary medicine by professional and scientific groups in the country.
Three of the 15 members of the NRCP Governing Board are faculty members of UPLB. These are Dr. Renato Vega from the College of Agriculture and Food Science for Division VI, Agriculture and Forestry; Dr. Ramon Christian Eusebio from the College of Engineering and Agro-industrial Technology, Division VII, Engineering and Industrial Research; and Dr. Jomar Rabajante, from the College of Arts and Sciences and recently appointed dean of Graduate School as member-at-large. (JMBo with reports from "DOST-NRCP honors nine outstanding members" from http://bit.ly/3kzZ8ky)