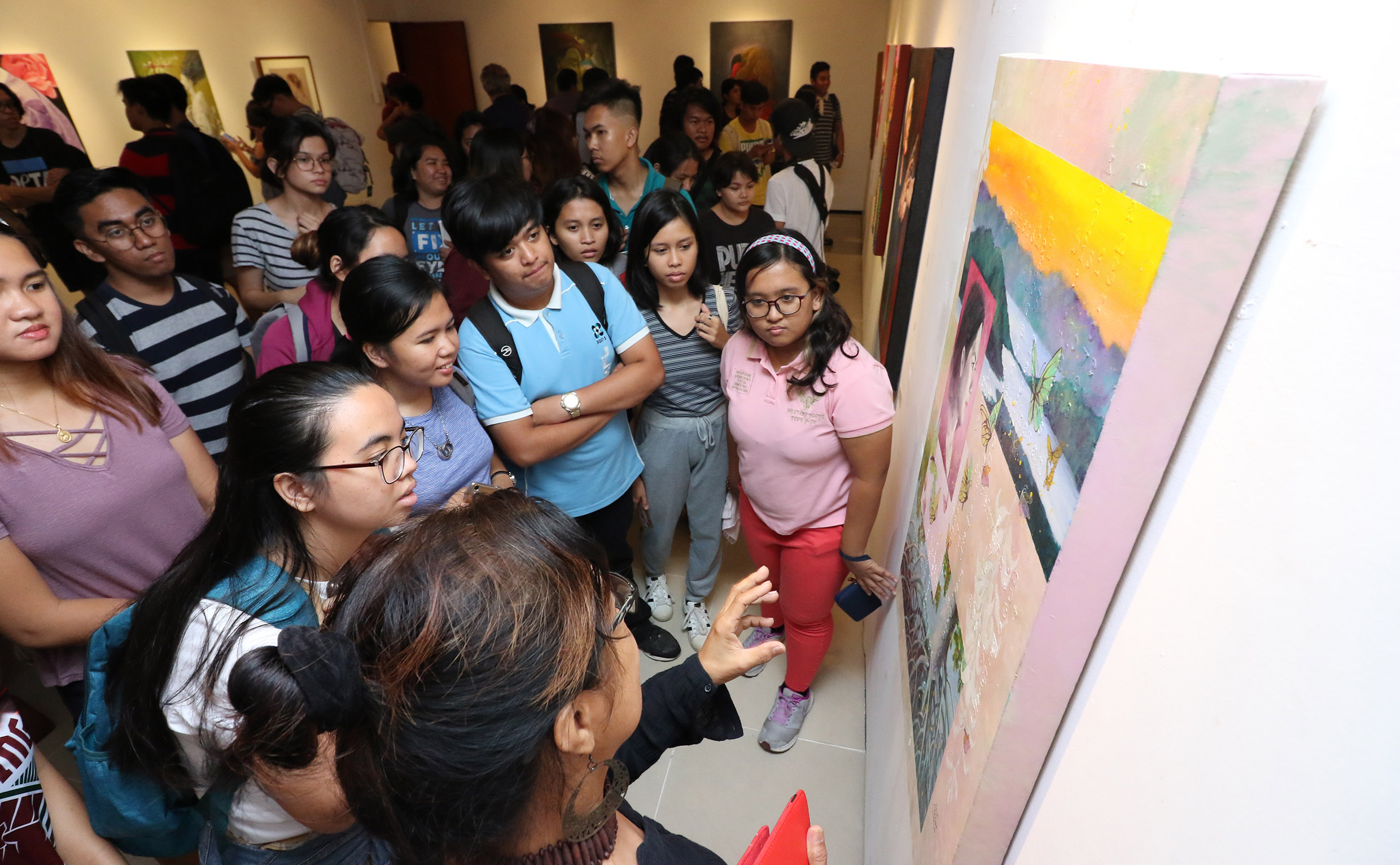 A convergence point for people and the arts
In a university that is known more for scientific research, endeavors in the arts and humanities can be easily overlooked.
But with the Office for Initiatives in Culture and the Arts (OICA), the rich arts and culture scene at UPLB, inspired in part by its unique campus life and Makiling's biodiversity, more venues have been provided to showcase artists' work and make them closer and more accessible to the UPLB community.
From 2017 to September 2020, OICA hosted 15 visual arts exhibits that showcased different mediums and styles. The Sining Makiling Gallery at the basement of the DL Umali Hall saw featured artists ranging from professors to students, and from amateurs to award-winning artists across generations.
Their works reimagined stories and spotlighted realities, such as those in the exhibit RE_TALE: Philippine Tales Retold, which re-envisioned myths and legends for a new generation of Filipinos through watercolor, acrylic, and mixed media illustrations, and Herstories, which highlighted the experiences of women for National Women's Month through paintings and art installations.
Others celebrated the natural world and reflected on humanity's role in protecting it, like in the exhibits Endemicity 101 and Art in Biodiversity that both showcased the unique flora and fauna of the Philippines and Southeast Asia and brought to light their endangerment as well.
Aside from promoting the visual arts, OICA was also called to lead in cultural events, such as in UPLB's Christmas Tree Lighting ceremony. To add to the festivities of UPLB's iconic Christmas décor, OICA would tap UPLB performers to regale the waiting crowd and showcase UPLB talents at the accompanying Pasko sa Elbi concerts.
The highly acclaimed UPLB Chorale Ensemble, UPLB Street Jazz Dance Company, UPLB Filipiniana Dance Troupe, and homegrown academic-artist Dr. Antonio Jesus Quilloy of the College of Economics and Management are only some of the colorful acts who have graced the concert in recent years.
OICA also brought the country's best and internationally acclaimed Philippine Philharmonic Orchestra to UPLB in a free, open-air concert on May 4 that thousands of audience from UPLB and nearby communities enjoyed. The concert was entitled "Symphonic Sunsets at Makiling."
But OICA did not stop at presenting art to the public. It has also partnered with masters and organizations to help more budding artists develop their skills.
It has consistently hosted the yearly Makiling Arts Exchange Workshops which offers short midyear courses for public speaking and movement for theater. It also collaborated with Ang Illustrador ng Kabataan, a.k.a. Ang InK, to host workshops for painting and drawing.
These workshops welcomed participants of all ages who were given the chance to learn from experts for an affordable fee.
Through these activities, OICA has helped many artists connect with a wider audience. It has opened doors for more people to appreciate artistic expression and renew their perspective through a creative and humanistic lens. (Jessa Jael S. Arana)