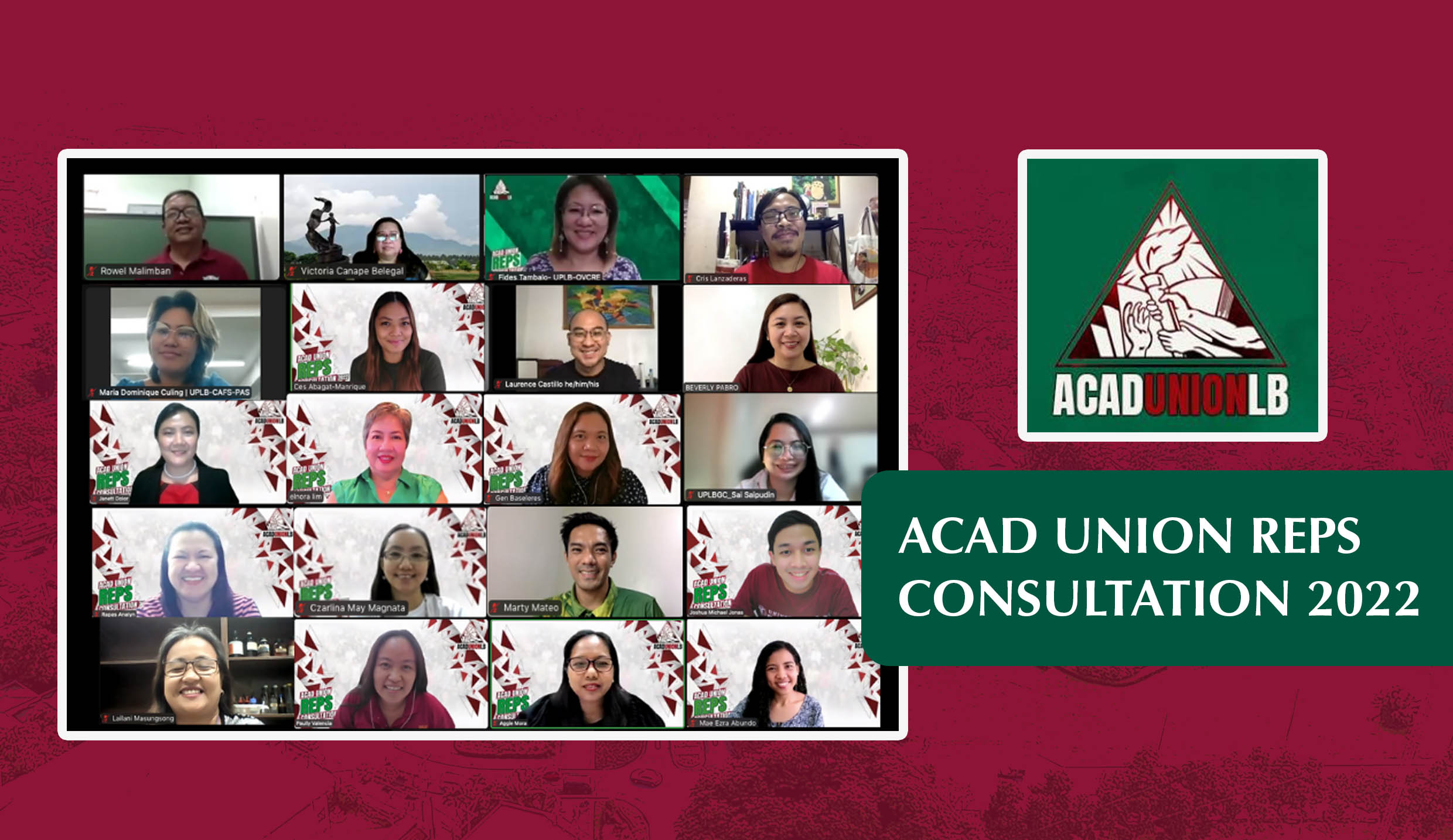 Acad Union LB holds REPS Consultation 2022
The All UP Academic Employees Union – Los Baños (Acad Union LB) recently held a three-day consultation with the university's research, extension, and professional staff (REPS). The virtual consultation was convened via online conferencing on April 4, 6, and 8. This is the first ever consultation of the Union with the REPS sector of the university.
The consultation aimed to discuss the current issues and rising needs of the REPS sector of UPLB and the UP System. The consultation also served as a venue to raise suggestions and future programs and services for the REPS sector.
In his welcome remarks, Cris R. Lanzaderas, president of the Acad Union LB, emphasized that dialogues such as these are an integral part of addressing issues and improving the welfare of the university's constituents.
The first resource speaker was Rowel Malimban, Acad Union LB's vice president for the REPS sector. Malimban provided a historical background of the sector, its current socio-demographic profile, the national issues and concerns affecting them, the corresponding solutions, and the possible benefits and support for the sector.
Dr. Fides Z. Tambalo, assistant to the vice chancellor for research and extension, served as the second speaker in the consultation. She discussed the recently launched UPLB AGORA (Accelerating Growth through One Research & Extension in Action), the unified research and extension agenda program of the university.
Tambalo mentioned the initiatives of the Office of the Vice Chancellor for Research and Extension for the REPS sector such as the UPLB REPS Development Fund, UPLB REPS Welfare Council, UPLB REPS Personnel and Fellowship Committee, and the merit promotion of REPS. She also discussed the current issues of the UPLB REPS sector and the steps the university is taking to address these.
The last speaker, Staff Regent Victoria C. Belegal, presented updates from the Office of the Staff Regent, including its programs and activities since she assumed the position in October 2021.
She also discussed issues raised in recent dialogues and consultation meetings regarding the current challenges of the administrative and REPS sectors of the different constituent universities of the UP system.
Belegal presented her plans of action and gathered additional suggestions regarding possible programs and initiatives.
After the presentations, an open forum was convened for the panel and the attendees where they raised clarifications and suggested solutions to address REPS concerns.
Beverly R. Pabro, Acad Union LB vice-president for REPS and chairperson of the organizing committee, presented the certificates of appreciation to the speakers and gave a closing message.
She expressed her heartfelt gratitude to the participants and the members of the committee who helped organize the event. She also acknowledged those who served as moderators and rapporteurs of the three-day consultation.
The Acad Union LB will soon hold a similar activity for its faculty sector. (Joshua Michael G. Jonas)