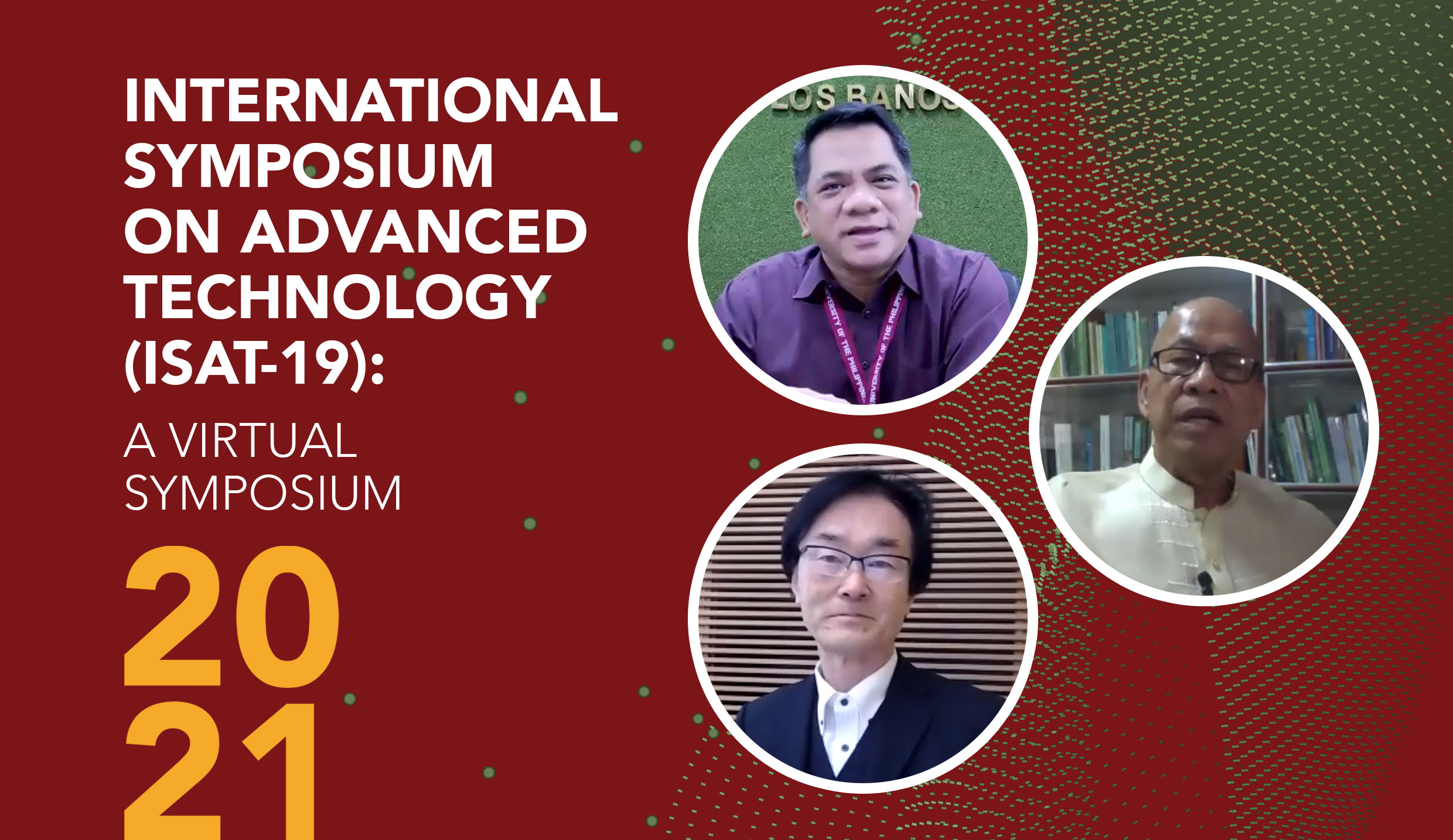 Advanced tech for food and nutrition security highlighted in UPLB-hosted symposium
"With the advent of the Fourth Industrial Revolution, it is important that we assess how the latest technologies and scientific breakthroughs in other fields can be applied toward food and nutrition security via food engineering."
This was how Chancellor Jose V. Camacho, Jr. underscored the important role of engineering in food security at the 19th International Symposium on Advanced Technology (ISAT-19) held virtually on Jan. 14.
Chancellor Camacho pointed out how through its research, the College of Engineering and Agro-industrial Technology (CEAT) can be a strong force in attaining the objectives of the conference's theme, "Engineering Innovation for Food and Nutrition Security."
Chancellor Camacho enumerated some of CEAT's published researches, namely: near-infrared spectroscopy for rapid differentiation of commercial soy sauces and for prediction of maturity and quality of mangoes; modified atmosphere packaging for low temperature storage of dragon fruit, and the development of farm equipment such as a solar heat-assisted egg incubation system and an electric hand tractor or e-Tractor for agricultural operations.
"These researches help in the creation not only of a future-proof UPLB, but also of future-proof societies, by keeping up with the global standards and by developing technologies meant to better the nation's agricultural sector and food industry," Chancellor Camacho said.
In his keynote speech, Dr. Eufemio T. Rasco, Jr., academician of the National Academy of Science and Technology, enumerated shorter food miles, greater farmer share of consumer dollars, disaster-proofing, low external input, health and nutrition of consumers, and minimal environmental impact as design parameters in transforming the existing food system.
He challenged engineers and scientists to aid in decentralizing low-cost energy systems, creating multipurpose machines and diagnostic tools for farming and food processing, and promoting circularity in the food system.
"Understanding the problem of food security and nutrition as a systems problem requires a holistic view and solutions that are based on the recognition of interconnectedness of steps and processes. Our present food system is dysfunctional. To correct it requires transformation or a redesign rather than piecemeal improvements," said Dr. Rasco, who is also former executive director of the Philippine Rice Research Institute or PhilRice.
In another keynote segment titled bright and dark sides of wheat flour foods, Masaharu Yamada, a professor at the Department of Applied Chemistry School of Advanced Engineering in Kogakuin University emphasized the negative effects caused by wheat flour foods such as allergies and intolerance.
He mentioned baker's asthma which is a respiratory allergy caused by inhaling wheat flour. "The wheat flour directly invades the blood vessels from the alveoli," explains Prof. Yamada who also advised breadmaking operators to wear a mask.
Yamada also discussed the celiac disease which is a dietary intolerance that can be caused by wheat. "Celiac disease is a long-term immune disorder that primarily affects the small intestine. It causes an inflammatory reaction and may produce shortening of the villi lining in the small intestine. Damage to the small intestinal mucosa will result in poor digestion and absorption," Yamada added.
Plenary talks, keynote lectures, oral and poster presentations in the symposium tackled topics on food and health, artificial intelligence and smart systems, information and communications technology, mechanical and manufacturing engineering, energy and transportation, and architecture and civil engineering.
CEAT, this year's host, was officially recognized as a member of the ISAT consortium in 2017.
ISAT is an annual event organized and spearheaded by Japan's Kogakuin University of Technology and Engineering since 2002.