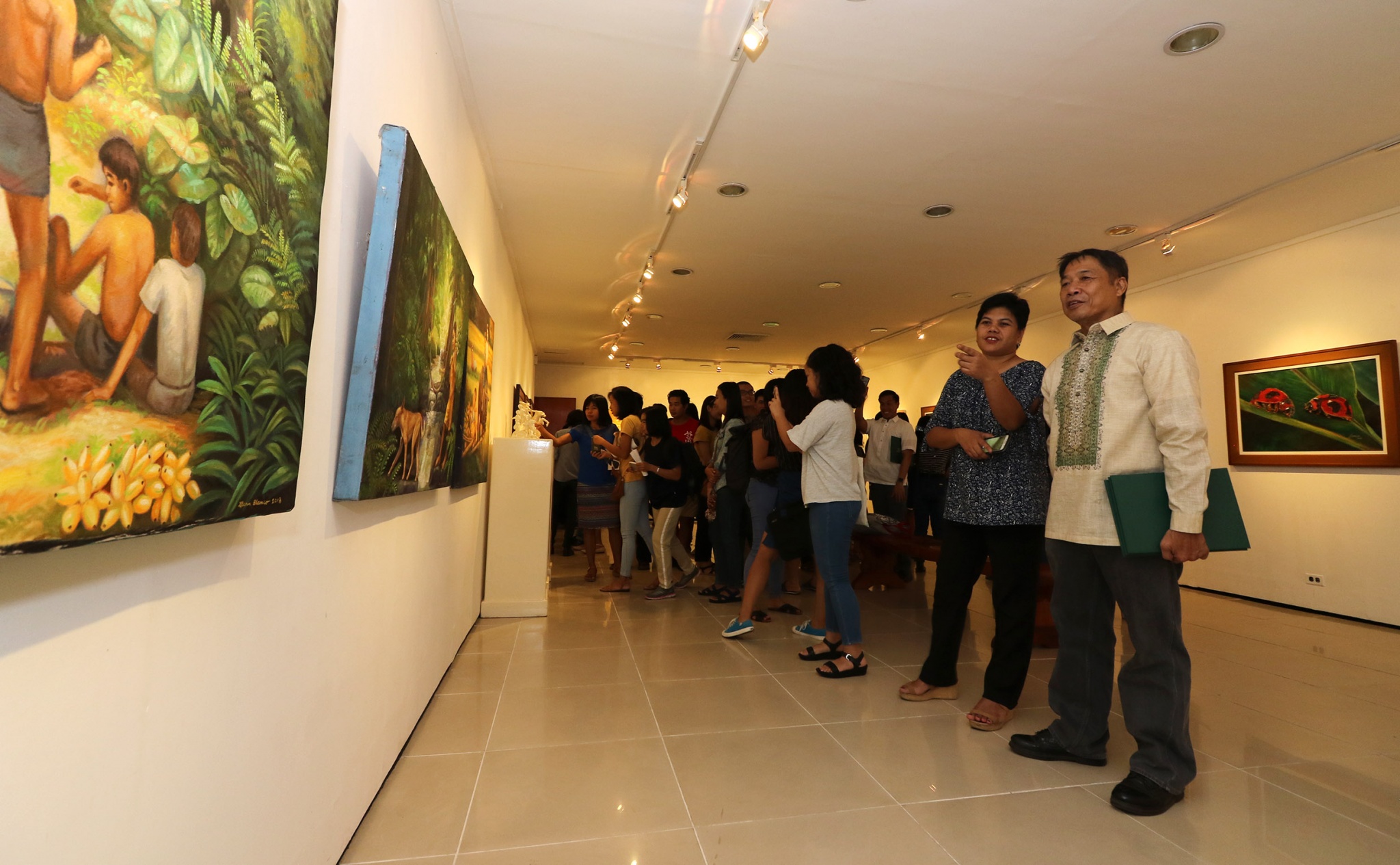 AgEcon dept pays homage to agriculture in art exhibit
An art exhibition that pays tribute to agriculture officially opened the centennial celebration of the Department of Agricultural and Applied Economics of the College of Economics and Management (CEM-DAAE).
The exhibit entitled "August Rush: The Stunning Life in Agriculture," was launched at the DL Umali Hall on Aug. 13 in cooperation with the Office for Initiatives in Culture and the Arts (OICA).
"We've been feeding the minds of several aspiring agricultural economists for a hundred years. This year, we want to feed not only the minds but also the heart and the soul. That's why we are starting our centennial celebration with an art exhibit," said Dr. Antonio Jesus Quilloy, chair of DAAE.
Dr. Quilloy, hailed as UPLB's outstanding artist this year, is one of the nine artists in "August Rush" who made their creative rendition of agriculture using different medium, styles, and techniques.
His fellow artists are Aaron Sta. Cruz, Bing Famoso Tac-an, Karla Sajona-Sta. Cruz, Jowee Aguinaldo, Sarah Cueno, and the Blanco Family composed of Glenn, Gem, and Deo.
Gracing the exhibit's first day was Dr. Portia G. Lapitan, vice chancellor for academic affairs, who, on behalf of Chancellor Fernando C. Sanchez, Jr., expressed appreciation for the agriculture-themed exhibit.
"Here in the Philippines, where a significant portion of the population is engaged in agriculture, a deeper awareness of how agricultural development drives economic development is vital in ensuring tangible support for improving the agriculture sector," Dr. Lapitan said.
Part of the proceeds of the exhibition will be donated to the Applied and Agricultural Economics Society, Inc. in support of the department's planned scholarship and financial assistance program for students.
DAAE, which was founded as the Department of Rural Economics in 1919, is the precursor of the present-day CEM. The department currently serves as one of the four degree-granting units of CEM.
Earlier in July, CEM marked its 100th anniversary in reference to the founding of DAAE, while the department's culminating programs for its centenary will be held in October.
"August Rush" is open to the public from 8AM to 6PM, Mondays to Fridays, until Aug. 31. (John Glen S. Sarol)