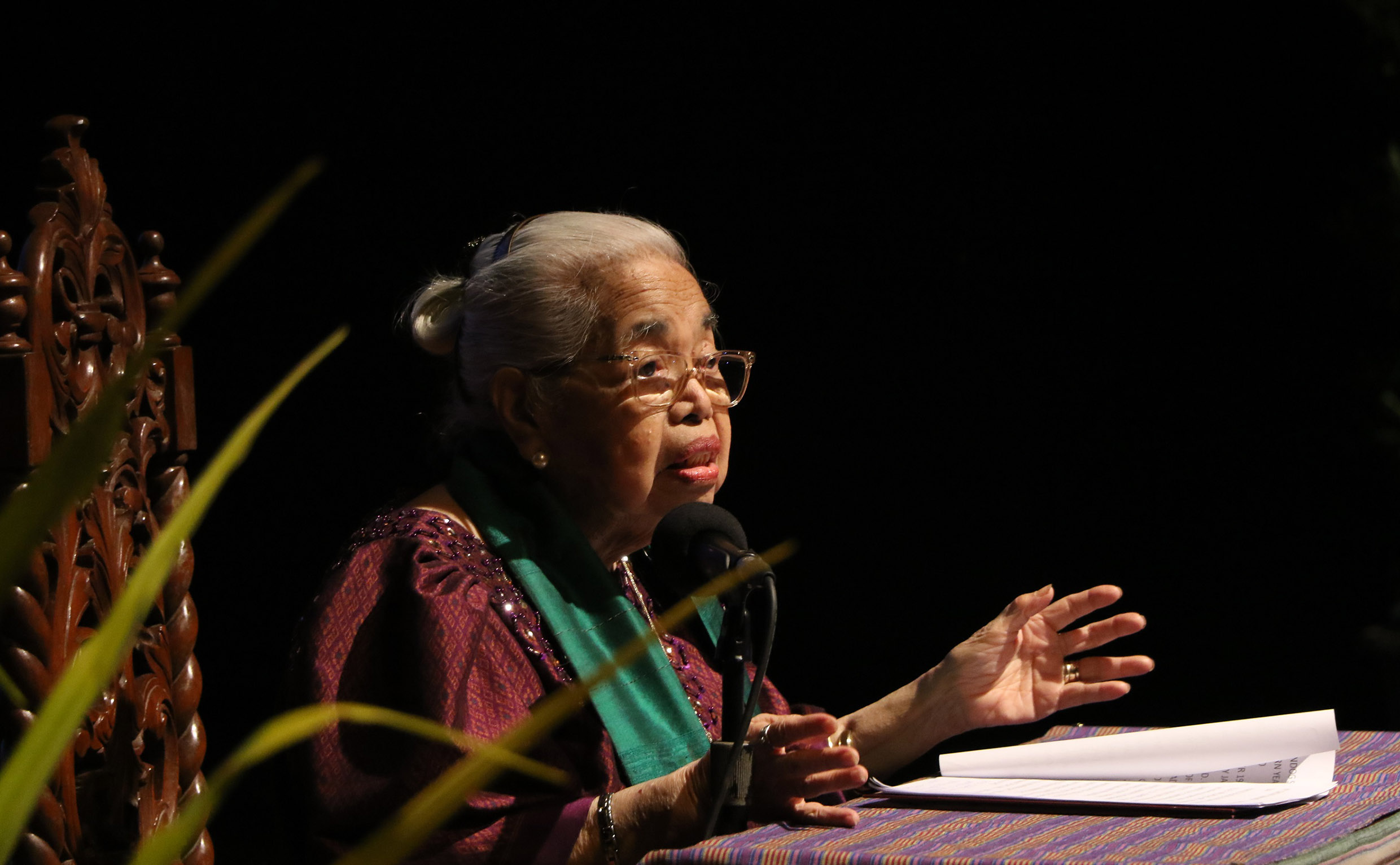 ARTS 1 conversation features Nat'l Artist Lapeña-Bonifacio
"Na-eexpose (ka) sa dami ng mga isip at pagdama, kaya napakaimportante ng teatro sa buhay ng tao." ("In theater, you are exposed to an abundance of different perspectives, which is why it is of the utmost importance to human life.")
This was what Amelia Lapeña-Bonifacio, National Artist for Theater, had to say about the importance of theater and the arts during the General Education Conversation for ARTS 1 (Critical Perspectives in the Arts) on Oct. 28 at DL Umali Hall.
Her inspirational talk entitled "Devoting my life to the arts" detailed how she started her journey as a writer and artist, and how she pioneered puppet theater in the Philippines.
"My first puppet play was for my daughter, who had just discovered Cinderella," she recounted to the audience as she talked about her play "Abadeja: Ang Ating Sinderela," an adaptation of a Visayan tale.
One of the key points of her talk was the importance of awakening the interest of Filipino children not only in the country's own stories but to those of Asia as well.
The Grand Dame of Southeast Asian Children's Theatre also discussed the importance of the arts in lifting the spirits of the public, emphasized by her recollections of reading and writing during World War II.
Members of Teatrong Mulat, her children's theater company, also recounted their outreach programs to those affected by the eruption of Mount Pinatubo in 1991, where they sought to "make the children smile again."
Lapeña-Bonifacio added that once an individual is drawn into art, no one would be able to pry that person away from it. She also encouraged aspiring artists of all courses to be persistent.
"Ang importante doon ay magpatuloy ka," she said during the open forum, "sa umpisa talaga, mahirap." She maintained that if one is dedicated, one day their hard work will bear fruit.
After Bonifacio's lecture, Teatrong Mulat performed "Sita at Rama: Papet Ramayana"and a rendition of "Pag-ibig sa Tinubuang Lupa."
The Department of Humanities-College of Arts and Sciences offers the ARTS 1 course. (Janine Michaela B. Caayao)