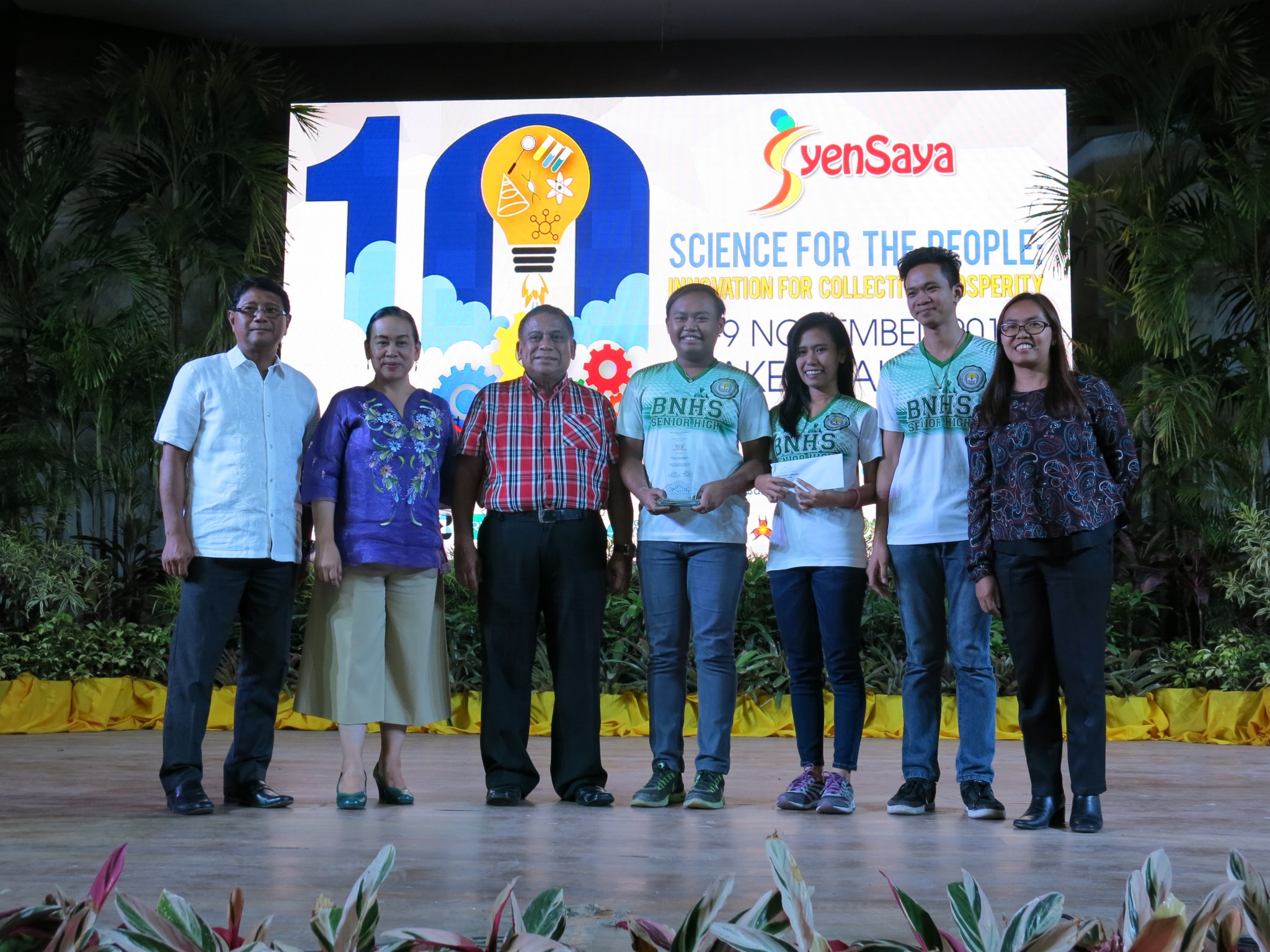 Biñan HS students, UPLB researchers sweep awards at 10th SyenSaya
The 10th Syensaya unleashed the potentials of Laguna's 'future scientists' through the Youth Science Award, a new award for innovation in science and technology among high school students, created and to be given annually by the Los Baños Science Community Foundation, Inc. (LBSCFI).
Two group research projects from Biñan Integrated National High School (BINHS) received the first Youth Science Awards during the closing program of Syensaya 2018 on Nov. 9 at Baker Hall, UPLB.
Taking the first prize was the project "Equipment for the rain's mechanical and chemical conversion of energy" by Jepril John Carlo G. Peña, Rexelle Jean D. Ompad, Jose Marie V. Ortega, and Adrian R. Mance.
The second prize went to the project "Gravity Source Pedaled Persona Light (GrasSPP)" by students Kristine Cameron D. Felix, Kyla Charis B. Dela Cruz, Patrish Julia A. Villano, and Joshua M. Almari.
The LBSCFI also awarded its traditional Outstanding Research and Development Awards during the closing program.
The Philippine Agriculture and Resource Research Foundation, Inc. (PARRFI) Research & Development Award (research category) went to the project entitled "R&D Program towards the control and management of the invasive Knifefish, Chitala ornata, in Laguna de Bay" of M. Vivian Camacho, Jhon Michael Castro, Jon Carlo Gonzales, Rommel Taniegra and Moses Edric Abadilla from the Limnological Station and Animal Biology Division of the Institute of Biological Sciences.
The development category award went to the School and Home Gardens Project, a collaborative endeavor of the Southeast Asian Regional Center for Graduate Study and Research in Agriculture, the Department of Education-Laguna, and UPLB.
The MS Swaminathan Award went to the research "Profiling and analysis of reproductive phenology of four coffee (Coffee spp.) species using the BBCH scale" by Bong Salazar, Danilyn Gunda, Angelica Joy Lagrimas, Primitivo Jose Santos, and Edwin del Rosario under the Smarter Approaches to Reinvigorate Agriculture as an Industry in the Philippines (Project SARAI).
LBSCFI also presented plaques of appreciation to personalities who have played key roles in achieving the LBSCFI's objectives. They are Engr. Pantaleon Ll. Tabanao, general manager of the Laguna Water District Aquatech Resources Corporation and For. Roberto P. Cereno of the UPLB College of Forestry and Natural Resources.
Syensaya's closing ceremonies also served as the venue of the turnover of LBSCFI's leadership from Dr. Alexander R. Madrigal, regional director of the Department of Science and Technology Region 4A to UPLB Chancellor Fernando C. Sanchez, Jr.
On behalf of Chancellor Sanchez, Dr. Serlie Barroga-Jamias, vice chancellor for community affairs, accepted the responsibility and expressed commitment in strengthening partnerships in the LBSCFI.
"Together, let us strengthen the LBSCFI and show the country what a municipality modeled on scientific and ecologically sound principles can achieve," Dr. Jamias said, as she read from the message of Chancellor Sanchez. (Jessa Jael S. Arana)