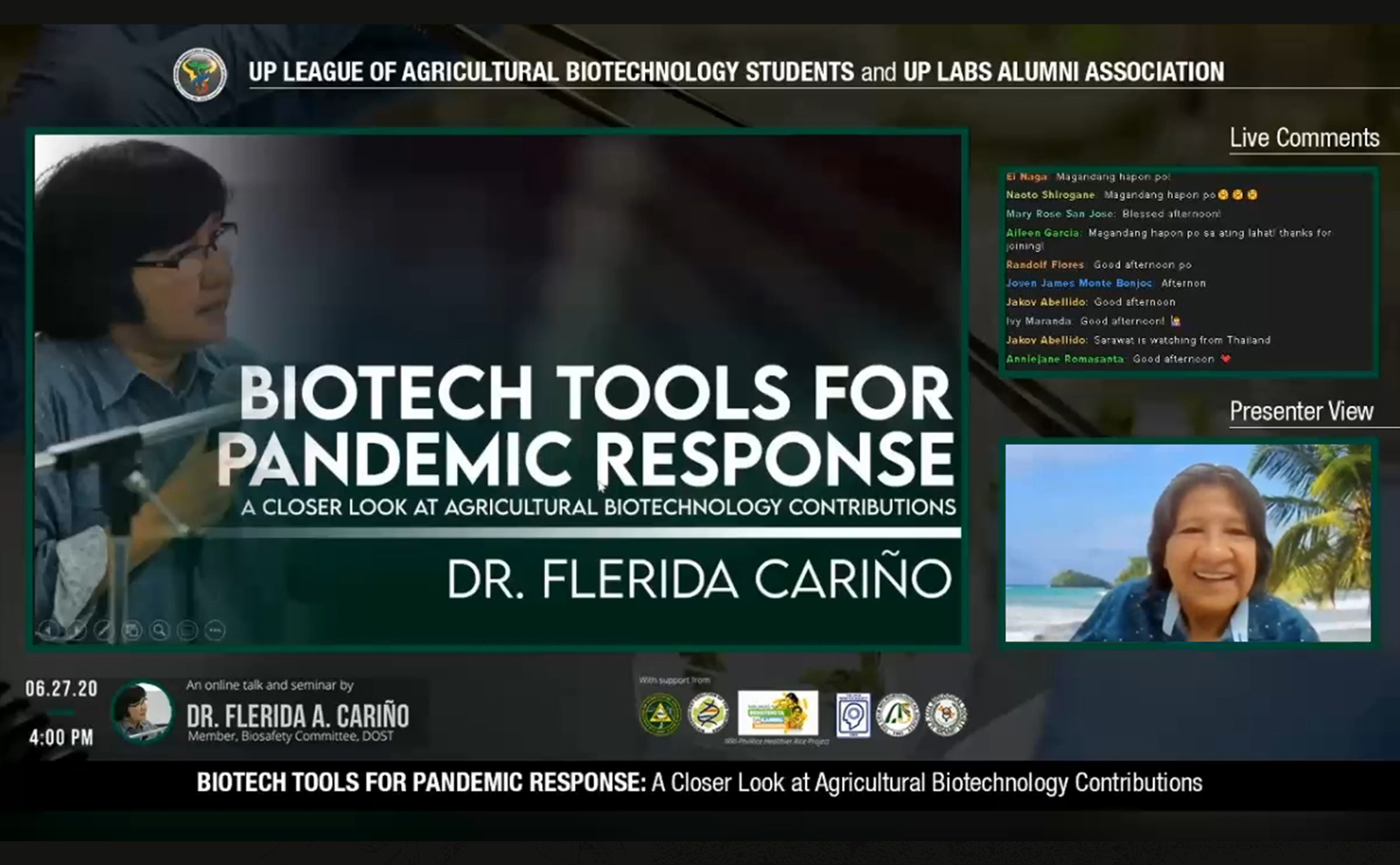 Biochemist stresses agri biotech's role in COVID-19 fight
At first glance, the field of agricultural biotechnology (agri biotech) does not seem to have any relation at all to fighting a pandemic. But according to Dr. Flerida A. Cariño, professor of biochemistry at UP Diliman, agri biotech has a bigger role in countering the current COVID-19 crisis than most people realize.
She said that the techniques and tools used in agri biotech are the same ones used in molecular biology and biotechnology, a field that facilitates virus detection, disease management and treatment, and development of vaccines and therapeutics.
Dr. Cariño, an alumna of UPLB and a member of the Department of Science and Technology Biosafety Committee, talked about this during the webinar "Biotech tools for pandemic response: a closer look at agri biotech contributions."
The webinar was organized by the UP League of Agricultural Biotechnology Students (UP LABS) and UP LABS Alumni Association on June 27.
Dr. Cariño cited how reverse transcription quantitative polymerase chain reaction (RT-qPCR) test, loop-mediated isothermal amplification (LAMP), and clusters of regularly interspaced short palindromic repeats (CRISPR)-based detection tools – three of agri biotech's staple techniques in studying DNA – are used to detect the presence of the SARS-CoV-2, the virus that causes COVID-19.
UPLB uses real-time RT-PCR in its recently certified and licensed UPLB COVID-19 Molecular Diagnostic Laboratory in COVID-19 testing.
Dr. Cariño also noted how non-health institutions such as the Department of Agriculture has helped the Department of Health address the shortage of PCR machines for COVID-19 testing. These institutions, same as UPLB, used PCR machines even before the pandemic for non-medical purposes. These have been repurposed for COVID-19 testing.
Aside from discussing the said biotech tools, Dr. Cariño also explained how agri biotech plays roles in COVID-19 vaccine development and disease management.
She said that using plants as bioreactors that could be inoculated and from which the vaccine could be extracted has potentials in developing a COVID-19 vaccine, as such has been used in vaccines against dengue, rabies, and Ebola.
Agri biotech's plant-based, animal-based, and egg-based vaccine production methods, Dr. Cariño said, could be helpful in COVID-19 vaccine production.
Dr. Cariño added that nutritionally enhanced crops, such as vitamin-enriched rice, plantains, and cassava, which are products of agri-biotech, are helpful in boosting people's immune systems, which is crucial to fight off and recover from COVID-19.
According to Dr. Cariño, the COVID-19 crisis has opened more possibilities of how agri biotech can further contribute to society.
She also emphasized the need for different agencies to be aware of what each other are doing, because they may find the answers to their problems from them, as in the case of the current pandemic.
Webinar organizer UP LABS and its alumni association are composed of BS Agricultural Biotechnology (BS ABT) students and graduates of UPLB. Aside from BS ABT, UPLB also offers MS and PhD Molecular Biology and Biotechnology. (Albert Geoffred B. Peralta)
Aligned with our commitment to: