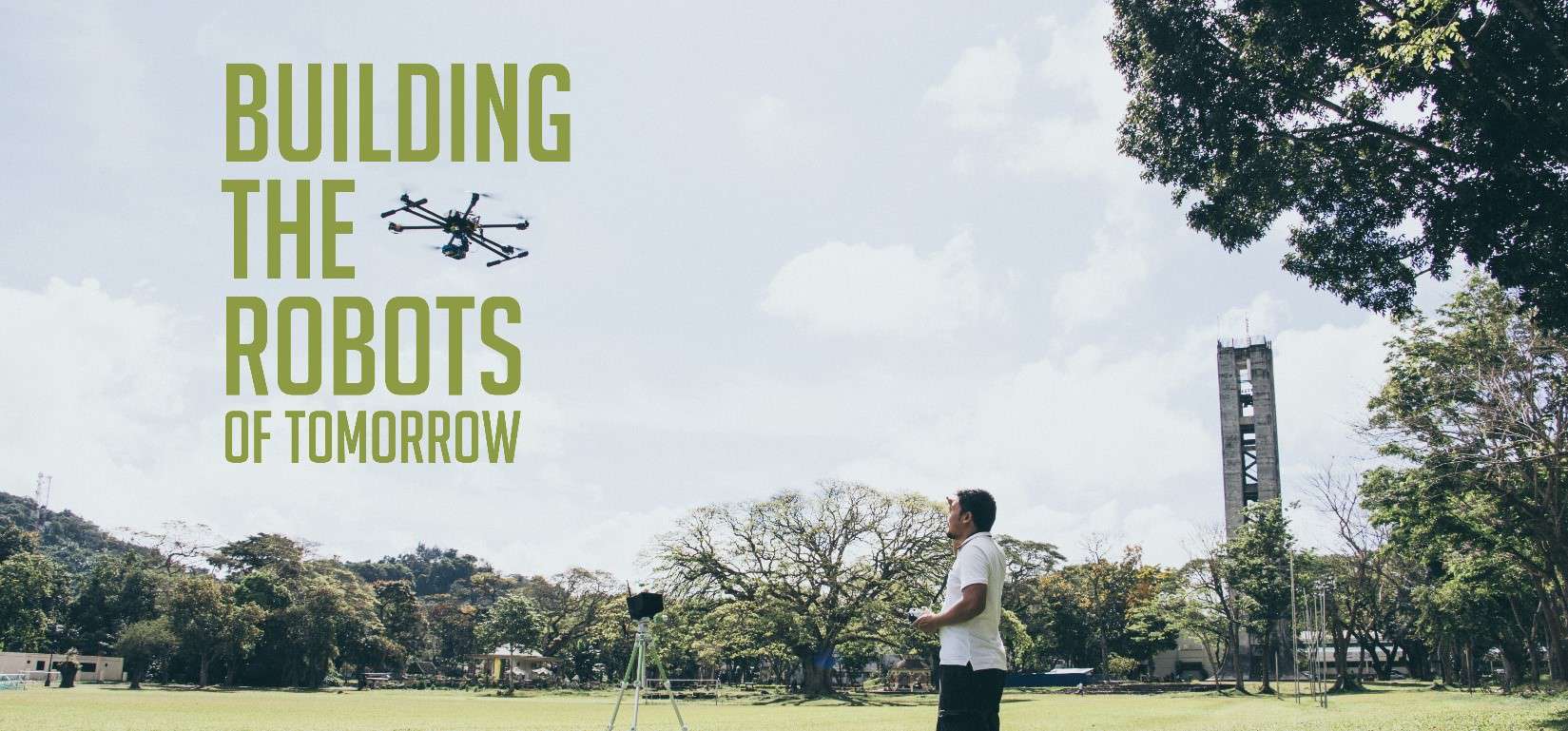 Building the Robots of Tomorrow
Drones, unmanned vehicles that roam the skies, can record breathtaking sceneries from a whole new vantage points. They have taken over media production, from the news to the big screen with their high-quality imagery, garnering quite a number of enthusiasts from all over the country.
A group of professors from UPLB share the same fascination for these flying machines, but not for the same reasons.
Since 2016, Prof. Danilo Mercado and his colleagues at the Institute of Computer Science (ICS) and Institute of Mathematical Sciences and Physics (IMSP), have been teaching robotics to students to aid agriculture and the environment.
Testing the skies
"Since drones are capable of processing digital images, we have been exploring their potential to determine agricultural crops' nutritional deficiencies, stress, lack of water, and many other problems being faced by our local farmers," said Prof. Mercado.
"If we can point these out as early as possible, we also have a better chance to come up with remedies. I believe this is something that would greatly lessen the losses of our farmers," he added.
The UPLB professors have also been trying to develop the drone's application to determine whether the right crops are planted in areas based on crop suitability maps, to monitor farm productivity and characterize plant nutrition. They have already submitted a proposal to the Department of Agriculture to start an Agricultural Drone Academy to further develop applications of drone technologies for farming and to train potential users.
Testing the waters
From the skies, the team also dove into building water crafts that take water samples to keep track of lake temperatures, pH and oxygen level, and other important data.
Mercado gives it emphasis as he explains that it will soon be an essential tool in the early detection of fish kill. "It serves as a water quality sensor and an early warning device for fisherfolks." Together with other UPLB professors and students, he plans to test the boat in Taal Lake, which has recorded numerous fish kill incidents in the past resulting to millions of pesos in losses.
In the long run, the team would also like to develop an image processing remotely operated underwater vehicle that could assess coral reefs and determine the classification and quantity of each.
Hand in hand
"Robotics is a collective and multi-disciplinary effort, it is at its best when it is done through a collaboration of different experts," Mercado said.
Dr. Nelio Altoveros, a professor at IMSP, spearheads the initiative to establish the UPLB Robotics and Instrumentation Study Center that aims to conduct researches on robotics application for agriculture and to train professionals and students from all over the country.
The center, once functional, would propose studies on technologies such as farm drone application, automation of irrigation, and GPS-guided machines like driverless tractors.
Other than this initiative, UPLB has already been active on other on-going projects related to robotics agricultural and environmental application.
Applications
UPLB, through Project SARAI or Smarter Approaches to Reinvigorate Agriculture as an Industry in the Philippines, has developed multi spectral drone system and uses free satellite images from NASA and the European Union to monitor farming areas to determine crop status and crop health. It also estimates actual damage after typhoons and other natural disasters.
Meanwhile, the Phil-LiDAR 1 project produced high resolution maps that show the extent of flooding across major rivers in the country. This is done using aircrafts equipped with Light Detection and Ranging (LiDAR) which scans and reflects the Earth's surface and its features to a sensor.
"Our dream is to be able to tap these existing applications from the university and also to come up with new concepts. Once we package all these technologies, we might even be able to convince more young people to venture into farming and environment protection," a hopeful Mercado shares his ambition.
Right now, these robotics experts from UPLB are focused on building mature technologies for the future — the robots of tomorrow to secure food production and preserve our natural resources. In the end, there is still a lot of work to be done but a vision has been set and the sky's the limit. (John Glen S. Sarol)