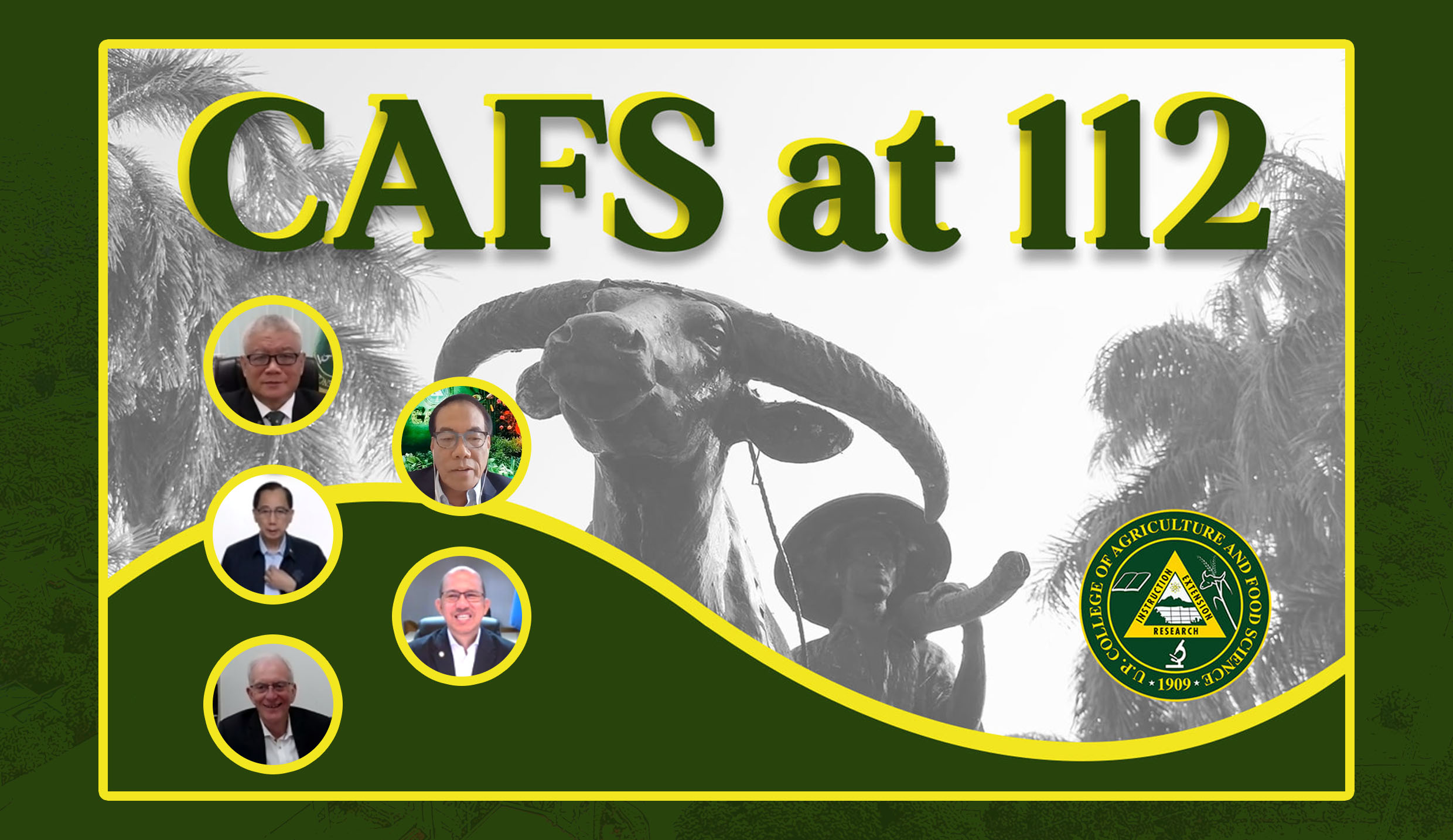 CAFS at 112 vows to work toward future-proof food systems
The College of Agriculture and Food Science (CAFS) celebrated its 112th founding anniversary with the theme "Agriculture Innovations: Embracing Impacts of Change in Agriculture and Food Security."
As one of the first colleges of the University of the Philippines System, CAFS proudly marked its 112th year in existence with an event-filled six-day celebration.
To kick off, CAFS sponsored the flag raising ceremony at the Bienvenido M. Gonzalez Hall with Chancellor Jose V. Camacho, Jr. gracing the event.
Following this was the launching of 50 products from the Food Innovation Center of the Institute of Food Science and Technology through YouTube and Facebook.
Marking the third day was a webinar with Dr. Robert Henry, professor of innovations at the University of Queensland, Australia as keynote speaker. Dr. Henry shared to the virtual audience his knowledge and expertise on innovations in agriculture and food supply in response to the latest pandemic.
Agriculture Secretary William D. Dar gave an inspirational talk and discussed the programs of the Department of Agriculture.
On the fourth day, Dean Elpidio M. Agbisit Jr. reported the status of the College with regard to instruction, research, and extension in the CAFSmustahan with the alumni.
On the fifth day, the College held a recognition program for its outstanding personnel in the administration, research, and extension sectors. The retirees and new hires were also acknowledged in the program.
The festivities concluded with the traditional commemoration program at Pook Pinagtatagan, Brgy. Timugan, Los Baños, Laguna on March 6, the actual foundation day wherein Former Institute of Plant Breeding Deputy Director Manuel Logronio served as the keynote speaker.
This year, CAFS is uniting with the battle cry "One College, one goal towards sustainable food systems," to highlight its vision of future-proofing the food systems. (Catherine E. Lee)