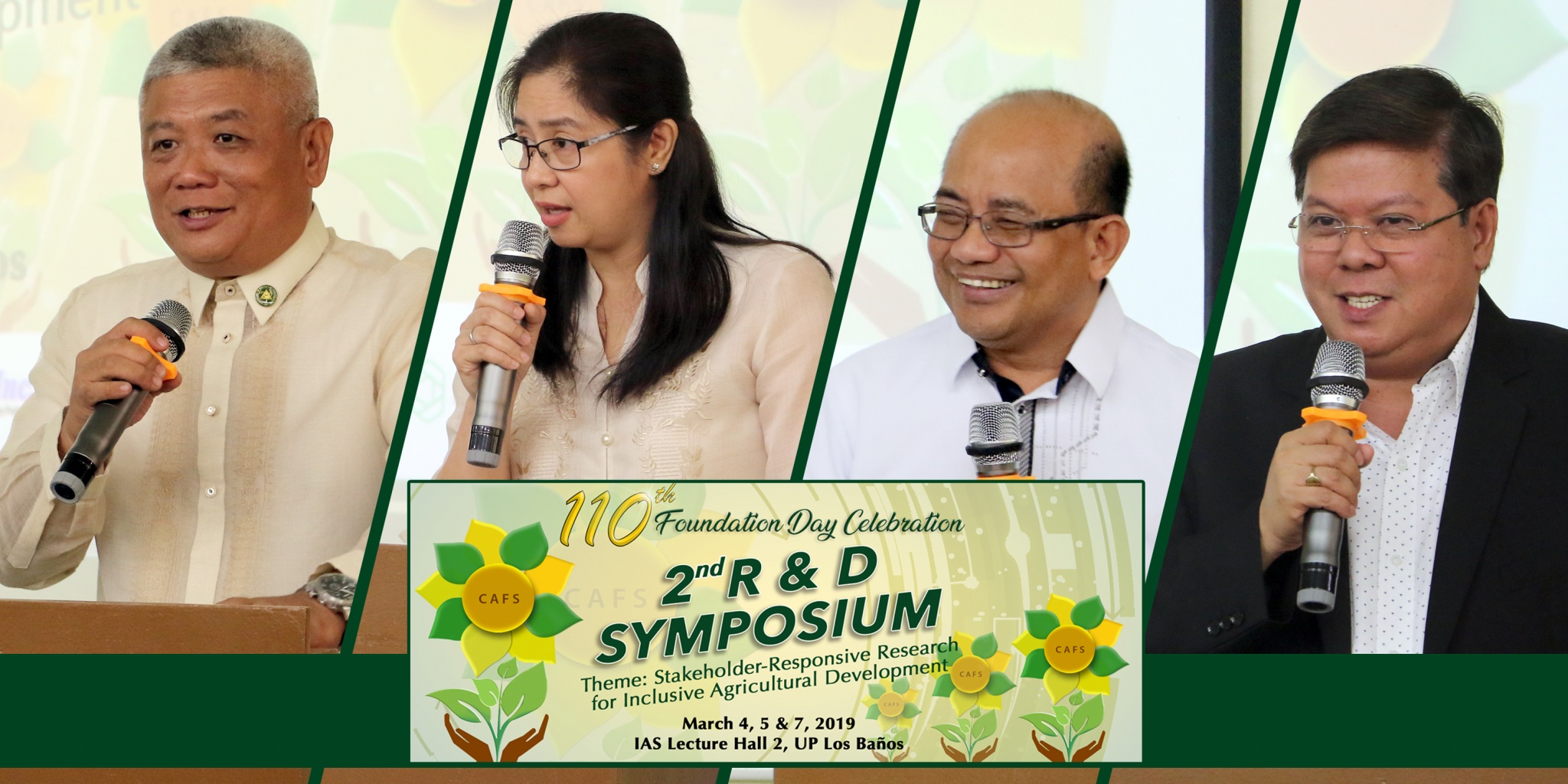 CAFS focuses RDE agenda on 12 commodities
Twelve commodity groups have been prioritized in the research, development and extension (RDE) framework of the College of Agriculture and Food Science (CAFS).
These commodities – cereals, forage and pasture, fruits, industrial and plantation crops, legumes, ornamentals, plants for health and wellness, poultry, root crops, ruminants, swine, and vegetables – are subject of the R&D Symposium that crafts the college's RDE agenda for the next five years.
Experts from CAFS' nine units will present their proposed RDE agenda for each commodity, in consultation with private companies, farmers, non-government organizations, and government agencies during the symposium's run on March 4, 5, and 7 at the Institute of Animal Science Lecture Hall 2.
The said symposium is the first activity in the week-long anniversary celebration of CAFS, which is turning 110 years old this year.
According to Dr. Barbara Caoili, associate dean for research and extension of CAFS, realigning the college's research activities addresses the changing needs of agriculture stakeholders.
"Our 'from laboratory to farm to table research approach' would further modernize and enhance productivity in the agricultural and food science sector in the country," she said.
Dr. Caoili also said that the priority given to the 12 commodities is consistent with R&D frameworks of the two major research partners of the university.
These are the Philippine Council for Agriculture, Aquatic, and Natural Resources Research and Development (PCAARRD), which has its Industry Strategic Science and Technology Plans (ISPs), and the Bureau of Agricultural Research (BAR), which has crafted its Research and Development and Extension Agenda and Programs (RDEAP).
PCAARRD is a sectoral planning council under the Department of Science and Technology (DOST), while BAR is one of the bureaus of the Department of Agriculture (DA).
The directors of the two agencies, who served as the symposium's guest speakers, commended CAFS' move to align its RDE agenda with theirs.
"PCAARRD regards UPLB-CAFS a potent ally in accomplishing the goals of harmonized R&D agenda in agriculture, aquatic, and natural resources sector," said Dr. Reynaldo V. Ebora, acting executive director of PCAARRD.
"ISPs [are] our platform for delivering science-based solutions to issues and problems affecting the agriculture and natural resources sector," he added.
For his part, Dr. Nicomedes P. Eleazar, director of BAR, recognized UPLB's role in updating and using the RDEAP.
He said that BAR's RDEAP are "useful for all partner implementing agencies and researchers on what R&D activities must be pursued consistent with the major thrusts of the DA on food security, poverty alleviation, and agricultural sustainability."
Gracing the opening program of the symposium were Chancellor Fernando C. Sanchez, Jr. and Dr. Elpidio M. Agbisit, dean of CAFS.
In his inspirational message, Chancellor Sanchez, also a faculty member at CAFS, welcomed the inputs of various stakeholders in refining the CAFS RDE agenda. (Mark Jayson E. Gloria)