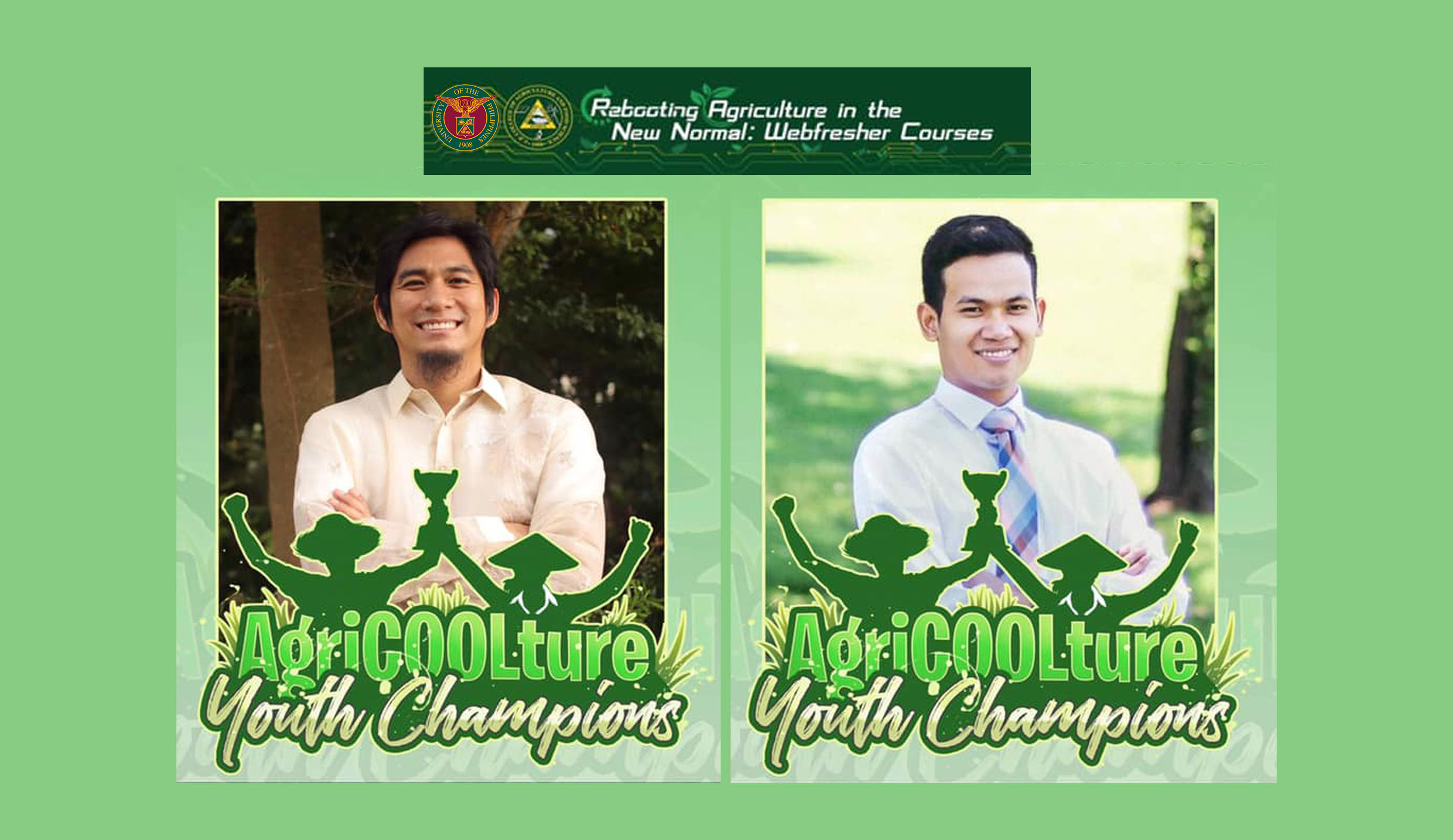 CAFS tackles how COOL agriculture is
Now on its fifth season, the College of Agriculture and Food Science (CAFS) held the first episode for "Aggie Ps Talk 5.0: AgriCOOLture Youth Champions" on June 1 via video conference. The online event, streamed live on CAFS' official Facebook Page and YouTube channel, was attended by more than 500 participants. 
CAFS Dean Elpidio Agbisit compared the similarity between agriculture and the youth in his opening remarks, as agriculture has a big part in nation building through its contribution to gross domestic product and the youth actively participates in nation building by being the future of the country. When the two contributors for the success of the country are together, Dean Agbisit believes, agriculture is in good hands.
Chancellor Jose V. Camacho, Jr., expressed his hopes that the participants will be motivated by the stories of the two agriculture champions featured in the webinar. Chancellor Camacho said that now more than ever, we need youth to make agriculture cool and we need youth champions and young people who have already taken that brave first step and are pushing the boundary to start bringing the Philippine agricultural sector to a whole new level.
Two resource speakers were invited to share their knowledge and experiences in Agriculture.
Arturo Tolentino, sustainable livelihood manager of Ayala Foundation and co-founder of Artfarm, which promotes sustainable solutions for agriculture, was the first featured speaker. In his presentation, "Magsaka Ka!: Organic agriculture for sustainable livelihood and food security," Tolentino shared his beginnings and his early days of studying agriculture.
Tolentino talked about how he studied snap hydroponics and the places where he received training. He said that it is important to immediately apply the learnings and discussed how he combined the best practices he learned in coming up with his own organic farm. He also discussed the advantages of organic farming in producing nutritious vegetables and other produce, taking care of the environment through soil management, and how it protects the safety of the consumers.
Chief Executive Officer and founder of social enterprise RiceUp Farmers Incorporated, Elvin Jerome Laceda, presented a video showing his humble beginnings as a scholar at Brigham Young University in Hawaii, USA, and how he used agriculture to make a difference.
Laceda, who is also a board member of the United Nations Youth Advisory Board Philippines, talked about finding your 'why' in Agripreneurship and the young Filipinos' power in creating a prosperous Philippines. Laceda said that he was inspired by his desire to help farmers like his grandfather. He started with a business plan connecting farmers and consumers using technology and later grew the company into a full-blown farm school and now into a social enterprise company. The goal was to equip farmers with business know-how, "not only to be digitally literate, but business literate," Laceda added.
He stressed the importance of being grounded by your values when starting a business. He also shared their framework for sustainability, as well as their vision, mission, and value proposition. "When things are grounded to your 'why,' you will be able to continue what you are doing, especially during the pandemic," he said.
An open forum, actively participated in by CAFS students, followed the presentations.
In attendance were Dr. Barbara Caoili, faculty member at the Institute of Weed Science, Entomology, and Plant Pathology and associate dean for research and extension; Dr. Adeliza Dorado, faculty member at the Institute of Food Science and Technology and associate dean for instruction; and other CAFS faculty and staff. (KEAraguas)