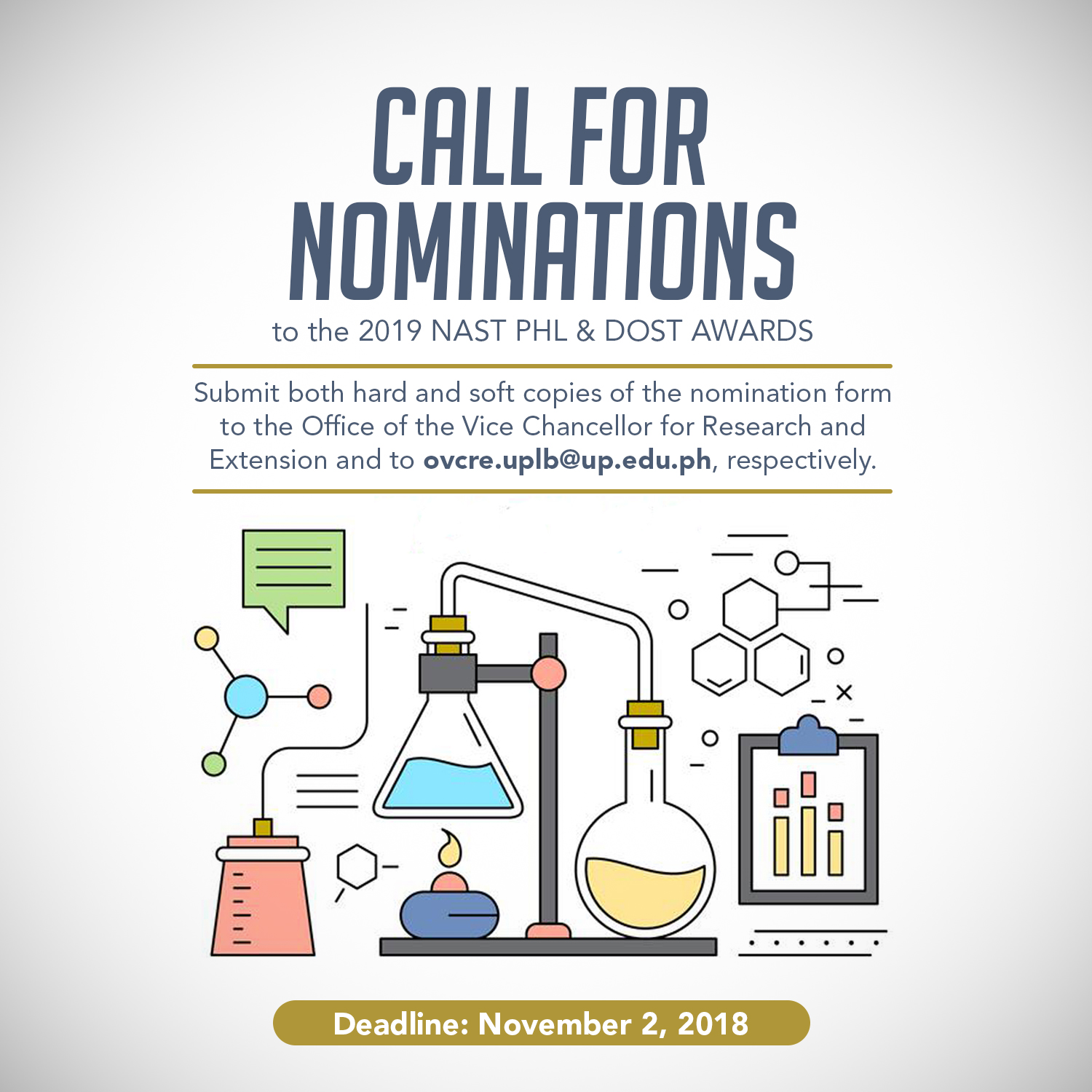 Call for Nominations to the 2019 NAST PHL & DOST Awards
The National Academy of Science and Technology, Philippines (NAST PHL) and the Department of Science and Technology (DOST) are inviting nominations to the following awards:
NAST PHL AWARDS
Outstanding Young Scientist (OYS) Awards
TWAS Prize for Young Scientist in the Philippines (Chemistry)
NAST Environmental Science Award
NAST Talent Search for Young Scientists
NAST Award for Outstanding Research in Tropical Medicine
Geminiano T. De Ocampo Visionary Award for Medical Research
Outstanding Book/Monograph Award
Outstanding Scientific Paper Award
DOST AWARDS
NSTW Outstanding Science Administrator Award – Dioscoro L. Umali Medal
NSTW Outstanding Technology Commercialization Award – Gregorio Y. Zara Medal
NSTW Outstanding Research and Development Award
For Basic Research – Eduardo A. Quisumbing Medal
For Applied Research – Julian A. Banzon Medal
Magsaysay Future Engineers/Technologists Award (MFET)
To facilitate the selection of UPLB's nominees for each award, all nomination forms and documents should be submitted first to the UPLB Selection Committee for the National RDE Awards through its Committee Chair, Dr. Rex B. Demafelis.
Nomination forms and guidelines may be downloaded from the NAST website at http://nast.ph/index.php/about-nast/functions/recognition. Please submit both hard and soft copies to the Office of the Vice Chancellor for Research and Extension and to [email protected], respectively.
The deadline for submission of nomination forms and documents to NAST PHL and DOST is on November 29, 2018. However, the UPLB Selection Committee will accept submissions until November 2, 2018 only to allot ample time for the selection process. Late submissions will no longer be accepted.
For inquiries and concerns, please contact Ms. Regina Ongkiko at (049) 536-2354.