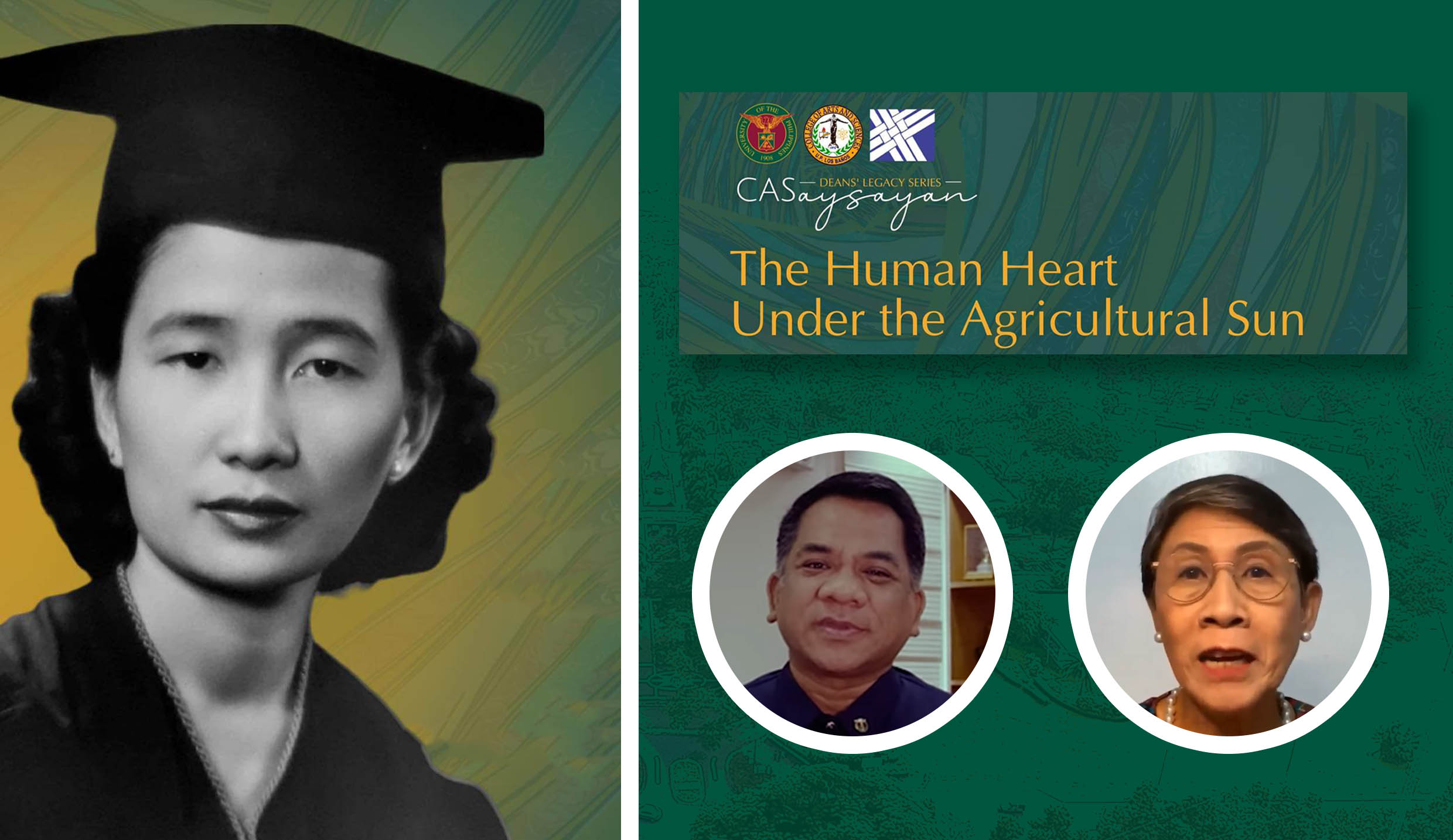 CAS honors founding dean Edelwina Cu Legaspi
The College of Arts and Sciences (CAS) held the first installment of its 50th anniversary event CASaysayan: Balik-tanaw sa Nakaraan ng CAS through a tribute program for its first dean Dr. Edelwina Cu Legaspi.
The online event entitled, "The Human Heart under the Agricultural Sun: Tribute to Dean Edelwina Cu Legaspi" was held on April 18 at 5pm via live streaming.
Before the tribute began, Chancellor Jose V. Camacho, Jr. congratulated CAS in his message and recognized their role in "nurturing the body and soul of the students of UPLB." He also thanked the past and present workforce, students, and alumni of the college for making the institution what it is today.
The tribute opened with testimonies about Dr. Legaspi from her peers and former students, including Prof. Jose Wendell P. Capili, Dr. Enrique Pacardo, Dr. Macrina Tamayo-Zafaralla, Dr. Eliezer A. Albacea, Prof. Rolando Panopio, Dr. Milagros M. Peralta, Dr. Paul Blanco Zafaralla, Lyn Tejada, Rosita Senen David, Marina Generalla Lansigan, Dr. Gene Segarra Navera, Sue Prado, Bum Tenorio, Jr., Dr. Jonalou S. Labor, and Fr. Ruel F. Lero.
Dr. Maria Cristina Damasco-Padolina, president of Centro Escolar University (CEU), who served as the college secretary during Dr. Legaspi's term, also shared stories and experiences with the dean.
She said, "Dr. Legaspi put the primary foundation in what would be a lifetime engagement." She added that Dr. Legaspi taught her integrity and honesty and that the former dean will always be special to her.
A highlight of the program was an online live telematic performance by two of the college's finest graduates, Rand Jester Poquiz and Joys Dumailang, who brought an impressive take on Dean Legaspi's legacy: an academic must have both heart and intellect. As words may never encapsulate the mark she had left the university, it is her actions not her words that had become a tribute in and of itself.
The acts by Poquiz and Dumailang injected humor and entertainment that made for creative and enjoyable storytelling. The tribute played along with the songs "I Want my Elbi Life" and "Ngayon o Bukas Man," original compositions of BA Communication Arts alumna Roovee Michelle "Chochay" Magno.
The performance was written and directed by Prof. Layeta Bucoy with the Department of Humanities Committee composed of faculty members Leonora Fajutagana, Jerry Yapo, Grace Mendoza, Rogelio Panuelos, Jr., Andrew Estacio, and Krisnah Ann Tan.
Faculty members Panuelos, Jr., Moises Villanueva, Estacio, and Bucoy then delivered lines that encapsulated messages of Dr. Legaspi in speeches that she delivered.
The tribute ended with a video presentation containing more memorable statements attributed to Dean Legaspi.
The tribute can be viewed on the UPLB CAS at 50 Facebook page. (Kyle Ramiel Dalangin and Krisnah Ann M. Tan)
Aligned with our commitment to: