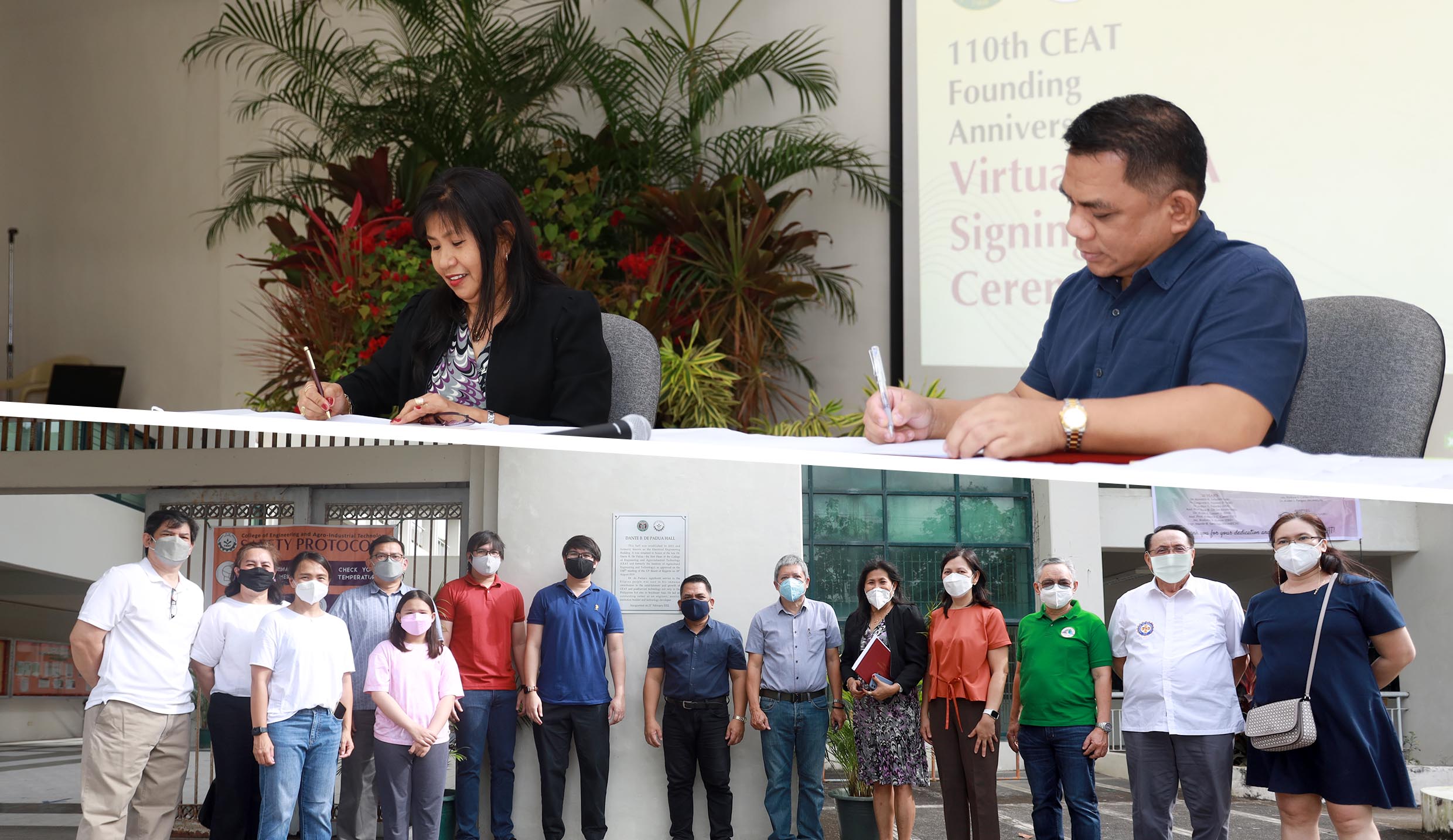 CEAT celebrates 110th founding anniversary
The College of Engineering and Agro-industrial Technology (CEAT) celebrated its 110th Founding Anniversary on Feb. 21-24 with the theme "CEAT at the Forefront of Sustainable Agro-industrial and Food Engineering (SAFE) Systems."
The week-long celebration kicked off on Feb. 21 with CEAT signing a memorandum of understanding (MOU) with three new industry partners and the turnover ceremony for the Electrical Engineering Building, which has been renamed into the Dante B. de Padua Hall.
Chancellor Jose V. Camacho, Jr. and CEAT Dean Rossana Marie C. Amongo, with the college's executive committee members, were present at the online and on-site MOU signing program with the representatives of the partner companies participating via virtual conferencing.
CEAT's new industry partners are Edland Company, Migo Skin, Inc., and Institut Teknologi Sepuluh Nopember (ITS).
The partnership, which initially covers student internship, was arranged by the Departments of Civil Engineering and Industrial Engineering and the CEAT Committee on Internship.
It will expand to other collaborative activities such as on-the-job training and practicum, job placement, joint research programs, consultancy/technical advice, training programs and seminars, and other activities deemed appropriate by the parties.
Meanwhile, the Electrical Engineering Building was renamed the Dante B. de Padua Hall under the UP Naming Rights Policy through the initiative of former CEAT dean, Dr. Arnold R. Elepaño.
The building was renamed after Dr. Dante B. de Padua, the first dean of CEAT. He was recognized for his immense contribution to the establishment and growth of CEAT and postharvest technology, not only in the Philippines but also in Southeast Asia. He led an outstanding career as an engineer, mentor, institution builder, and technology developer.
The renaming of the building was approved at the 1347th meeting of the UP Board of Regents on August 28, 2019.
The formal renaming ceremony was attended by Chancellor Camacho, Dean Amongo, and the family and relatives of the late Dr. de Padua.
On Feb. 22, CEAT held its annual awarding ceremony for its outstanding personnel who were given plaques and cash by the UPLB CEAT Alumni Association.
CEAT also recognized its retirees, loyalty service awardees, board topnotchers, and honor students.
On Feb 23-24, CEAT held the "First International Conference on Engineering and Agro-industrial Technology" or iCEAT 2022 via virtual conferencing and live streaming.
The conference, attended by more than 700 participants from various sectors in the country and around the world, had for its theme "Sustainable Agro-industrial and Food Engineering (SAFE) Systems: Current Trends, Challenges, and Opportunities."
The conference tackled various topics such as food systems, bioprocess engineering, agricultural and fisheries mechanization, land and water resources engineering, biomass and biofuels or renewable energy, environmental engineering and waste management, ICT for SAFE systems. It also featured recent developments in industrial engineering, materials engineering, electrical engineering, and infrastructure and civil engineering.
The events were organized by the CEAT Office of the Dean, Office of the College Secretary, CEAT Awards Committee, CEAT Events Aesthetics Committee, CEAT Internship Committee, CEAT Sports and Socials Committee, iCEAT Steering Committee, with the support of the CEAT Executive Committee and the different CEAT Units. (Mary Jane F. Gallardo)