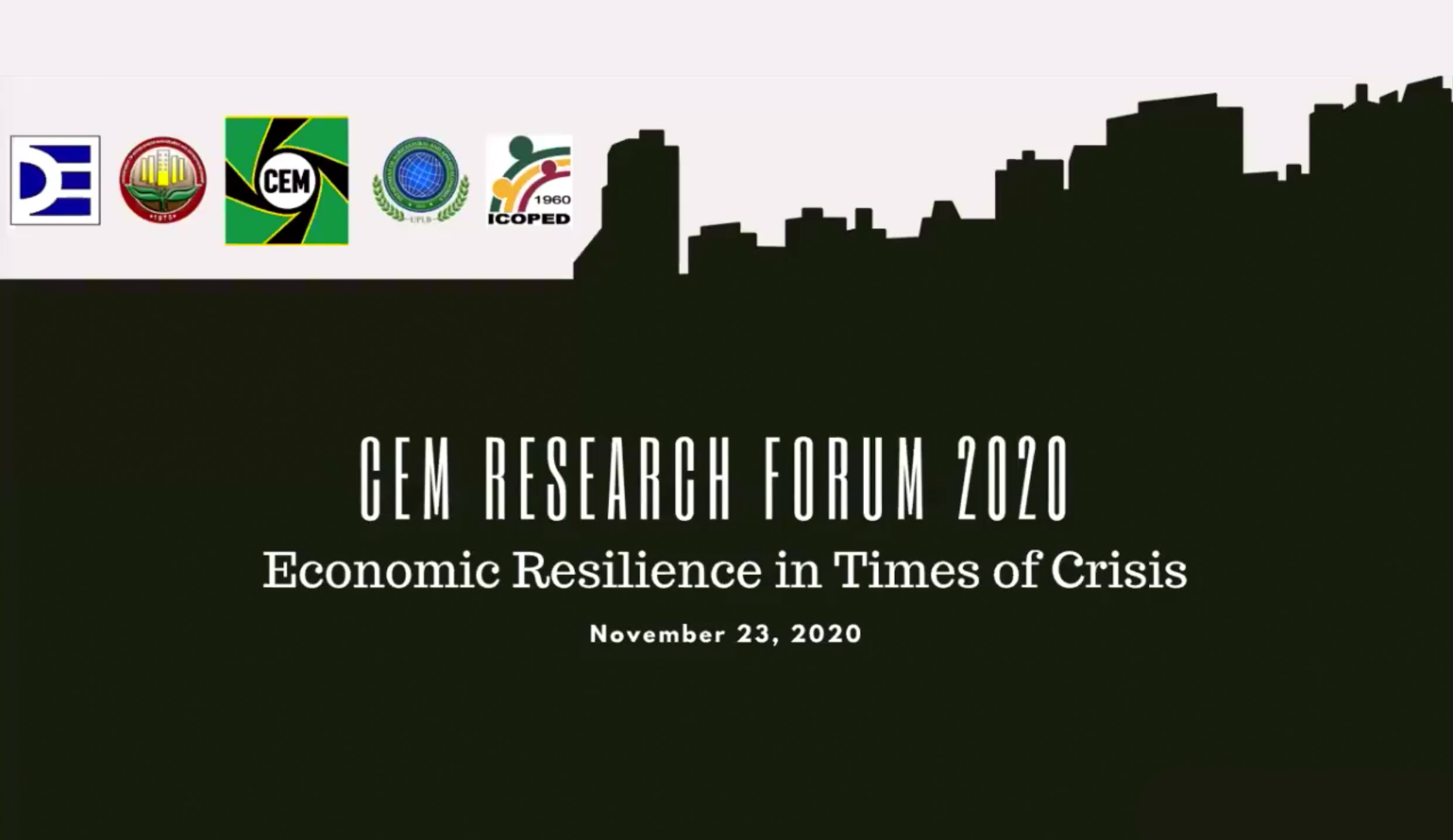 CEM research forum 2020 tackles economic resilience amid COVID-19
The COVID-19 pandemic and the series of natural disasters, from the Taal Volcano eruption, to the Masbate earthquake, and the succession of tropical storms and typhoons have had devastating effects on the Philippine economy.
It was within this context that the College of Economics and Management (CEM) held the 2020 CEM Research Forum with the theme "Economic Resilience in Times of Crisis." The forum, which was conducted online via video conferencing and simultaneously streamed live via CEM's Facebook page, highlighted how the Philippine economy has been coping with the disruptions brought about by the pandemic and the calamities.
Four research papers were presented by faculty members at CEM during the online session. The topics included the "Balik Probinsya government initiative and the real estate development sector" presented by Luisito Abueg from the Department of Economics; "Innovative ambidexterity of Philippine agripreneurs" by Melodee Marciana De Castro from the Department of Agribusiness Management and Entrepreneurship; and "How the pandemic has impacted food and nutrition security of households" by Dr. Prudenciano Gordoncillo. University Researcher Adriann Quilloy of the Institute of Cooperatives and Bio-Enterprise Development presented a research paper on "Resilience of Philippine cooperatives."
Serving as forum discussants were Amelia Bello, faculty member at the Department of Economics; Agnes Perpetua Legaspi, assistant director of the Department of Trade and Industry; Dr. Bienvenido Nito, a consultant on cooperatives at the University of Asia and the Pacific; and Dr. Corazon Barba, UPLB professor emeritus.
Chancellor Jose V. Camacho Jr., the conference guest of honor and keynote speaker talked about economic resilience and "future-proofing."
Chancellor Camacho said that unlike the traditional definition of resilience which entails merely surviving disasters and which has become a "cliché excuse for bad governance," economic resilience should mean foreseeing disasters and preparing so that their impact is mitigated as much as possible and so that post-disaster recovery is made as easy and as fast as possible.
This, Chancellor Camacho said, was tantamount to his vision of "future-proofing" UPLB. He encouraged the forum participants to cultivate this perspective of economic resilience so that in time, resilience would mean "not just weathering the storm… but being prepared for its coming and then rising up stronger and better in its aftermath".
The CEM Research Forum can be viewed at the Facebook page of CEM, facebook.com/uplbcem. (Albert Geoffred B. Peralta)