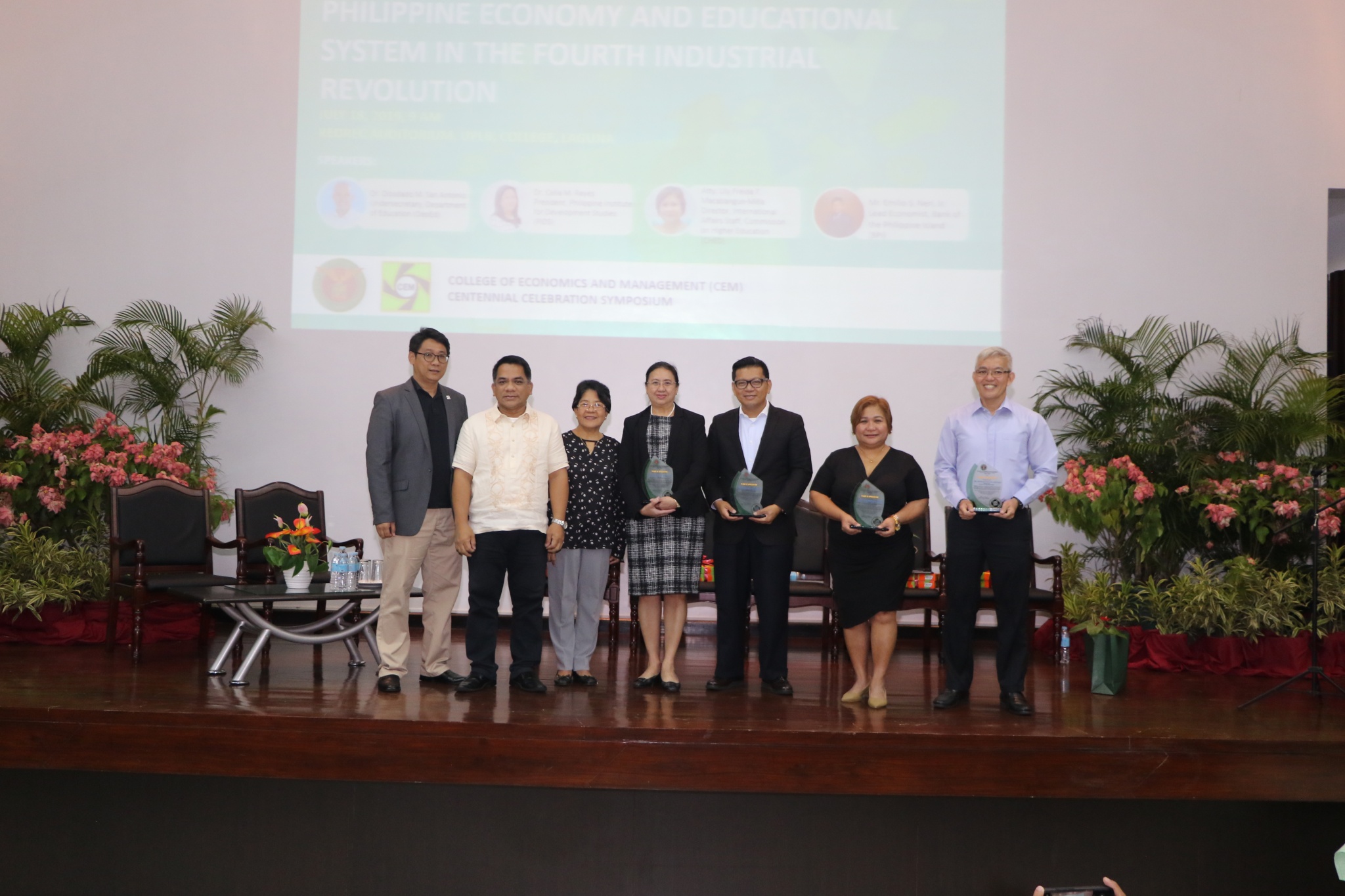 CEM symposium explores economic opportunities under FIRe
While the current Fourth Industrial Revolution (FIRe) has become a celebrated era to many, this inevitable chapter of society has threatened some.
At the frontline are those who may lose their jobs in favor of automation, robotics, and artificial intelligence.
However, there are new opportunities in the job market amid such threats; and these served as the points of discussion during the symposium "Economic and financial literacy, the Philippine economy, and educational system in the FIRe" held on July 18 at the REDREC Auditorium, UPLB.
"Definitely there would be some jobs that would be lost because they would be automated, but we should not be too scared," said Dr. Celia M. Reyes, president of the Philippine Institute for Development Studies.
"There would be opportunities, new tasks, and new jobs that would be created as a result of these technologies," Dr. Reyes continued, after citing the job types that are at risk of displacement and replacement.
According to her, FIRe has created new jobs that did not exist before and that currently employs many, such as the Uber/Grab drivers, Airbnb hosts, app developers, and social media managers, among others.
But Dr. Reyes reminded the audience of the importance of having the right attitude and the necessary skills to be able to benefit from the expanding job market. "You need workers that are trainable, creative, and adaptable to rapid changes," she suggested.
Atty. Lily Freida M. Milla, OIC-deputy executive director and director of International Affairs Staff of the Commission on Higher Education (CHED), agreed. She put forward CHED's program on adult education that encourages lifelong learning, continuing professional education, and self-actualization in the workforce.
"FIRe will disrupt a lot of things but it will drive us to recast how we see education, how we live, work, and thrive in the 21st century setting," she noted.
Atty. Milla also maintained that humans can still beat machines in creative endeavors, social interaction, and physical dexterity and mobility. It is in this context where she offered the transformation of "STEM" to "STEAM," which adds "Arts" to the "Science, Technology, Engineering, and Mathematics" learning track.
She also reiterated the importance of developing strong foundational skills among Filipinos as they take on the challenges of FIRe.
During the event, Dr. Disodado M. San Antonio, undersecretary for curriculum and instruction of the Department of Education (DepEd), reaffirmed such commitment from the basic education sector.
"DepEd is supposed to provide the fundamental skills so that people will thrive and survive in the FIRe. All we need is the support of all sectors and we are glad to know that the support is there," Dr. San Antonio said.
Completing the line-up of speakers was Emilio S. Neri, Jr., lead economist of the Bank of the Philippine Islands, who focused on another economic opportunity under FIRe.
Neri recognized how Filipino's access to smart phones have become an avenue for digital banking, a tool to encourage more to save and invest their money and contribute to the country's overall economy.
"We can now use more and more of the savings that you will part with us so that we can mobilize it and lend it to other people so that we can push forward with the investments and the capital requirements, not just for fixed capital of the country but also of the human capital side," he said.
Attending the symposium were officials, personnel, and students from the Department of Education, UPLB, and other organizations.
Present during the event were the deans of three UPLB colleges, namely: Dr. Jose Camacho, Jr. of the Graduate School; Rolando Bello of the College of Public Affairs and Development; and Dr. Isabelita Pabuayon of the College of Economics and Management (CEM).
The said learning event is part of the on-going centennial anniversary celebration of CEM. (Mark Jayson E. Gloria)