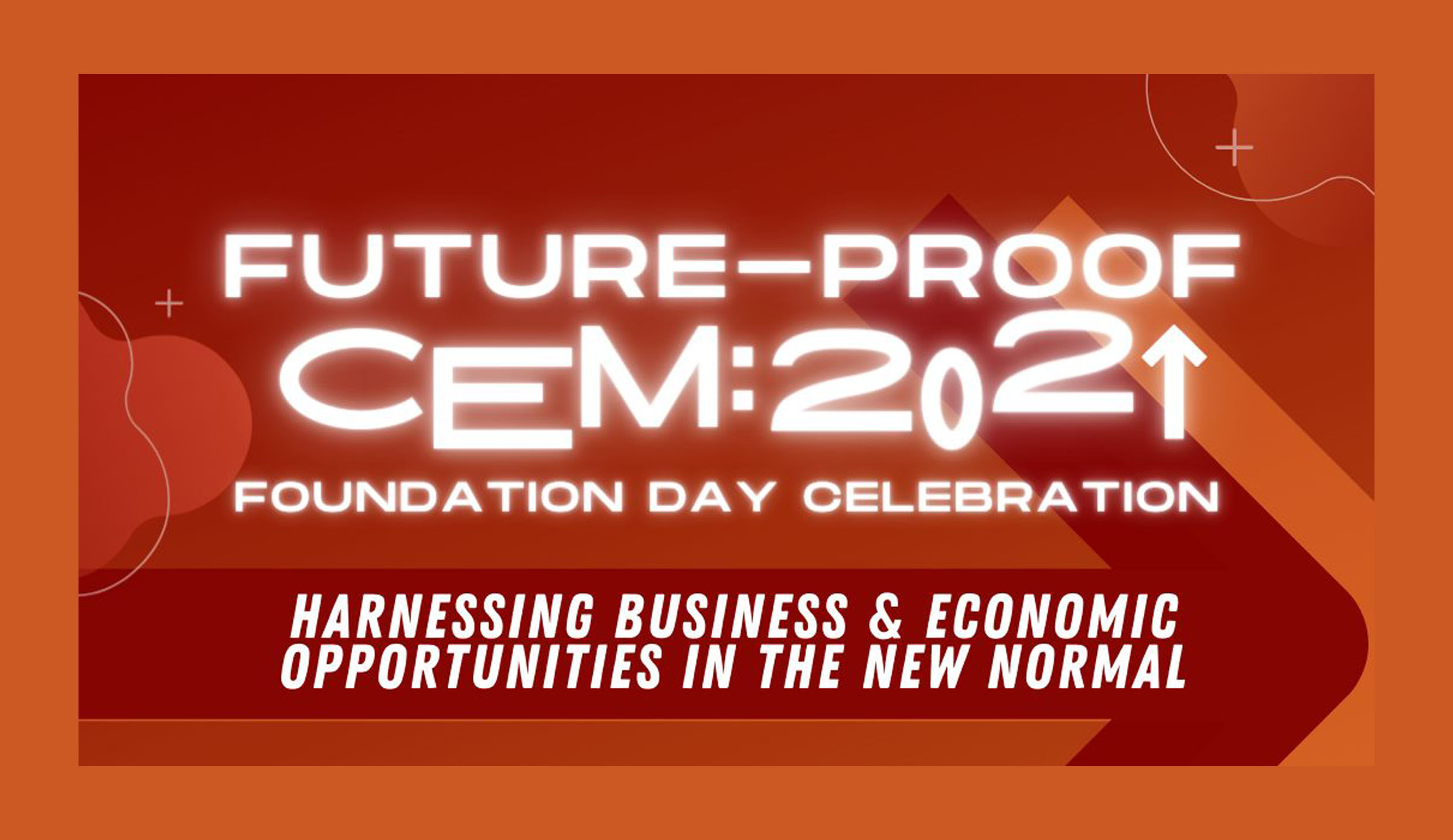 CEM to mark its 43rd year on July 27-30
The College of Economics and Management (CEM) will be celebrating its founding anniversary from July 27 to 30 with the theme, "Future-proof CEM: Harnessing Business and Economic Opportunities in the New Normal."
On July 27, the college will hold a CEM Webinar that is free and open to the public.
The webinar will feature four speakers: Joey Bermudez, CEO of Iskaparate.com; Dr. Thomas Reardon, professor at the Michigan State University; JT Solis, CEO and founder of Mayani PH; and Gerald Glenn Panganiban, assistant director of the Bureau of Plant Industry and national program director of the Urban Agriculture Program.
Each speaker will share their experiences as someone who was able to successfully "future-proof their businesses, organizations, and the community they live in."
On July 28, undergraduate and graduate students of CEM are invited to participate in the CEM Students' Day where they can win cash prizes. The activities lined up for this day include a TikTok competition, talent show, and an awarding ceremony.
On July 29, the college invites everyone to join the CEM Discussion Forum titled, "Leadership in the New Normal," featuring CEM alumni who are now chancellors of UP campuses, namely: Chancellor Jose V. Camacho Jr. of UPLB; Chancellor Corazon L. Abansi of UP Baguio; and Chancellor Larry N. Digal of UP Mindanao.
After the discussion forum, the college will hold the CEM Outstanding Alumni 2021 Awarding Ceremony.
The last day of the celebration will be divided into morning and afternoon activities.
In the morning of July 30, CEM will launch the latest edition of the Impact Assessment Series Report; a publication funded by the Australian Centre for International Agricultural Research (ACIAR) and the Philippine Council for Agriculture, Aquatic, and Natural Resources Research and Development of the Department of Science and Technology (DOST-PCAARRD).
The publication is an output of a collaboration between the Commonwealth Scientific and Industrial Research Organization (CSIRO), UPLB, Visayas State University, and DOST-PCAARRD.
The Impact Assessment Series Report No. 102 is titled, "An Integrated Approach to Ex-post Impact Assessment."
The launch will be held at 9 AM at CEM's REDREC Auditorium.
The occasion will also feature a recognition of the recipients of the John Dillon Fellowship Award from UPLB.
Also to be launched is the UPLB Agribusiness Executive Program of the Department of Agribusiness Management and Entrepreneurship (DAME) to be led by DAME Chair Mar B. Cruz.

The college will then cap off its 43rd founding anniversary with the CEM Faculty & Staff Day in the afternoon which will feature fellowship and recognition activities. 
Registration forms and details of the celebration may be found on CEM's official Facebook Page. (Sebastian Alfonso Fresnoza)