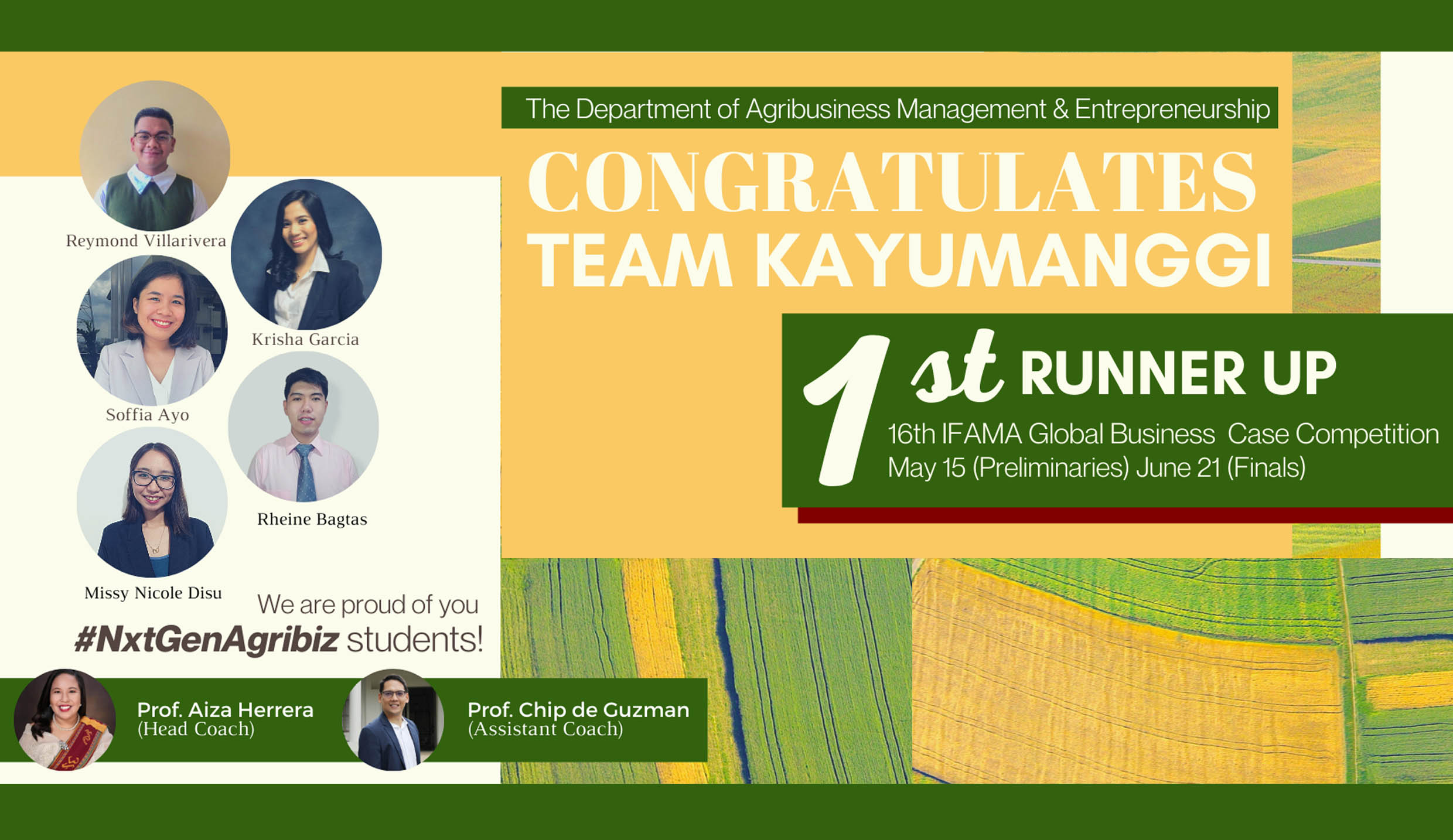 CEM's Team Kayumanggi is 1st runner-up in IFAMA business competition
Team Kayumanggi, composed of five sophomore students taking up BS Agribusiness Management and Entrepreneurship (BS ABME) in UPLB, emerged as the 1st runner-up in the undergraduate category of the 16th IFAMA Global Business Case Competition.
The five students, Reymond Villarivera, team leader, together with members, Soffia Margarita Angela Ayo, Rheine Lee Bagtas, Missy Nicole Disu, and Krisha Mae Garcia had for their coaches, Maria Noriza Herrera and Renen Szilardo De Guzman, both faculty members at the Department of Agribusiness Management and Entrepreneurship of the College of Economics and Management.
IFAMA or International Food and Agribusiness Management is a membership organization that brings together leading scholars and students, industry and NGO professionals, and policy makers to improve the strategic focus, transparency, sustainability, and responsiveness of the food and agribusiness system.
Before emerging as winners, the team had to hurdle two rounds of competition. In the preliminary round, Team Kayumanggi analyzed the case of Perfect Day, a startup biotech company specializing in animal-free dairy.
The team's innovative solution to the case earned them one of the three tickets to the next round.
Among 26 teams from around the globe, they were chosen to compete in the final round where they analyzed and presented a new business case study under the same company.
After the panel interview and deliberation of the panel of experts, Team Kayumanggi was named 1st runner-up.
IFAMA was established in 1990 by one of the Fathers of Agribusiness, Dr. Ray Goldberg.
It is the lone international organization sponsoring global case competition specific to agribusiness, food and innovation.
It currently has a membership from 60 countries worldwide that includes students, people from industry, NGO, professionals, and policymakers.