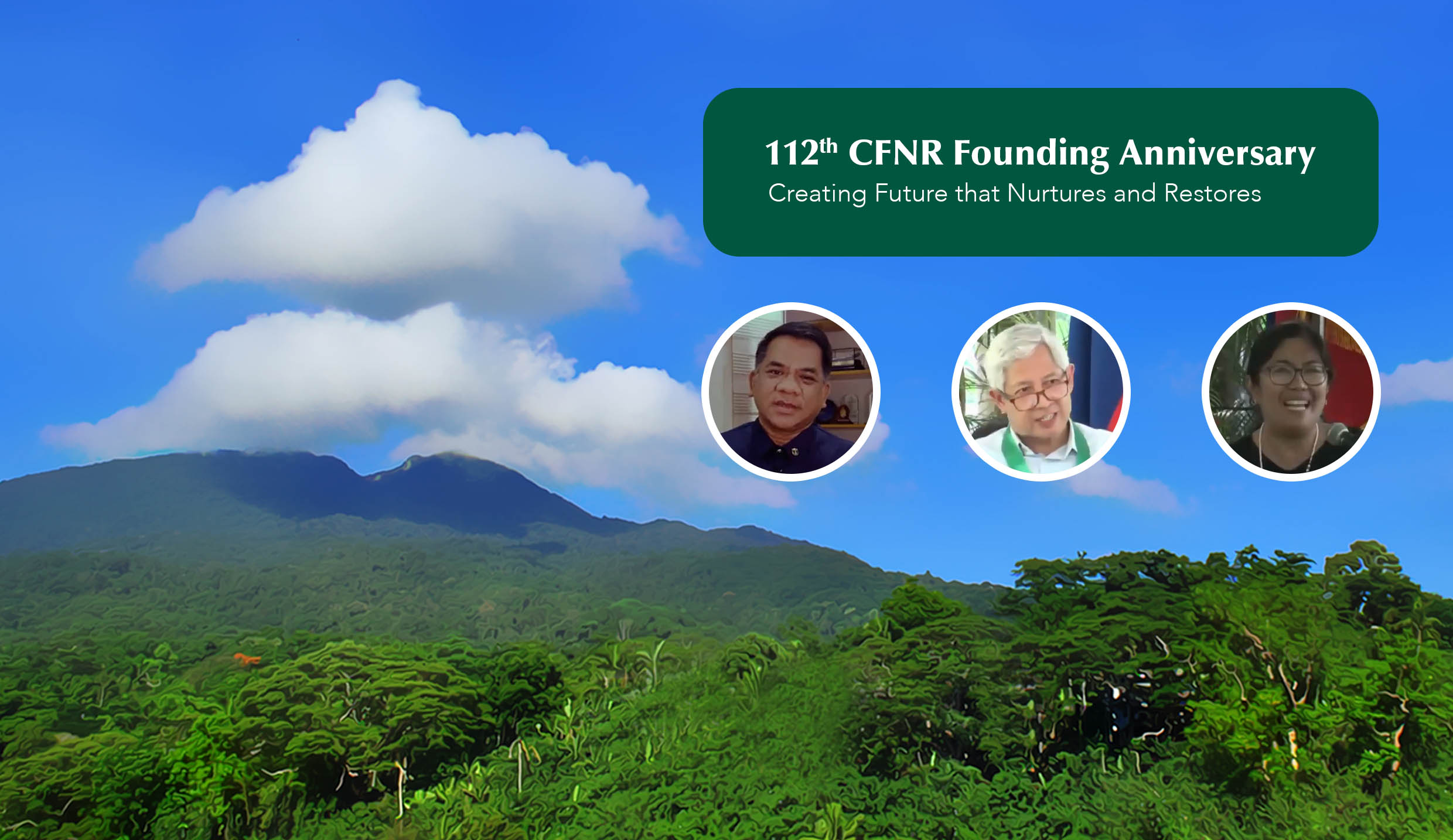 CFNR celebrates its 112th founding anniversary
The College of Forestry and Natural Resources (CFNR) celebrated its 112th foundation day on April 19 through a hybrid program, at the Makiling Botanic Gardens Pavilion for the in-person event and video conferencing for online participants.
The celebration's theme was "Creating a Future that Nurtures and Restores."
In his opening message, Chancellor Jose V. Camacho, Jr. talked about UPLB's new research and extension agenda named AGORA or Accelerating Growth Through One Research and Extension in Agenda.
Chancellor Camacho said that under AGORA, CFNR could promote the adoption of sustainable systems for forest and natural resources utilization and integrate resilience and future-proofing into forest conservation efforts.
He also expressed anticipation about future innovations of the College, which he said will be helpful to the University's contribution to national development and natural resources management.
CFNR Dean Marlo D. Mendoza delivered an inspirational message saying that the College wanted to give honor and recognition to the students, faculty, and staff for their loyalty and exemplary service.
He stated that the College has come a long way with its achievements and accomplishments and is truly a pillar in Philippine Forestry.
"Hard work and contribution in terms of administrative services, teaching, and research and extension work are all like building blocks made one by one to create a strong foundation for the future that we envision for CFNR," he added.
Ten faculty and staff were awarded for 25, 30, 35, and 40 years of service to the College, 11 retirees were recognized, and one was awarded posthumously.
Also among the service awardees were outgoing unit heads, Priscila C. Dolom, director of the Forestry Development Center, and Roberto P. Cereno, director of the Training Center for Tropical Resources and Ecosystems Sustainability.
Eight who were awarded as UP Scientists under the UP Science Productivity Awards were also recognized in the ceremony. These were Drs. Menandro N. Acda, Leni D. Camacho, Rex Victor O. Cruz, Juan M Pulhin, Willie P. Abasolo, Nathaniel C. Bantayan, Canesio D. Predo, and Cristino L. Tiburan, Jr.
CFNR also recognized its outstanding personnel, namely: Margaret M. Calderon, researcher (faculty); Catherine C. De Luna, researcher (REPS); Priscila C. Dolom, extension personnel; George M. Meneses, administrative personnel (blue collar); Arlene D. Romano, administrative personnel (technician); and Conrado L. Serrano, supervisor (field).
The Bamboo Policy Research Team was named the Outstanding Research Team, while Justine A. Marasigan, a student, was recognized for winning the First Online National Forestry Quiz Contest championship.
Eleven awardees responded and talked about their experiences of working at the CFNR.
Associate Dean Analyn L. Codilan gave the closing remarks where she thanked the awardees for attending and the people behind the celebration for overcoming challenges in organizing the program. She also cited them as inspirational through their loyalty and exemplary service to the college.
The celebration can be viewed on the CFNR FB page. (Kyle Ramiel Dalangin)