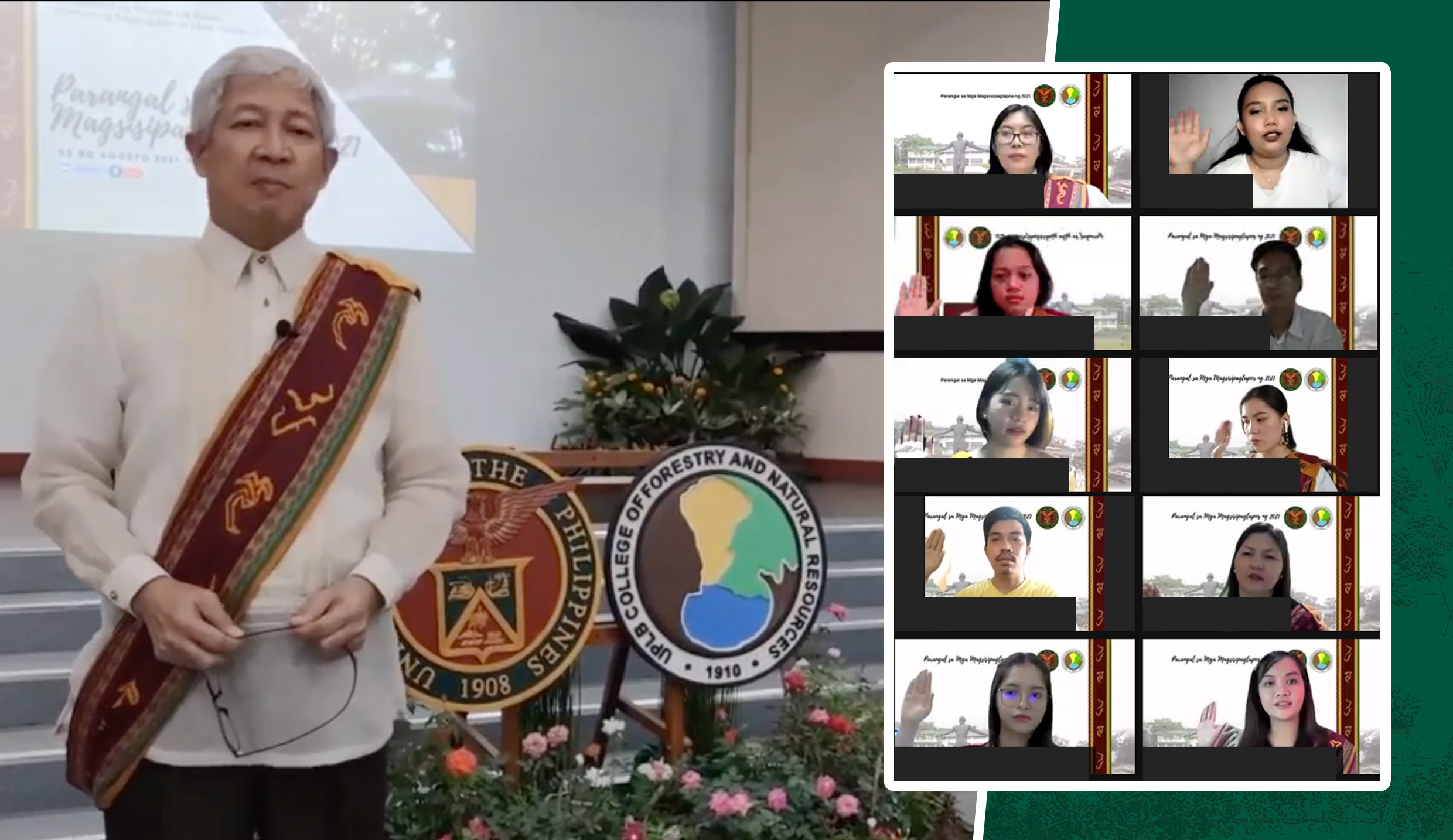 CFNR holds virtual recognition ceremony for 98 graduates
The College of Forestry and Natural Resources (CFNR) hosted recognition rites to honor its 98 graduates. The event was held via video conferencing and Facebook live at 9 AM on Aug. 5.
Leading this year's graduates was Gerardo B. Villancio, cum laude and recipient of the Faculty Award for Academic Excellence in Forestry and Natural Resources. Villancio took Environmental Forestry as his major field and specialized in Tree Physiology.
In his message to his fellow graduates, Villancio highlighted the importance of collectively addressing mental health, an issue that he did his best to overcome as a student. He was diagnosed with both major depressive disorder and anxiety disorder, and had to take a leave of absence in order to recuperate. With strong support from family, friends, and the CFNR faculty, he came back to CFNR positively re-energized and inspired to finish the degree. "Papaano natin pagsisilbihan ang ating sariling bayan, kung ang ating sariling isipan ang ating nilalabanan?" he mused. Recognizing one's weakness, being positive, and having strong faith in God helped Villancio overcome his situation and to fulfill his dreams.
In his opening remarks, CFNR Dean Marlo D. Mendoza highlighted the university's mantra of honor and excellence and congratulated the graduates for all their hard work, perseverance, and tenacity, especially in the midst of the challenges of the pandemic.
Dean Mendoza encouraged the graduates to always remember, "… that our forests need you and these critical times call for resiliency, resolve, determination, grit, persistence, willpower but above all, faith in God. Strive to be honorably excellent and be inspired by the many world-class leaders and game-changers that your alma mater has produced."
Chancellor Jose V. Camacho, Jr. marked the day as a day of triumph and celebration as a culmination of the graduates' hard work and dedication. He said, "Demand for individuals with the kind of training and expertise that you have as foresters will always continue to increase." He also said that CFNR has provided the knowledge, tools, expertise, training, and deep love for forests as they now start "weaving their own stories in the grand tapestry of life."
CHED Chairperson and Chair of the UP Board of Regents Prospero E. De Vera III highlighted CHED's responsiveness to the pandemic and its continuous quest for innovative alternative modes of learning and access to quality education. He noted that universities are in the best position to navigate the intricacies of learning amidst Covid-19 and adopt the best mix of flexible learning modalities based on conditions and capacities of both human and physical resources.
Dr. De Vera called for the graduates, as scholars of the state, to be active contributors to national development. He challenged the graduates, armed with competencies anchored on UP's core values as they are, to "make a distinctive mark in changing lives" and "continue pursuing activities to ensure sustainability and productivity of the future generation."
This year's featured guest speaker was CFNR's home-grown Dr. Rodel D. Lasco, executive director of the OM Lopez Center, climate change scientist, country coordinator of the World Agroforestry Centre, and affiliate faculty of UPLB. As a forester with 40 years of experience, he shared lessons on how to succeed. First is that the UP diploma will open a lot of doors for the graduates and a BS Forestry graduate is a 'rare commodity.' Second, a UP education and diploma, however, is not a guarantee for success. One must strive for excellence, observe good work ethics, and deliver quality outputs on time. There are no shortcuts to success and focus is the key.
The third lesson is to think long-term, prioritize learning over money while young, and look for good role models. Fourth, Dr. Lasco encouraged the graduates to climb the right ladder and added that honors, accomplishments, and power will always fade away but relationships, family, and serving the country and its people are constants. Focus on things of lasting value, especially spiritual health. Lastly, he emphasized that life is much more important than a career, "strive not just to be a success, but to be of value".
This year's graduates from various degree programs included 52 BS in Forestry and 22 Certificate in Forestry. CFNR was also instrumental in the graduation of 6 BS in Chemical Engineering who majored in Pulp and Paper Technology, 10 MS in Forestry, 3 MS in Natural Resources Conservation, 1 PhD by Research, and 4 PhD in Forestry. (Aileen S. Peria, CFNR-CIMRC)