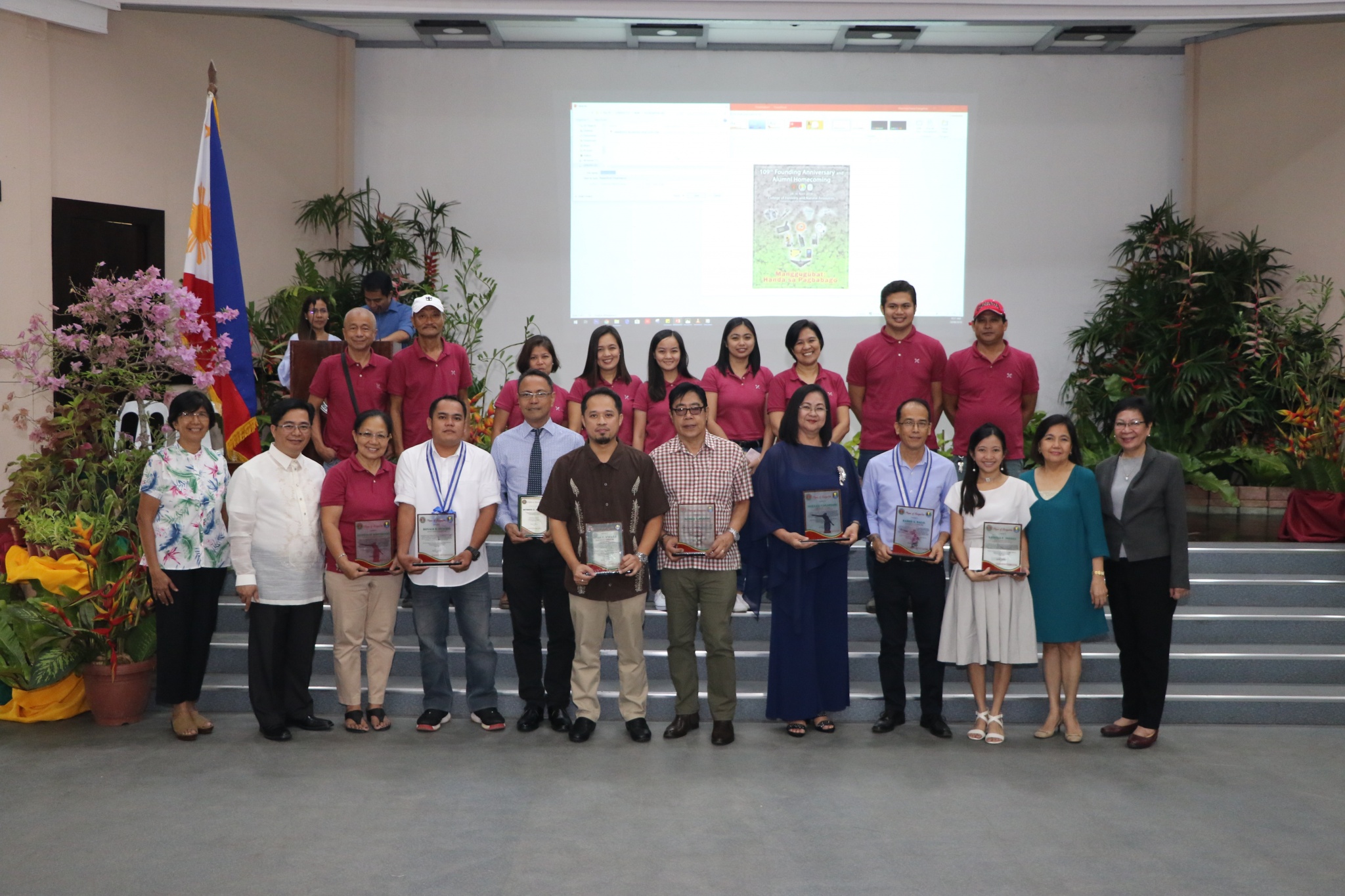 CFNR honors 2019 outstanding personnel
It is once again the time of the year for the College of Forestry and Natural Resources (CFNR) to recognize its outstanding personnel.
CFNR celebrated its 109th anniversary program on Apr. 24 putting a spotlight on its notable personnel and loyal staff, affirming their contributions to forestry science and education as faculty members, researchers, and for their consistency in service to the college.
Dr. Myrna Carandang, University Registrar and professor at the Institute of Renewable Natural Resources (IRNR), was named as this year's outstanding teacher (physical sciences, senior).
Another IRNR faculty member, Vanesa Torres, bagged the outstanding teacher award (physical sciences, junior). Dr. Ramon Razal, former dean and professor at the Department of Forest Products and Paper Science (DFPPS), was named outstanding researcher in natural sciences.
Dr. Dixon Gevaña of the Department of Social Forestry and Forest Governance was recognized not only as an outstanding researcher in social sciences, but also for his recent UP Scientist I appointment, one that he shares with Dr. Nathaniel Bantayan of IRNR.
Dr. Gevaña and Dr. Bantayan's appointment for the said scientific productivity merit is from 2018 to 2020.
The Institute of Agroforestry was named as outstanding research team, while administrative staff Danilo Puerto of IRNR and Ronald Eusebio of DFPPS bagged the outstanding technician/craftsman and outstanding blue collar personnel awards, respectively.
Meanwhile, eight personnel who retired from August 2018 to April 2019, and 23 employees who have served UPLB's second oldest college for 25, 30, 35, and 40 years were also recognized during the event.
"Everyone has contributed significantly to the development of the college, but these individuals were able to do more," said Dr. Willie Abasolo, dean of CFNR, in reference to the 2019 awardees.
Prior to the awarding program, CFNR inaugurated an anniversary exhibit and its renovated canteen.
It also formally received a bus from the Department of Science and Technology-Science Education Institute (DOST-SEI).
Present during the event were Dr. Josette Biyo, director of DOST-SEI; Hon. Neria Andin, chair of the Professional Regulatory Board for Foresters of the Professional Regulation Commission; and For. Dexter Cabahug, president of the CFNR Alumni Association.
Joining them were Chancellor Fernando C. Sanchez, Jr. and other UPLB and CFNR officials.
Chancellor commended the CFNR in a speech he gave at the program. "Through the tireless efforts of the faculty and students and the successes of our alumni in their respective fields, CFNR has steadily improved throughout the years to retain its title as the Center of Excellence for Forestry Education and be the best forestry school in the country," he said. (Mark Jayson E. Gloria)