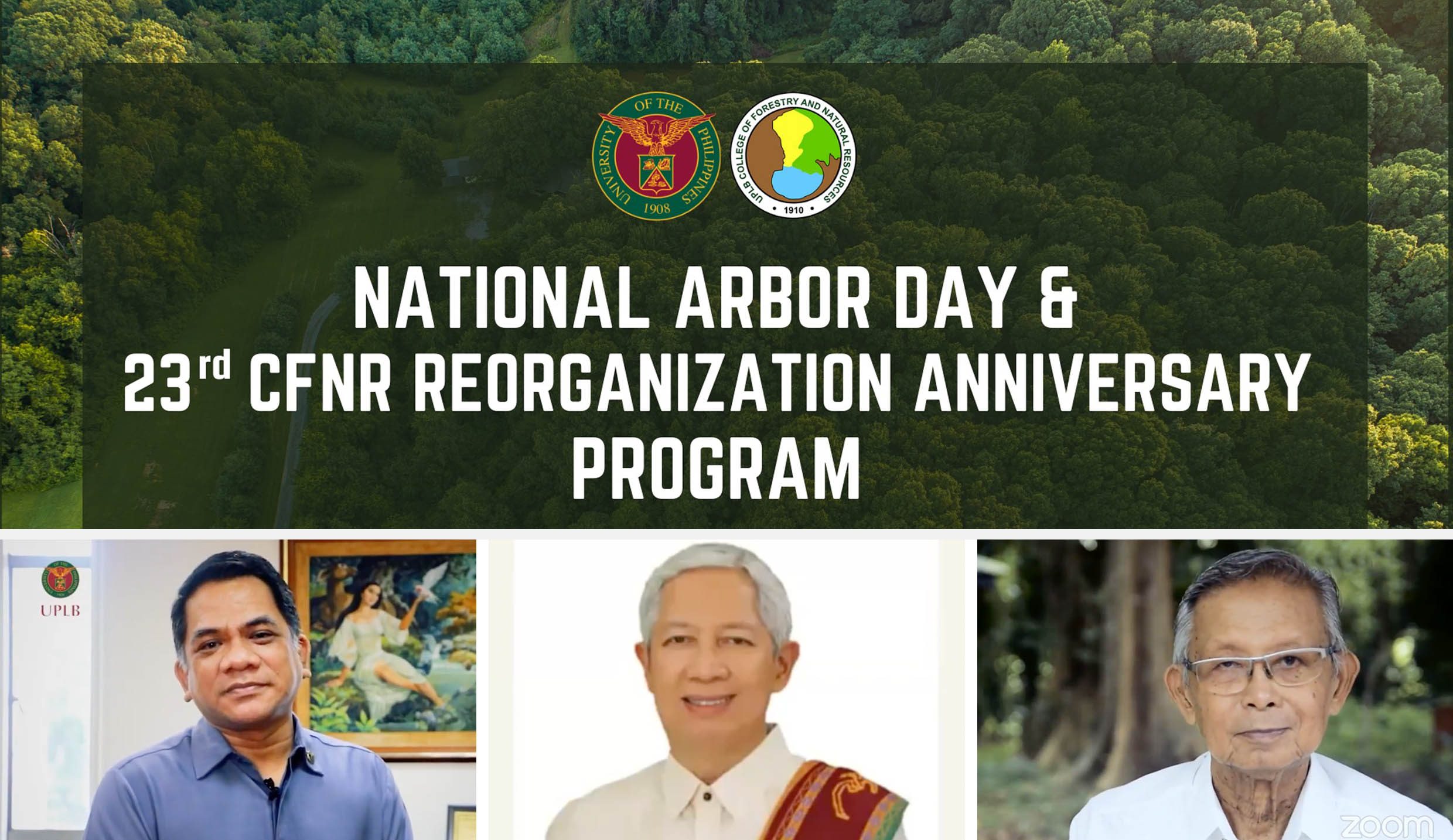 CFNR marks Arbor Day & 23rd reorganization anniversary
The College of Forestry and Natural Resources (CFNR) celebrated National Arbor Day and its 23rd reorganization anniversary with various activities, from launching a rehabilitation initiative to holding a recognition program on 25 June via video conference.
"These two events share the same goal. To protect, preserve, develop, and nurture the forest and the environment. They both give parallelisms that provide us reflections of hope," said CFNR Dean Marlo D. Mendoza.
The observance of Philippine Arbor Day every 25th of June was institutionalized with the signing of Proclamation No. 643 in 2004. It is observed nationwide through the planting of trees and ornamental plants.
In his opening message, Chancellor Jose V. Camacho, Jr. acknowledged CFNR's contributions toward the advancement of forestry and natural resources education, research, and policy advocacy in support of the future-proof initiative of the University.
As part of the Arbor Day segment of the program, CFNR launched the Tamesis Tree Rehabilitation Project to assess and restore the health of the Narra Commemorative Tree or more popularly known as the Tamesis Tree which was named after Dr. Florencio R. Tamesis, the father of Philippine Forestry.
Dr. Tamesis was the first Filipino director of the Bureau of Forestry and former dean of CFNR when it was still the School of Forestry. The Narra Tree was planted by Dr. Tamesis in 1909 as a student in the college, according to the book by Nicholas P. Lansigan titled "The vanishing living links to our past."
Dr. Armando M. Palijon, former CFNR faculty member & alumnus, also gave a virtual tour of the commemorative trees planted in the college. Arbor Day initiatives of the CFNR student organizations pre-COVID-19 were also presented.
Dr. Lucrecio L. Rebugio, professor emeritus and former dean of CFNR, kicked-off the second half of the program by discussing the reorganization and renaming of the College of Forestry into the CFNR, which was approved on June 25, 1998 by the UP Board of Regents.
"The reorganization brought strategic change in the college's core structure and programs to align them with emerging trends and concepts, as well as, to the rise of globalization. (It enabled the CFNR) to fulfill its mandate better, and to respond more realistically to the formidable challenges of forestry education in the 21st century," explained Dr. Rebugio.
To end the event, the college also launched their new website and awarded their 2021 outstanding personnel. (John Glen S. Sarol)