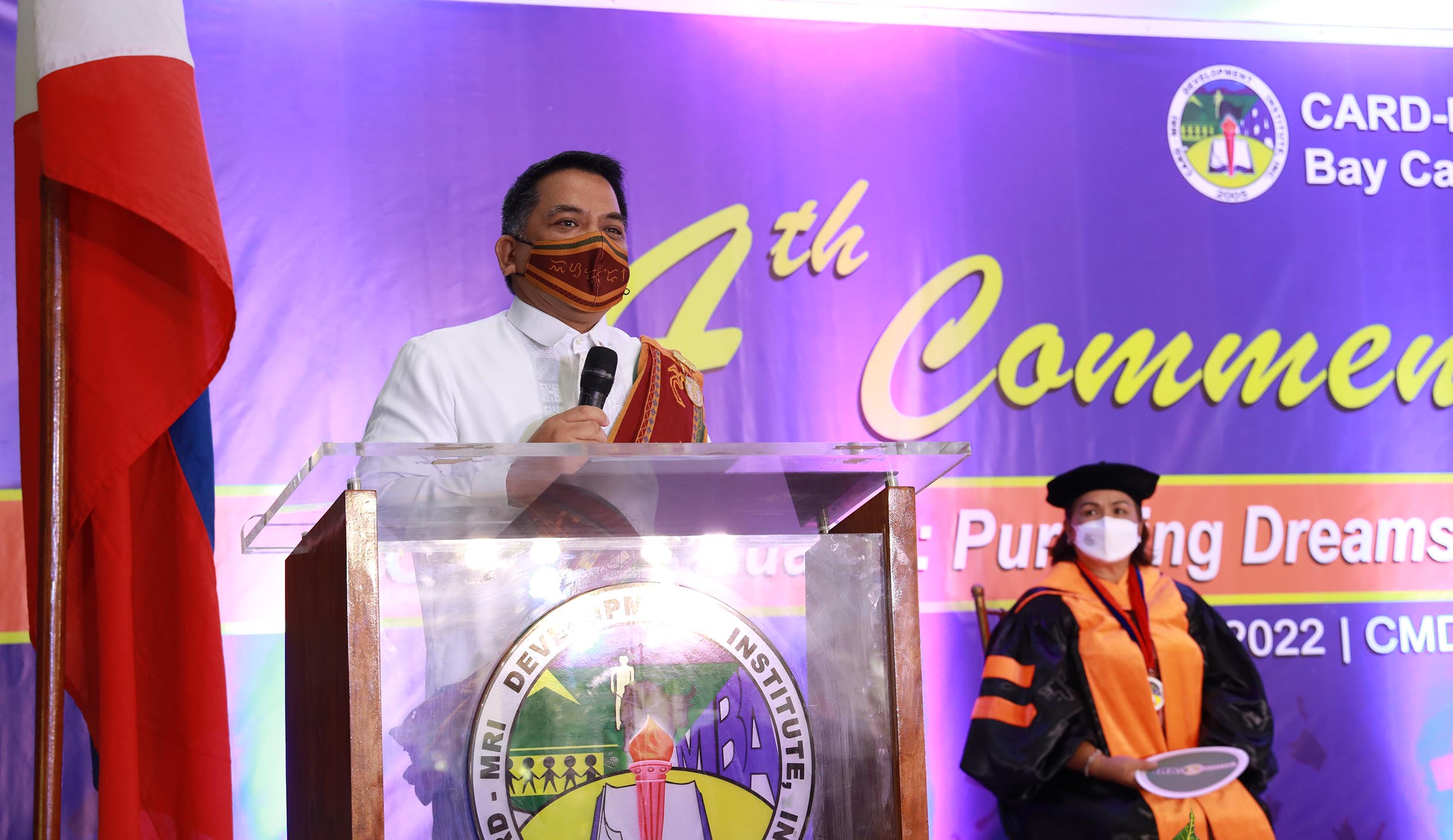 Chancellor Camacho is CARD Dev't Institute's grad speaker 
Chancellor Jose V. Camacho, Jr. headlined the 4th Commencement Exercises of the CARD-MRI Development Institute, Inc. (CMDI) as its guest of honor on July 22 at its campus gymnasium in Brgy. Tranca Bay, Laguna.
CMDI is the education arm of the Center for Agriculture and Rural Development-Mutually Reinforcing Institutions (CARD-MRI), a recipient of the Ramon Magsaysay Award for Public Service in 2008, which gained renown for its microfinance, microinsurance, and banking services in communities all over the country.
In his speech, Chancellor Camacho enjoined the 199 CMDI graduates to sustain their dreams and to be strong as they pursue the new chapters of their lives. These graduates earned BS Entrepreneurship with specialization in Microfinance Management, BS Accountancy, BS Accounting Information System, and BS Information Systems.
"You will enter a new world under a new normal. You will seek new opportunities, and at the same time, you will confront new challenges. As you move forward, bring with you your dreams, and draw inspiration from them," Chancellor Camacho said.
"The best way to nurture your dreams and make them come true is by acting on them," Chancellor Camacho added.
He continued his message by acknowledging that the way forward might not be easy, especially with the economic challenges arising during the pandemic recovery period.
"Be mindful of these things, but do not be afraid. Build up your strength and move forward," Chancellor Camacho advised. "Being strong does not only refer to physical strength. It also includes mental strength, emotional strength, and intellectual strength."
Chancellor Camacho commended CMDI for training its graduates to become self-sustainable in the same way that CARD-MRI has transformed and empowered the people and communities that it serves.
"With the competencies, learnings, and best practices that CMDI has imparted to you during your stay in this respectable institution, you can thrive in the profession and vocation that you envision for yourself," Chancellor Camacho assured the graduates.
He gave this assurance as he discussed the job market for accounting and information technology graduates, and the recovery of the micro, small, and medium enterprises.
Joining CJCJ and the graduates were officials, faculty members, and staff of CMDI led by Dr. Jaime Aristotle B. Alip, chairman of CMDI, founder and chairman emeritus of CARD-MRI, and a BS and MS Agricultural Economics alumnus of UPLB.
From being the training arm of CARD-MRI, CMDI expanded its scope to offering baccalaureate programs in 2015, and later opened its Senior High School. It also has a campus in Tagum City, Davao del Norte. (Mark Jayson E. Gloria)