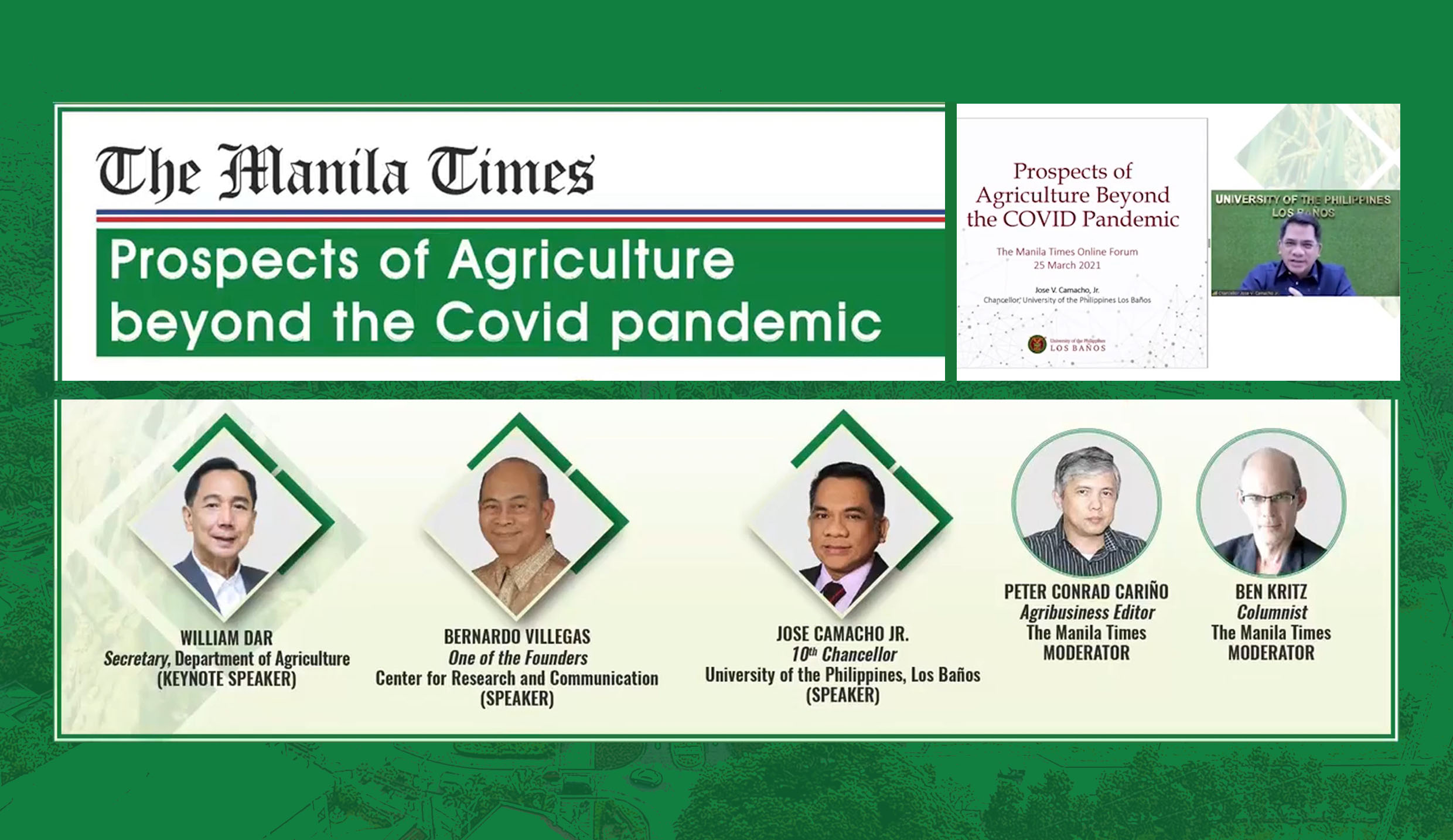 Chancellor Camacho outlines ways to future-proof Phil agri
Policy reforms and (sufficient) budgetary support; sustainable, science- and evidence-based agricultural programs; innovation and technologies that make agriculture adaptable and flexible to the agribusiness value chain; and collaboration among stakeholders.
These, according to Chancellor Jose V. Camacho, Jr. are what we need to maintain the momentum we gained post pandemic when people realized the importance of the agricultural sector.
He offered these prescriptions as ways to future-proof agriculture at an online forum titled, "Prospects of Agriculture beyond the COVID-19 pandemic," organized by The Manila Times on March 25 and streamed through its social media platforms.
Chancellor Camacho's prescriptions took off from the report of Agriculture Secretary William Dar who was keynote speaker at the same online forum.
According to Dar, Philippine agriculture's resilience shone through, showing the least reduction in growth among sectors in 2020.
Agriculture shrunk only by -0.2% as compared to the services sector's -9.1% or the industry sector's -13.1%.
Agricultural programs that work
Chancellor Camacho expressed wholehearted support for Inclusive Market-Oriented Development Framework being espoused by DA, which focuses the agribusiness value chain toward fulfilling the shifting needs of both local and global markets.
He said that the framework will ensure a robust agricultural sector that will thrive past the pandemic and pointed out a degree of adaptability and flexibility that needs to be worked on.
"Embracing digital technologies and applying them to key points in the agribusiness value chain will be critical for its success," Chancellor Camacho said.
He cited as an example of such technologies those that were developed under UPLB's Project SARAi or Smarter Approaches to Reinvigorate Agriculture as an Industry in the Philippines.
SARAi uses various data and satellite information, and farmer profiles to develop decision-support tools that help answer questions such as: When to plant? Where to plant? What variety to plant? What's the smartest way to irrigate/fertilize/manage pests? What's the status of crop production or damages? Where to sell?
Digital marketplaces, innovation in logistics, and agricultural research
Expanding on "where to sell," Chancellor Camacho emphasized the need to take advantage of the growing popularity of digital marketplaces.
"We must find a way to integrate them into the Philippine agribusiness value chain in a way that allows all stakeholders to benefit," he added.
One way to integrate online marketplaces is to make transportation of products easier such as individual quick freeze, liquid quick freeze, and active and smart packaging.
Chancellor Camacho also touched on research in UPLB having gained headway in agricultural innovation with the development of plant hybrids and varieties that are high-yielding, can withstand droughts, flood, and pests and diseases. UPLB has also developed new post-harvest methods for various food items.
He further pointed out other areas where innovation is needed: in agricultural risk mitigation in financing and in drawing up a business model that addresses the small and fragmentary nature of Filipino farm holdings.
On the latter, he suggested to adopt two possible business model innovations: agribusiness clusters or groups of competing, collaborating, and interdependent businesses within a value chain and community-supported agriculture or localized food production and consumption systems organized to share farming risks between producers and consumers
Collaboration and making agriculture an attractive career
Collaboration, alongside innovation, is an approach that Chancellor Camacho said is needed for competitiveness in the increasingly globalized markets, in particular, in international certification.
"Philippine agricultural products can easily carve out a niche in the international market," Chancellor Camacho argued that producers fail in this because they cannot keep up with the demand.
He suggested that collaboration is needed here with infrastructure and support coming from government, research from academic, and active investments from the private sector.
"Through goal-oriented collaboration, we can build a Philippine agricultural sector that is global in scale, scope, and reach," he said.
Having agricultural products in the international market will also address one other objective: make agriculture enticing to future generations so that more students will choose to enroll in it.
Alongside these are UPLB's aggressive recruitment program and constant reviewing and revamping of its curricula to keep them updated.
COVID-19 and its impact
Secretary Dar as keynote speaker highlighted COVID-19's impact on agriculture globally and locally, pointing out how the pandemic caused food supply disruptions, labor shortages, food wastage, price spikes, and price volatility.
Dar expressed optimism for Philippine agriculture for 2021, saying that a positive growth of about 2.5% for agriculture was still possible.
Dar also mentioned the Plant Plant Plant program which is central to the One DA Agenda of transforming Philippine agriculture with a vision of "a food-secure and resilient Philippines with empowered and prosperous farmers and fisherfolk."
Noted economist Bernardo Villegas who was also a speaker echoed Dar's optimism, predicting a maximum of 3% growth for agriculture in 2021, saying that Dar's goal of 2.5% growth is actually conservative.
Villegas also said that the country should go into crop diversification like Malaysia, target a lower rice sufficiency rate of perhaps 70%, and then repurpose the former rice lands for raising of high value crops.
He also predicted a growing need for urban gardening in the coming decades and said that educational institutions needed to put out short seminars, courses, or webinars to teach young professionals about agriculture and convince them that agribusiness is a profitable and healthy venture so that they would in turn become agribusiness managers, strengthening the entirety of the whole food value chain.
The entirety of the online forum can be watched on The Manila Times' official Youtube channel and Facebook page. (Albert Geoffred B. Peralta)