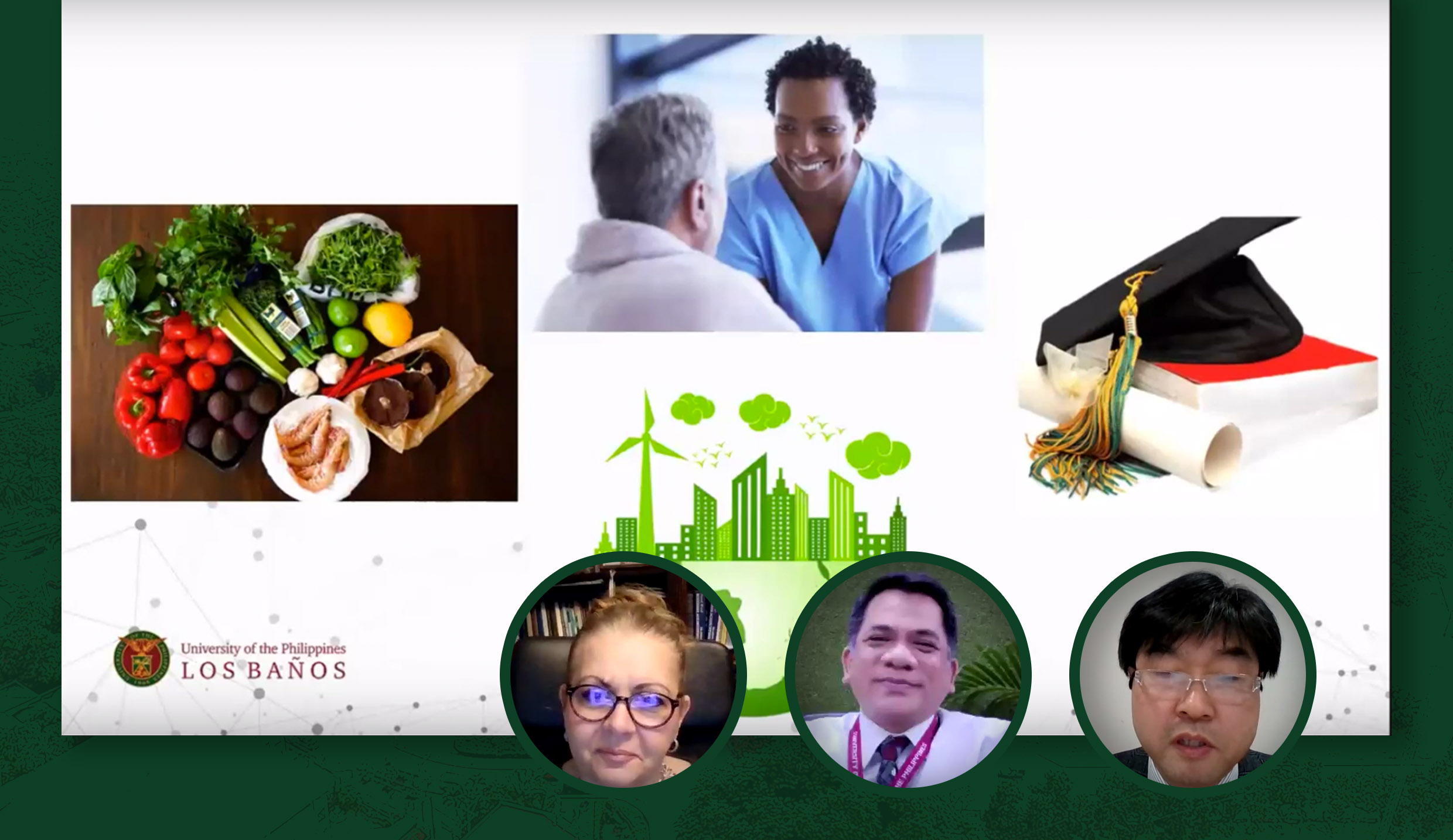 Chancellor Camacho prescribes back to basics for a resilient society
"We need to get our basics in order to achieve resilience or some level of resilience."
This, in a nutshell, captures the lesson that Chancellor Camacho said he learned from the pandemic and on which he based prescriptions for actions that must be taken even as "significant progress has already been made toward the development of a variety of vaccines against COVID-19."
Chancellor Camacho shared his thoughts on the four pillars of resilience in a keynote address that he gave at the opening program on the first day of the 25th International Academy of Global Business and Trade (IAGBT)-Korea International Trade Research Institute (KITRI) Biannual Conference and Research Symposium held virtually on Jan. 21-23.
He identified the four pillars of resilience, namely: agriculture, healthcare, environmental sustainability, and education on which solid investments and policies should be made in order to achieve long-term physical, social, and economic well-being.
"I believe that in many ways, these essentials form the pillars of a resilient society," Chancellor Camacho said.
He cited that in the Philippines, despite the economic setback in 2020, the agriculture sector performed relatively well.
"While its growth was far from stellar, how the agriculture sector fared during an exceptionally difficult period, is a hopeful and welcome reminder that during a health crisis, consumers really do pay attention and put a premium on what they eat," Chancellor Camacho reasoned.
On healthcare being another pillar of resilience, Chancellor Camacho talked about how globalization has made it possible for travel to be faster and more affordable on one hand and how it has made the transmission of diseases quicker and mostly undetected on the other hand.
He urged that these two concerns be addressed together despite their seeming disparity, highlighting at the same time the issue of limited access to quality and comprehensive healthcare.
Chancellor Camacho, an economist, also pointed out the need for sustainability to not only be about the economy but to also be about the environment.
"Sustainability must not only be about keeping processes and industries viable, but should also be for the greater good of our planet, thus the need for environmental sustainability to be a responsibility that we must all share," he said.
Finally, Chancellor Camacho pointed out access to quality and comprehensive education as the fourth pillar of resilience.
According to him, the COVID-19 pandemic has been particularly cruel to educational institutions worldwide.
He pointed out that what has been typically regarded as one of the most stable institutions is enduring a crisis unlike anything that it has encountered in the past, affecting millions of students and school and university staff.
Chancellor Camacho expressed the imperative for working for a resilient society through the efficient and effective implementation of these four pillars, acknowledging that it will require tremendous changes in mindset, policies, investments, and in support infrastructure.
He said that while it may be difficult "some things have to change."
Chancellor Camacho stressed the need for people to learn the lessons from this pandemic, not only because we need to prepare for what the future might bring, but more importantly because we cannot simply go back to how things were pre-COVID; as if the pandemic never happened, as if livelihoods and lives were not lost.
He highlighted how these changes could take place through the help of international collaborations and partnerships especially in the development and implementation of relevant science and technology-oriented endeavors geared toward resilience building.
The IAGBT-KITRI conference meeting is being participated in by 200 members from 10 countries, namely: Austria, China, Ireland, Korea, Philippines, Romania, Thailand, Vietnam, the United States, and Uzbekistan.
Seventy papers on the theme, "At the Forefront of Global Business and Trade Recovery and Continuity: Transformation and Resilience," were and are being presented in the conference.
The IAGBT-KITRI conference aims to provide a unique opportunity for academicians and scholars with multi-disciplinary and multi-cultural perspectives to exchange information and insights relative to a constantly evolving global economy.
It also seeks to encourage networking and collaboration among participants to further advance the theory and practice of global business and trade amidst convergence and divergence.
It is organized by IAGBT, KITRI, UPLB, Shandong Society of International Economics and co-organized by the Asian Trade Association, the East Asian Trade Association, and the Northeast Asian Business and Economic Association.
Earlier, Chancellor Camacho and Prof. Peizhi Wang, dean of Shandong University of Finance and Economics of China, gave welcome speeches during the opening ceremony after Prof. Soon-Hwan Jeon, chairman of IAGBT and president of KITRI and Joongbu University in South Korea, gave the opening address.
Congratulatory addresses were also given during the opening program by Prof. Adriana Grigorescu of the National University of Political Studies and Public Administration of Romania; Prof. Nguyen This Bich Loan, vice president of Thuongmai University of Vietnam; Prof. Alisher Tuychiyev, vice rector for academic affairs of Tashkent Institute of Finance in Uzbekistan; Prof. Wolfgang Kainz of the University of Vienna in Austria; and Prof. Myeong Hwan Kim, president of IAGBT Purdue University in Fort Wayne in the United States.
The conference regional co-chair for Asia, Dr. Jeanette Angeline B. Madamba, a faculty member at the UPLB College of Economics and Management, hosted the opening program. (JMBo)