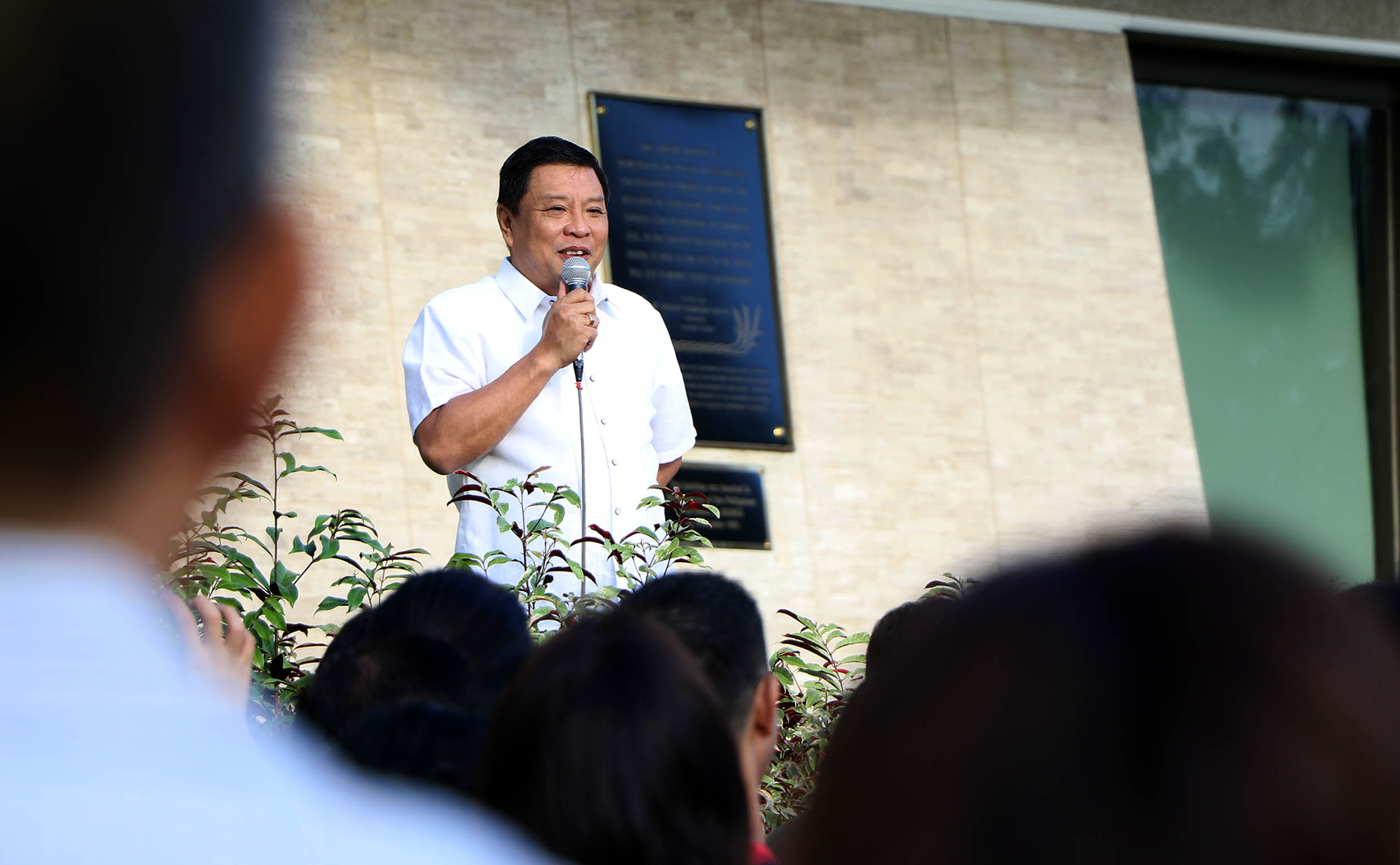 Chancellor Sanchez lauds teamwork for feats in 2019
The UPLB community welcomed the first Monday of 2020 with the weekly flag raising ceremony in front of the BM Gonzalez Hall on Jan. 6.
Headlining the activity was Chancellor Fernando C. Sanchez, Jr., who, in his message to the officials and employees, attributed teamwork for the university's accomplishments.
"2019 has been very good to UPLB. We accomplished a lot by working together," he said.
Chancellor Sanchez cited the PhP 1 billion infrastructure budget that UPLB was able to secure, a significant amount that has further hastened the construction of new buildings, facilities, and other public works, signaling a new era of campus development.
He said that this year, the university constituents should expect to see more edifices in the campus rise or improved.
These include big-ticket items such as the Nanoscience and Technology Facility that will be constructed adjacent to the Physical Sciences Building, and the new University Library and Knowledge Center, which shall also house the executive offices.
Chancellor Sanchez also expressed gratitude to the UPLB alumni for strengthening the university's networks in order to help secure the necessary funds for different projects in the campus.
He also talked about UPLB's internationalization efforts, which have resulted in growing partnerships with global universities and expanding opportunities for more faculty members and staff to pursue postgraduate studies abroad.
"We are doing heavy internationalization so that they could choose whatever university they want to go to," he said. "We have money to send them there. It's an effort by the whole UP System supported by all constituent universities' chancellors."
Serving as host unit and attendees of the flag raising ceremony were personnel of the Office of the Chancellor (OC) and of its eight supervised units, namely: Office of Alumni Relations (OAR); Office of International Linkages (OIL); Office of Public Relations (OPR); Internal Control Office (ICO); Legal Office; Academic Assessment and Development Unit; Office of Anti-Sexual Harassment; and Ugnayan ng Pahinungod.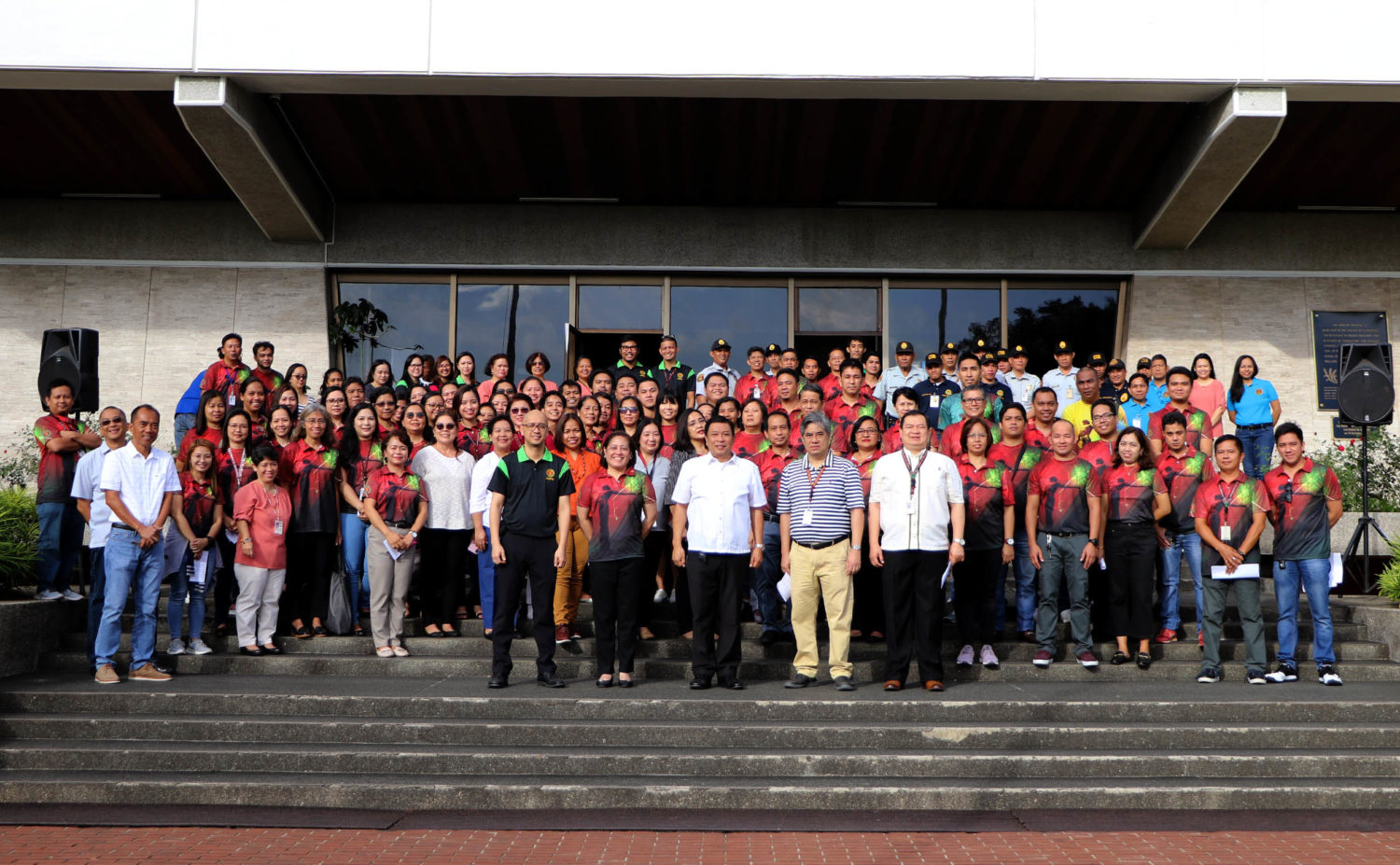 Present during the activity were Dr. Sue Liza Saguiguit, assistant to the chancellor and director of OAR; Dr. Simplicio Medina, director of OIL; Josephine Bo, director of OPR; Atty. Rosario Larracas, acting chief of the Legal Office; and Joan Mendoza, chief ICO.
Also present were vice chancellors, namely: Dr. Portia Lapitan (academic affairs); Dr. Rex Demafelis (research and extension); Dr. Crisanto Dorado (administration); and Dr. Marish Madlangbayan (planning and development). Dr. Robert Visco, assistant to the vice chancellor for community affairs, was in attendance, as well.
Other members of the Management Committee and the chiefs of administrative offices also attended the flag raising ceremony. (Mark Jayson E. Gloria)