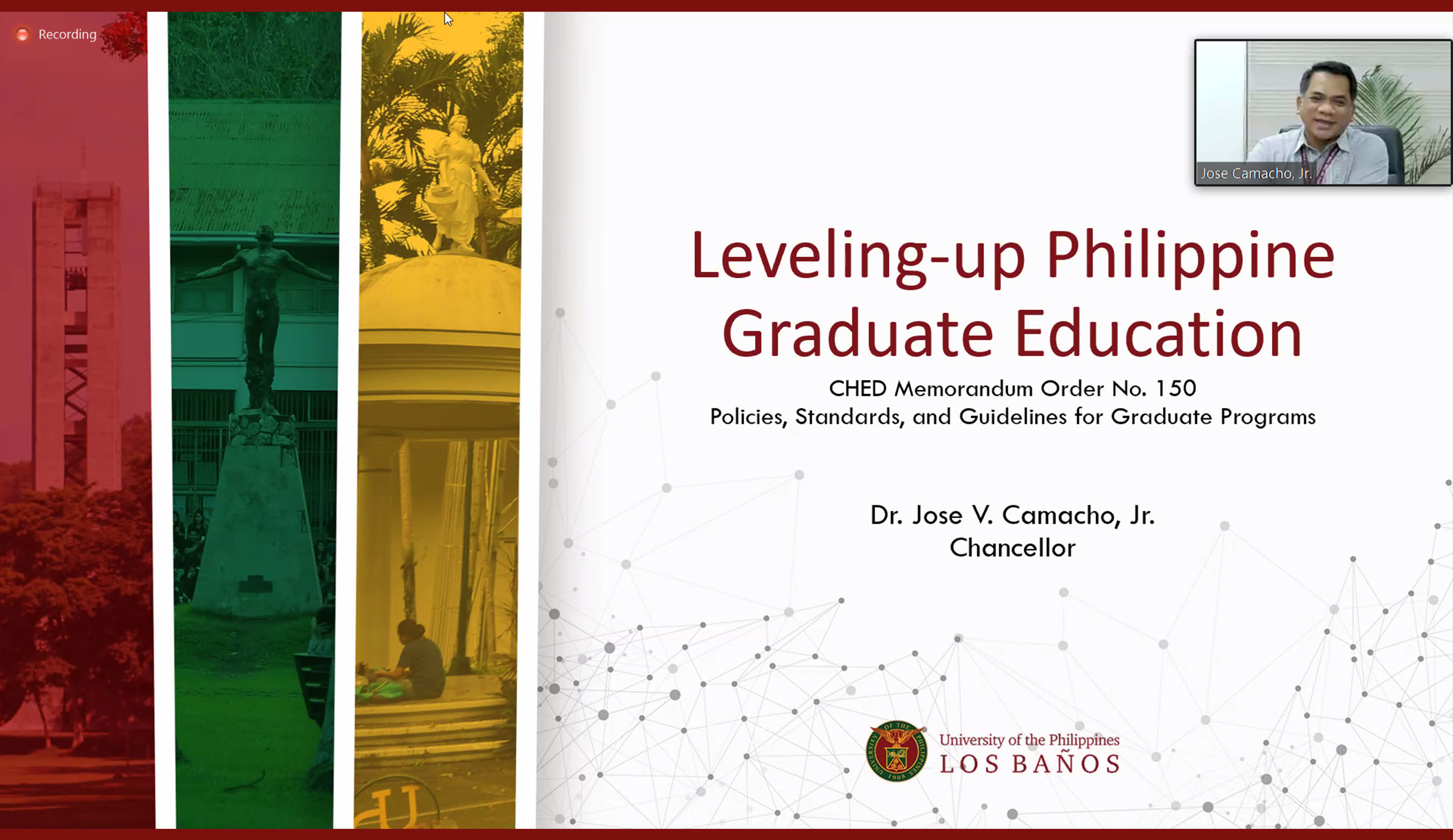 CHED standards can help train professionals in relevant research – Chancellor Camacho
Graduate programs need to be responsive to the needs of professionals and the industry. This was the rationale that Chancellor Jose V. Camacho Jr. presented during the Curriculum Review and Development (CuReD) Planning-Training-Workshop for the new master's program in Education at UP Visayas.
The academic program improvement activity was led by the UP Visayas College of Arts and Sciences-Division of Professional Education on Feb. 23, via online conferencing.
Chancellor Camacho served as one of their resource speakers to discuss the Commission of Higher Education (CHED) Memorandum 15 series of 2017 which aims to guide higher education institutions (HEIs) in creating and implementing graduate programs.
According to Chancellor Camacho, the memo was drafted after the series of recent developments in Philippine education, among them the new focus on outcomes-based learning in higher education, the implementation of the K-12 curriculum, the Free Tuition Law for state universities and colleges, and the institutionalization of Philippine Qualification Standards and ASEAN Quality Standards for professional occupations.
In light of these changes, CHED saw the need for graduate programs to achieve a clear progression beyond basic education and undergraduate education by stressing cutting-edge, integrative, and interrogative teaching and learning contents and methods, and higher competencies in research, teaching, and knowledge application and utilization.
He also emphasized the memo's vision for graduate education to produce professionals with advanced competencies who can contribute to leadership and innovation, scientific and technical growth, creative and effective learning and teaching, industrial productivity, inclusive economic development and environmental security, and good governance, among others.
He said that while UP has free rein over how it wants to create its graduate programs, using CHED's memo as a guide can help them increase the relevance of graduate education in the world of work, in the economy and in the overall higher education landscape.
"If ever you will accept, adapt, or adjust your requirements, it can lead to the leveling up of your graduate programs toward global standards. It can gear up your publication and creative work, increase the number and quality of research and play a role in enhancing the nation's competitiveness anchored on a strong evidence-based innovation science and technology," he said.
He encouraged them to make CHED's standards the minimum in creating UP's graduate programs to maintain UP's standards and ensure that it is at par with international institutions as the national university.
Chancellor Camacho also discussed the memo's standards in the expected outcomes of doctoral and masters programs, the types and structure of graduate programs, their research and creative work requirements, their institutional arrangements for ethical standards, and mechanisms for funding and establishing partnerships with industry.
He also talked about CHED's additional requirements for graduate programs offered online, through transnational institutions, or by consortiums, as well as the needed resources and provisions that are deemed necessary to deliver a high-quality graduate education. (Jessa Jael S. Arana)