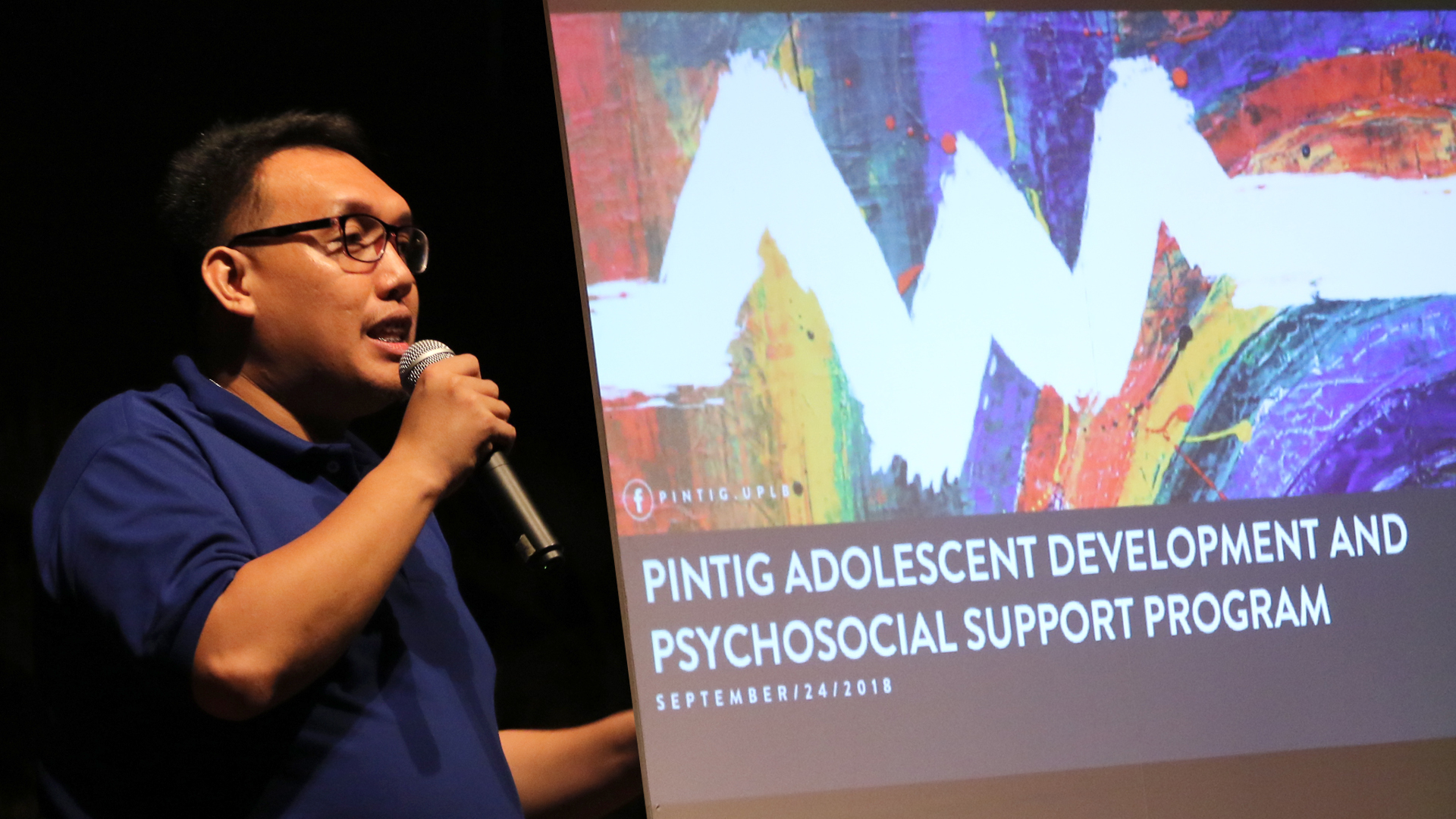 CHE's advocacy program reminds youth of their self-worth
What if you don't know who your true self is? Pintig may just be the right vehicle for adolescents to find guidance in addressing this question.
Pintig is a development program of the Department of Human and Family Development Studies at the College of Human Ecology (CHE-DHFDS) that allows adolescents to discover and reflect on self-awareness towards their socio-ecological environment.
According to Nephtaly Joel B. Botor, program coordinator and faculty member at the CHE-DHFDS, Pintig is an avenue to cater to the youth's "multi-fold and multi-faceted" biopsychosocial wellness.
Now on its 6th year, Pintig was held on Sept. 24 at DL Umali Auditorium with the theme Girumdóm: Alaala't Paghilom (Memory and Healing).
Resource speakers from different organizations shared experiences and pieces of advice to the participants so that the latter would further understand themselves.
Dr. Erick Vernon Dy, guidance services specialist at the Office of Student Affairs, said that teenagers should always talk to their family to prevent communication barrier and misunderstanding.
Dr. Raymond John Naguit, national chairperson of Y4MH Coalition, who talked about mental health, cited that 26% of teenagers thought at least once that their lives were not worth living, according to the Diagnostic and Statistical Manual of Mental Disorders.
Marco Alfino Miranda, director of the Ateneo Center for Culture and the Arts at the Ateneo de Zamboanga University, talked about how the out-of-school youth in the communities they are working with have discovered their strengths towards leadership and participation through creativity and arts.
Miranda is also the program director of Sugpat Adolescent Development and Participation Program, a major co-presenter of Pintig.
Abigail Guanlao-Billones, program director of Lingap Sining and a member of Philippine Educational Theater Association, shared to the audience how they engaged the teenagers of Leyte in arts and creative process to support their well-being.
Rey Bufi, founder and executive director of The Storytelling Project, encouraged the participants to read more in his inspirational message. "The habit [of reading] eliminates the process of [over]thinking."
After the program, breakout sessions for college students, representatives of UPLB student organizations, teachers, and school counselors were held, covering three themes.
The first theme, "Youth, mental health, and psychosocial wellbeing," talked about welfare and awareness of an individual.
The second, "Youth and gender and sexuality," focused on intimate relationships and gender-based violence in schools.
The third theme, "Youth, society and the environment," tackled the effects of historical dementia and highlighted the creative power of the youth.
Creative workshops were also arranged for high school students who are interested in expressing their thoughts through integrated arts. (Eunice A. del Rosario)