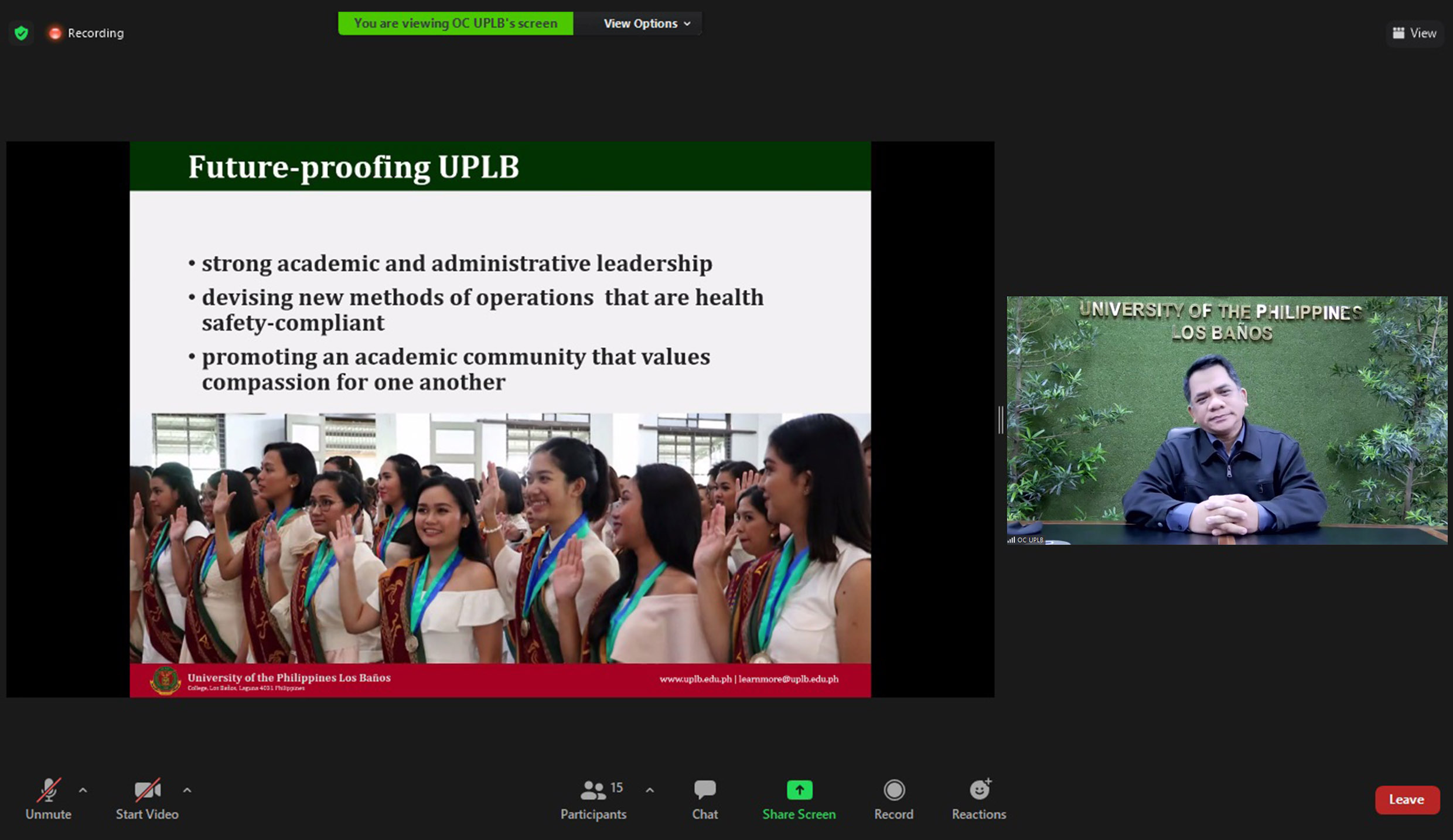 CJCJ speaks on future-proofing UPLB to association of managers
Chancellor Jose V. Camacho, Jr. (CJCJ) gave a talk on what future-proofing UPLB is to the Management Association of the Philippines Agribusiness and Countryside Development Foundation (MAP-ABCD).
MAP-ABCD is composed of active and retired entrepreneurs, professional managers, former government technocrats up to the rank of cabinet secretary, and academicians who have been in the forefront of policy advocacy and promotion of agribusiness and countryside development in the country since 1996.
In his talk, Chancellor Camacho defined future-proofing UPLB as "developing methods, approaches, and framework to minimize costs and impacts of future events" on the university, internalizing lessons of the past, adapting and facing challenges of the present, and preparing for future disruptions and issues.
Chancellor Camacho said that the need to future-proof UPLB is necessary as the university faces the challenges of the COVID-19 pandemic, climate change, the Fourth Industrial Revolution, dwindling government funds, and socio-economic-political stresses and uncertainties.
Future-proofing, he explained, should be ensured in the areas where UPLB is known to be a leader – in knowledge creation, research, and in its public service initiatives.
This, according to him, entails future-proofing human resources, lifelong learning and the instruction system, research and innovation system, its commitment to public good and social welfare, and its global engagement.
Foremost and at the heart of future-proofing UPLB, Chancellor Camacho said, is ensuring the welfare of all its stakeholders-the students, faculty members, research, extension, and professional staff, administrative staff, and the alumni – with compassion or "malasakit."
This will entail effective communication, dialogue, an enabling support system and free intellectual expression, looking after the constituents' well-being, safe work modalities to protect workers from communicable diseases, tenure, and partnerships with the alumni.
Chancellor Camacho also said that UPLB will reshape instruction by integrating data science, computing, and technology-supported teaching and learning in its traditional niches, and by enhancing the quality of flexible learning systems, creating the Center for Teaching-Learning Excellence, continuing education program for the academic staff, nurturing a mentoring system, and seeking more resource-endowed academic partners.
The university's research and innovation system will be future-proofed by embracing digital technology to strengthen its lead in agriculture, food security and nutrition, environment and natural resources, good governance and rural development, exploring new models of resource generation, investing in data analytics research, lobbying for bigger budget in "next in-thing, next big ideas," and attracting the best and brightest in research.
Public service will engage communities through responsible processes and with environmental sustainability at the core. UPLB will strive to be a caring university not only to its constituents but to nearby communities, as well.
Moreover, its global engagement will be future-proofed by attracting high quality international staff and students, by communicating UPLB's distinct contributions to the world, and by developing a portfolio of worldwide partnerships.
At a brief open forum following his presentation, Chancellor Camacho exchanged ideas with MAP-ABCD members on increasing agriculture graduates, producing alumni who will serve as agriculture thought leaders of the country, promoting smart agriculture, and strengthening partnerships among universities.
MAP-ABCD Foundation has been at the forefront of policy advocacy and promotion of agribusiness and countryside development since 1996.
It holds forums every Tuesday with thought leaders to tackle its "advocacies and the times" and innovations for meaningful change. (JMBo)