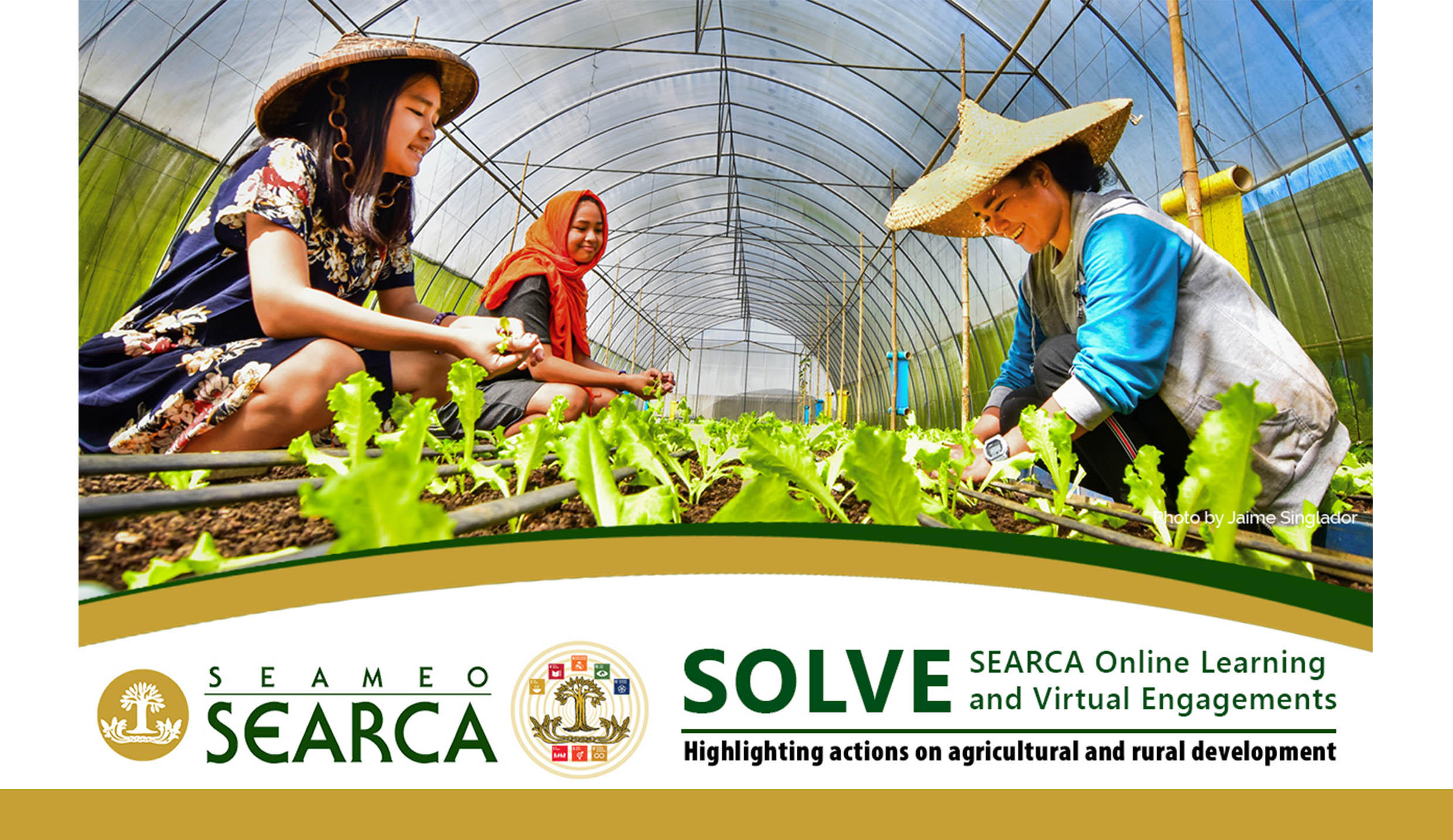 CJCJ talks on transformational leadership in future-proofing UPLB
Chancellor Jose V. Camacho, Jr. (CJCJ) discussed the importance of a transformational leadership in the pursuit of his vision to future-proof UPLB at a talk he gave in a webinar organized by the Southeast Asian Regional Center for Graduate Study and Research in Agriculture on Nov. 11.
Chancellor Camacho's talk, entitled "Transformational leadership in an agriculture and rural development higher education institution," was part of the 20th webinar under the SEARCA Online Learning and Virtual Engagement (SOLVE) Leadership Conundrums: Learning to Lead, Leading to Learn.
He discussed how the UPLB team under his administration aims to provide transformational leadership through teamwork and by inspiring and influencing people to produce more outputs and results with greater autonomy and motivation.
According to him, a future-proofed university is one that has "developed methods, approaches, and framework to minimize costs and impacts of future events," is aware and has internalized the lessons of the past, and is able to adapt to the present circumstances and prepare itself for the challenges of future disruptions.
He further said that future-proofing should be ensured in the areas where UPLB is known to be a leader – in knowledge creation, research, and in its public service initiatives.
This, he said, would focus the future-proofing endeavors on its human resources, lifelong learning and the instruction system, research and innovation system, its commitment to public good and social welfare, and its global engagements, including its engagement with SEARCA.
According to Chancellor Camacho, all this would generally apply to UPLB's endeavors in agriculture and rural development (ARD).
First and foremost that would be the focus of his administration for future-proofing are the students. "We want to provide them with opportunities and support. We will revitalize the ARD Scholarship to make it a compassionate program for poor but bright and brilliant and deserving students from the farming and fishing communities," the Chancellor also said.
He promised to help students who need to adapt to the new modes of learning during this pandemic through UPLB CARES or Connectivity Assistance for Remote Students.
To future-proof lifelong learning in ARD, he said he will move to create the Center for Teaching-Learning Excellence, provide a continuing education program for academic staff, and nurture a mentoring system between leading ARD scientists and promising scholars.
Future-proofing UPLB would also mean transforming academic programs, integrating data science, computing, technology-supported teaching and learning systems in our traditional niches, and data analytics, thereby attracting the "best and the brightest."
"In research, this can be done by embracing digital technology to strengthen our lead in agriculture, in food security, rural development, and governance; by pushing the research frontiers in smart agriculture and data analytics; and by attracting the best and the brightest in ARD research," Chancellor Camacho explained.
"Our commitment to strengthening public service has a strong foundation in ARD transformational leadership. Public service in future-proofing UPLB will be manifested in drafting the Agricultural, Research and Development Extension framework between UPLB and the Department of Agriculture."
Future-proofing UPLB would also extend to the university's global engagements. "Future-proofing is not complete without creating new bridges with the international community. We will attract high quality ARD international staff and students and explore more innovative graduate programs in ARD, in food security and climate change." Chancellor Camacho said of his plans for this aspect of the university's activities that he was most passionate about as Graduate School dean.
Considering that the COVID-19 pandemic remains a threat, Chancellor Camacho also said that UPLB will devise new methods of operations that comply with international and health safety standards.
In closing, Chancellor Camacho said that a future-proofed UPLB should thrive in an environment of honor, excellence, and compassion being ingrained in its mission and vision.
The SOLVE webinar series, launched in April 2020, is SEARCA's way of immediately responding to the emerging challenges brought about by the COVID-19 pandemic on food security.
This episode of the webinar series headlined two other resource persons:  Professor Dr. Myo Kwe, chairman of the National Education Policy Commission of Myanmar and Ms. Audrey Regis, president of Audrey's Confectioneries in Cebu City, Philippines. (JMBo)