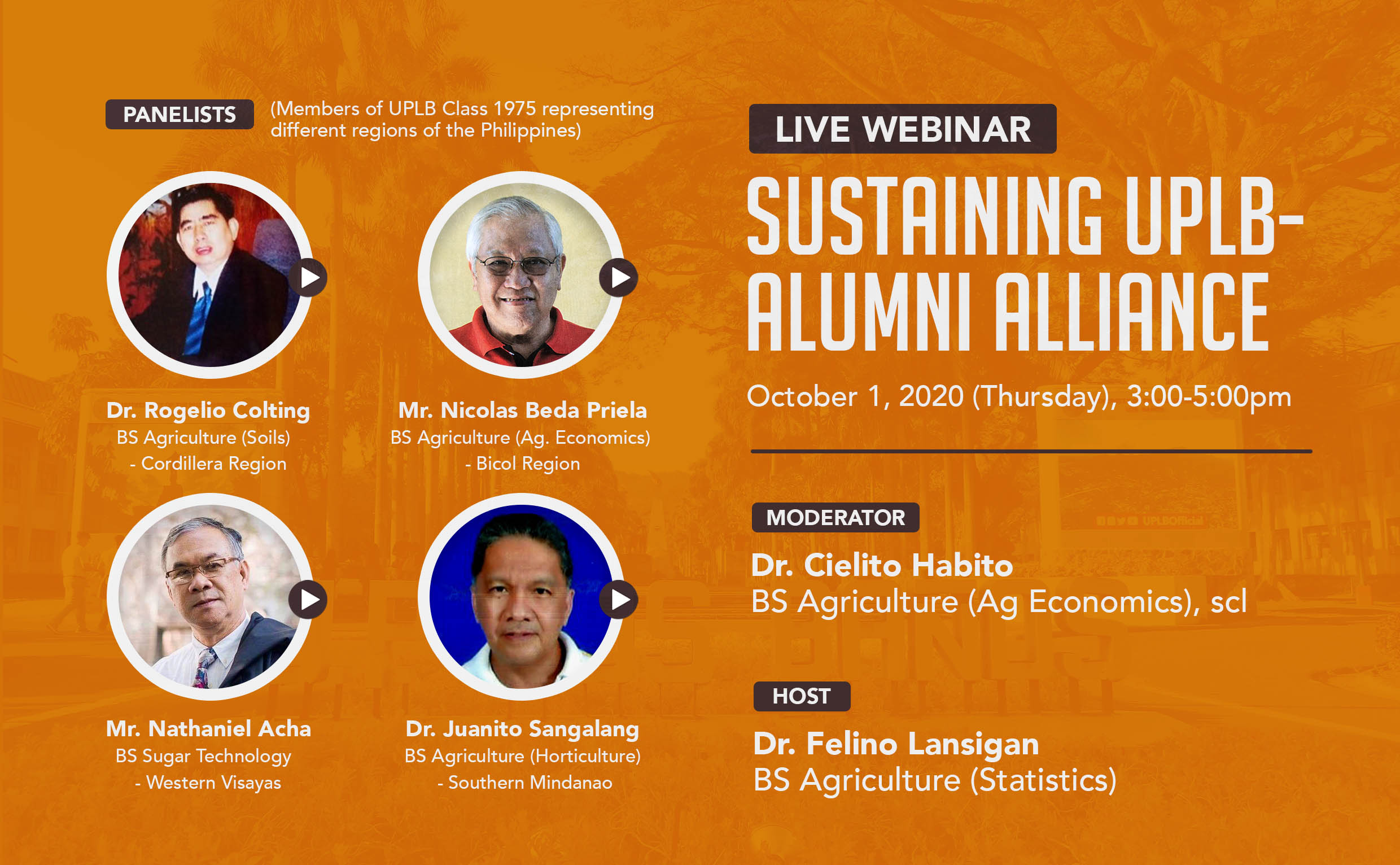 Class '75 webinar to center on UPLB-alumni alliance
The series of jubilarians-led webinar in the days leading to the 2020 Loyalty Day (LD) continues with that of Class 1975 on Oct. 1, which aligns itself with the LD theme "Sustaining UPLB-alumni alliance."
Four members of Class '75 shall serve as webinar panelists, each representing different regions in the country.
They will talk about the issues, priorities, and strategies on sustaining the alliance between UPLB and its alumni, with the goal of enhancing the university's relevance to nation-building and development.
The panelists are Dr. Rogelio Colting (BSA, Soil Science) from the Cordillera Administrative Region; Nicolas Beda Priela (BSA, Agricultural Economics) of Bicol Region; Nathaniel Acha (BS Sugar Technology) from Western Visayas; and Dr. Juanito Sangalang (BSA, Horticulture) of Southern Mindanao.
"The UPLB alumni are important assets of the university which can be partners of UPLB in many projects and activities," said Dr. Felino Lansigan (BSA, Statistics), fellow member of Class '75 and webinar organizer and host.
Dr. Lansigan, dean of the College of Arts and Sciences, said that the university-alumni collaboration may pursue promotion of UPLB's degree programs, resource generation for endowment funds for scholarships, fellowships, professorial chairs, and lobbying for support, to name a few.
Serving as webinar moderator is Dr. Cielito Habito (BSA, Agricultural Economics, summa cum laude), former director-general of the National Economic and Development Authority.
"Class '75 is really an impressive group of UPLB alumni considering their respective achievements in the academe, government service, business, and private industries nationally and internationally," Dr. Lansigan noted.
Interested participants may join by clicking this link: https://up-edu.zoom.us/j/95065967279. Meeting ID is 950 6596 7279, while the passcode is Class1975. The webinar will run from 3-5 PM on Oct. 1, Thursday. (Mark Jayson E. Gloria)