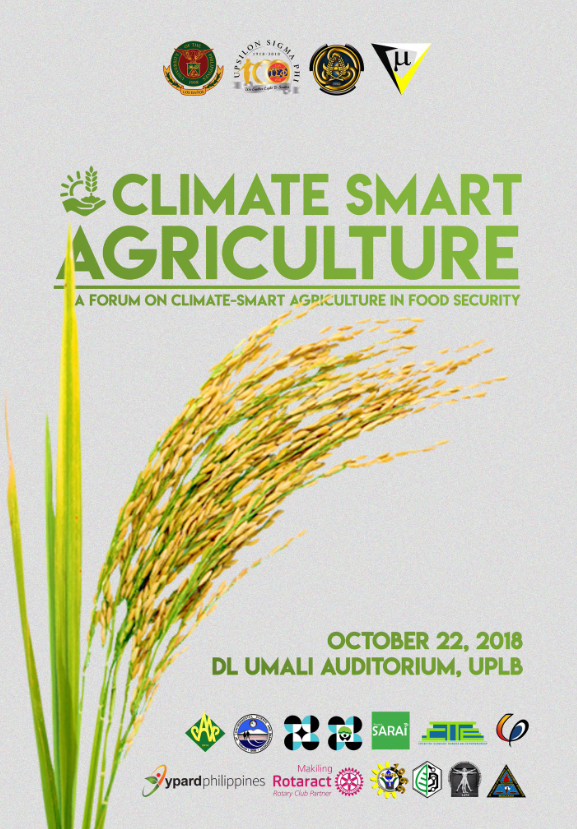 Climate-smart agriculture & food security up for discussion at a forum in UPLB
Be part of the first ever Climate-Smart Agriculture (CSA) Forum in the Philippines!
The CSA Forum, which aims to broaden the knowledge of the agricultural sectors in government, academe, and research institutions is themed "Recognizing the Role of the Integration of Agricultural Development and Climate Responsiveness in Food Security." It will be held on Oct. 22 from 7 a.m.-7 p.m. at the D.L. Umali Auditorium in UPLB. A simultaneous exhibit will be on display from 10 a.m. to 5 p.m. at Baker Hall, UPLB.
The forum speakers are the following: Dr. Fernando A. Bernardo, former IRRI deputy director general and a representative of the Coalition for Agricultural Modernization in the Philippines (CAMP); Dr. Reynante L. Ordonio of the Southeast Asian Regional Center for Graduate Study and Research in Agriculture (SEARCA); Dr. Maria Victoria O. Espaldon and Dr. Moises A. Dorado, UPLB faculty members who are involved in Smarter Approaches to Reinvigorating Agriculture as an Industry in the Philippines or Project SARAI; Dr. Decibel F. Eslava, dean of the School of Environmental Science and Management (SESAM); Dr. Felino P. Lansingan, dean of the College of Arts and Sciences; Dr. Romeo Labios of the International Rice Research Institute; and Joan Carling, Champion of the Earth 2018 Recipient and Co-convenor of Indigenous Peoples' Major Group for Sustainable Development.
The CSA Forum is a joint-project of Upsilon Sigma Phi, UPLB Grange Association and UP Guild of United Minds – UP Praefects. It is co-presented by CAMP, Center for Technology Transfer and Entrepreneurship, Department of Science and Technology-Philippine Council for Agriculture, Aquatic and Natural Resources and Development, SESAM, and Project SARAI.
Interested parties may register at http://bit.ly/CSAForum2018. For more inquiries and details about this event, send an email to [email protected], and visit the official Facebook page: https://www.facebook.com/csaforum2018.