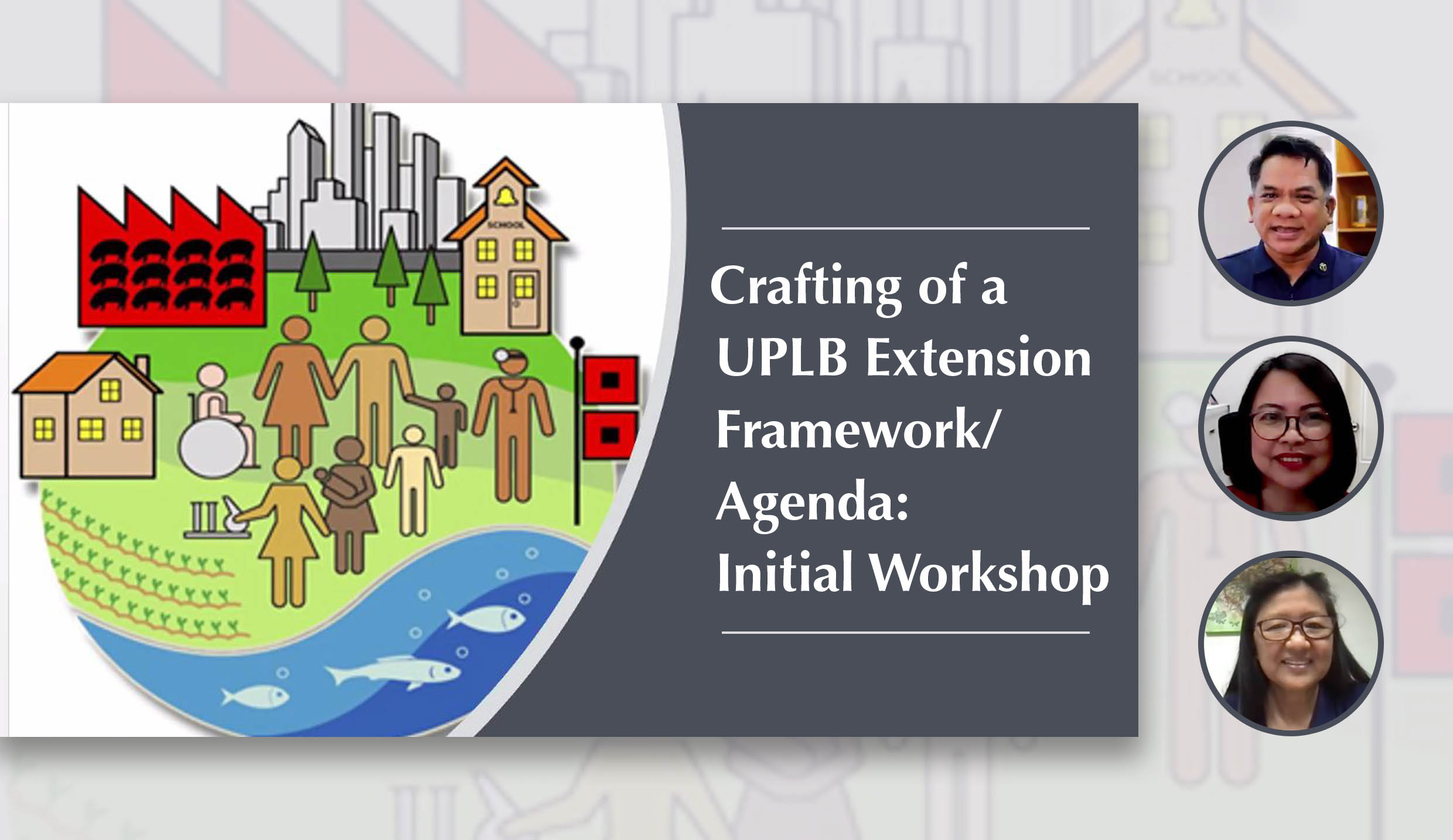 Consultation held on the proposed UPLB Extension Agenda
After the university-wide consultative meeting for the UPLB Research Agenda was held on July 21, a similar activity was virtually held on Sept. 29, this time to consult UPLB personnel on the proposed extension agenda or the framework for developing and implementing extension programs and services.
While the UPLB Research Agenda rests on the four pillars of food security and sovereignty; resilience and sustainability; future cities; and One Health, the UPLB Extension Program has the following five themes: securing and thriving community; health and well-being; sustainability and resilience; food security; and institutional development.
According to Dr. Rowena DT. Baconguis, chair of the UPLB Extension Agenda Ad Hoc Committee and dean of the College of Public Affairs and Development, these themes stemmed from looking at the balance between the research and extension agenda, and from determining what makes UPLB different from other universities in terms of its extension services.
Based on consultations with UPLB extension coordinators, the committee also arrived at a definition of extension that could settle the long-drawn-out debate of the term vis-a-vis public service.
As such, the "UPLB Extension Program encompasses all forms of capacity strengthening activities that engage, educate, and empower local and international stakeholders toward active and meaningful participation in the advancement of sustainable development."
Extension, along with research and instruction, is one of UP's three main functions as a national university based on the UP Charter. Together with other UP constituent universities, UPLB fulfills its extension function by helping in the development of communities in the country.
According to UPLB Chancellor Jose V. Camacho, Jr., he tasked a team of deans and directors to come up with an extension agenda at the UPLB Strategic Planning Workshop held on June 9. This was also the time when the idea of a new UPLB research agenda called UPLB AGORA or "Accelerating Growth through One Research and Action" was formed.
"A new research agenda is not enough for a future-proof UPLB without its counterpart, the UPLB Extension Agenda," Chancellor Camacho said during his opening message.
"We need to consolidate and redirect all of these extension undertakings, so that our quest to develop methods, approaches, and frameworks to minimize the costs and impacts of shocks of future events which cover all of our three-fold functions in research, instruction, and of course in extension," Chancellor Camacho added.
Dr. Baconguis recalled that they were given three days to come up with an extension framework. She said that it took them some time to finalize the framework, because they deemed it necessary to conduct the college-level consultations. They wanted to know "whether the framework could cover what is being done in the university" and if it can "offer something new" to improve the current extension programs in UPLB.
For Dean Baconguis, developing the UPLB Extension Agenda is not a "one-shot deal" as there may be a need to revise the agenda after a year. But as of the consultation, the proposed extension agenda was met with positive reception.
In her closing message, Vice Chancellor for Research and Extension Merdelyn Lit who also serves as an advisor and a member of the ad hoc committee, said "it will be the beginning of the new normal of our extension program."
The UPLB Extension Agenda team members are Dr. Ma. Stella C. Tirol, dean of the College of Development Communication; Dr. Rico C. Ancog, dean of the School of Environmental Science and Management; Dr. Marlo D. Mendoza, dean of the College of Forestry of Natural Resources (CFNR); Dr. Dixon Gevaña also from CFNR; Mr. Jose Limbay Lahi O. Espaldon, director of UPLB Pahinungod; Dr. Aileen V. Lapitan of CPAf; Dr. Amado A. Angeles and Dr. Lotis E. Mopera of the College of Agriculture and Food Science; Prof. Girlie Nora A. Abrigo of the College of Arts and Sciences; and Mr. Michael B. Biguelme of the Office of the Vice Chancellor for Research and Extension.
One hundred sixty UPLB personnel took part in the consultative meeting on the extension agenda. (ASPalma)