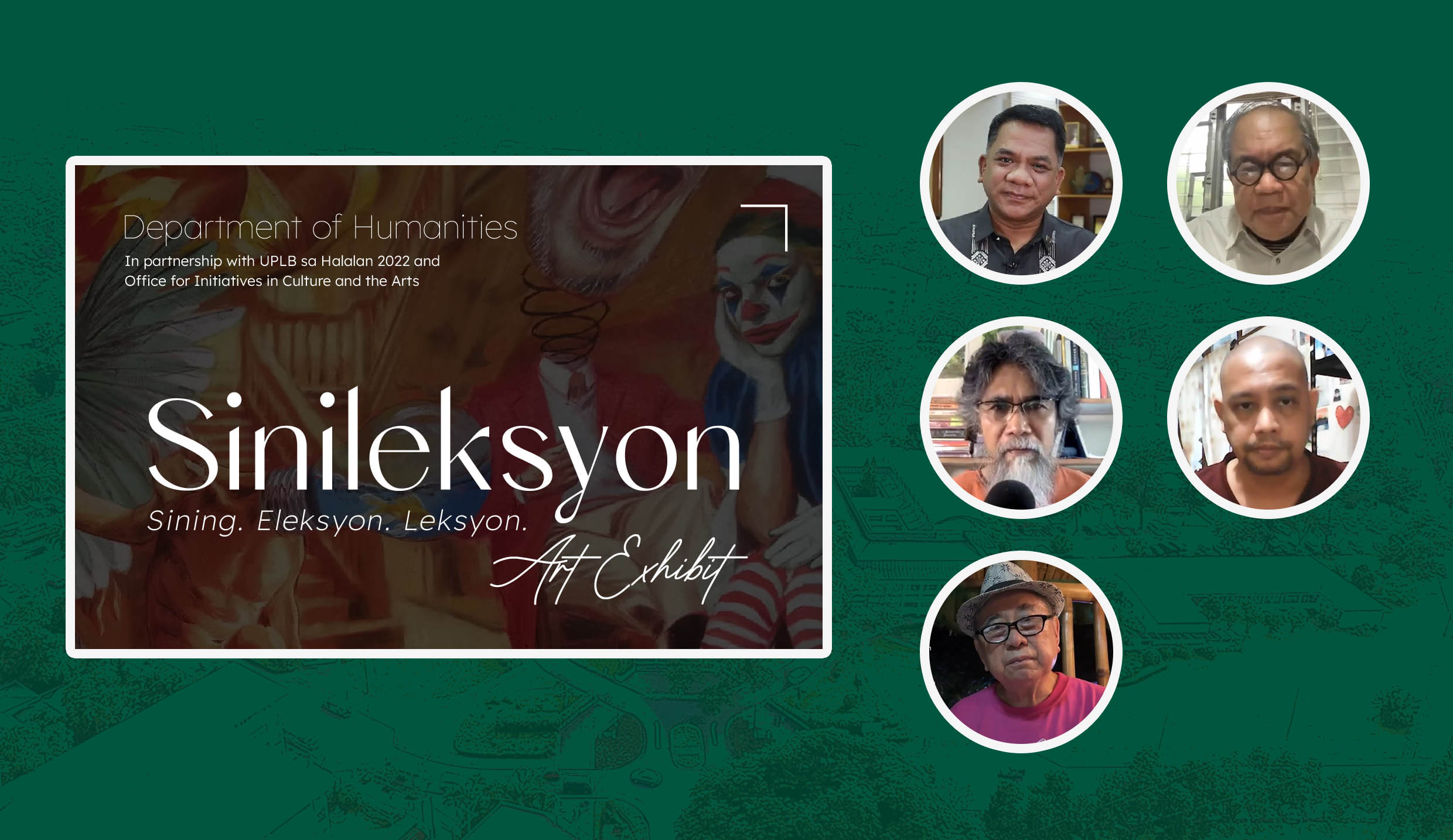 Culture and arts show the way to wise voting #UPLBsaHalalan 2022
The UPLB Department of Humanities (DHUM) and the UPLB Graduate School organized an online cultural night on May 2 to help voters correctly choose the country's leaders during the 2022 elections.
SINILEKSYON (Sining, Eleksyon, at Leksyon) Cultural Night featured various performances with the critical message of responsible and wise voting.
Chancellor Jose V. Camacho Jr. opened the program with a call to the audience to choose the candidates who have integrity and who give importance to transparency.
Famous novelist and master of short stories, Dr. Jose "Butch" Dalisay Jr., gave a short message imploring the audience to choose the right leader for the nation, citing the importance of voting for leaders who are worth the sacrifices made by Filipinos over time.
Various artists gave performances during the program. A cover of Gloc-9's "Upuan" was performed by faculty member Rudell Ramirez and keyboardist Japoy Pasigna.
BA Communication Arts students, directed by Chay Ardiente, Patricia Gregorio, and Darlene Villabriga, performed an excerpt from "Ang Awdisyon," which was written by Prof. Vladimeir Gonzales of UP Diliman.
The UPLB Filipinana dance troupe performed a dance originating from the Kalingas of the Cordillera region, entitled "Banga Dance."
Dr. Emmanuel Dumlao, a faculty member at DHUM, gave a moving poetry performance entitled "Hinaing ng isang Dating Kakampi."
Aaron Paul Lusanta, a faculty member at the Philosophy Division, gave a mixed media performance featuring a pop-up craft that was on voting wisely.
A spoken word performance was also given by Ivan Labayne, a UPLB faculty member.
It featured ten select words from the Defecationary of Formulanguage, Purportmanteaux, & Preposterity by UPLB alumna and UP Diliman faculty member Tilde Acuna and UPLB DHUM faculty member Dennis Aguinaldo.
The UPLB Street Jazz Dance Company gave a rousing performance from their Revive-Revibe series followed by a message from their president, Rozzel Anne Trinos.
Dr. Aguinaldo performed a spoken word poetry entitled "Si Vien, sa ilalim ng mga Tarp."
Short documentaries made by Prof. Linus Van Plata's COMM10 students punctuated each cultural performance.
National Artist for Literature Virgilio S. Almario, known as Rio Alma, read a short and poignant poem he wrote in October 2021, entitled "Mahabag sa Bayan."
Alongside the cultural night was the SINELEKSYON art exhibit organized by DHUM at the Makiling Art Gallery. The exhibit featured eight artists.
Dr. Benevieve Villanueva , chair of the SINILEKSYON ad hoc committee, and assistant to the vice chancellor for community affairs gave the closing remarks, applauding everyone involved in the program for their efforts.
View the SINILEKSYON Cultural Night performance at the UPLB Facebook page. (https://www.facebook.com/UPLBOfficial/videos/1379317712583588)(Kristel Hope Villafuerte)