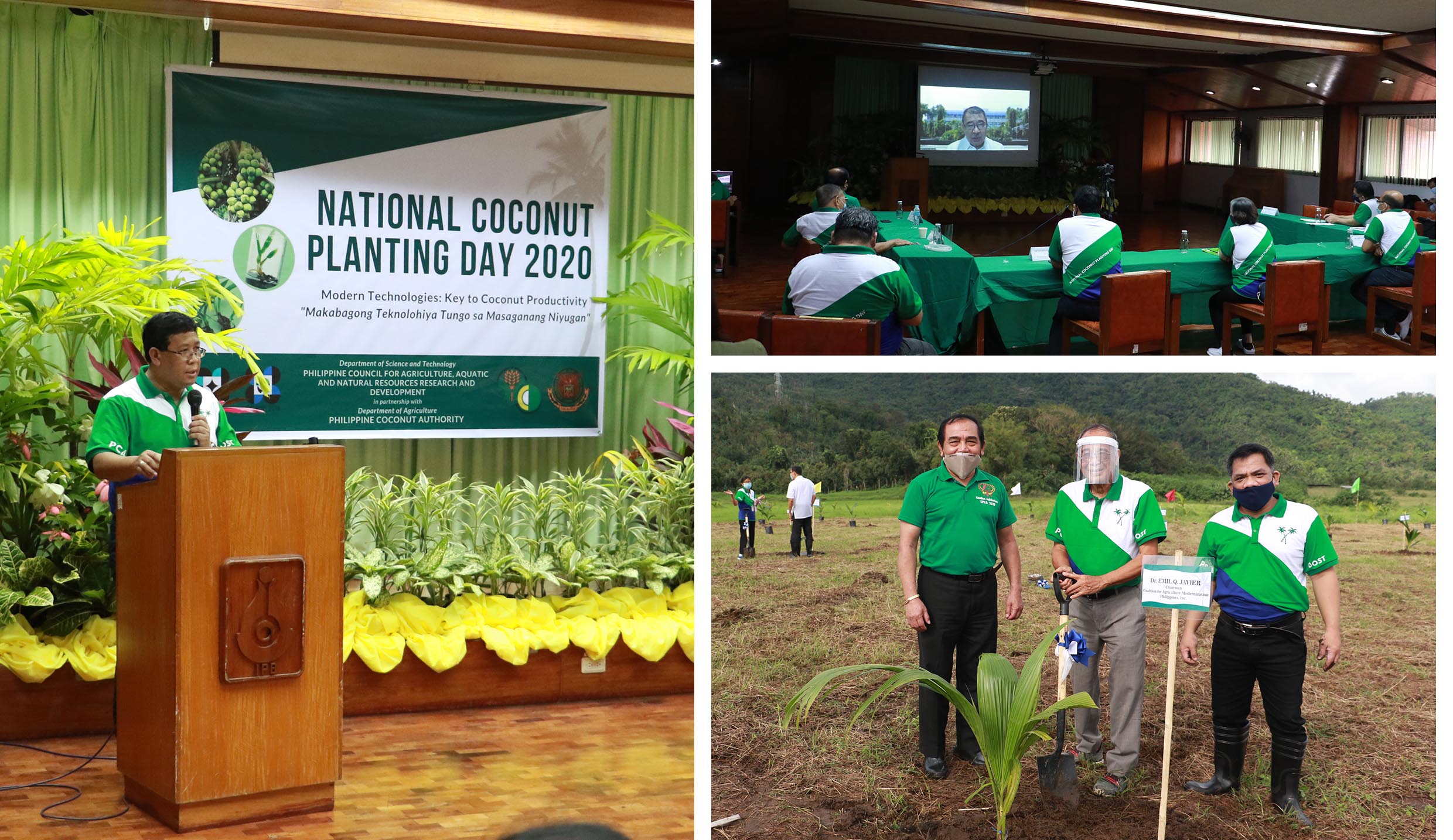 DA, DOST showcase EQJ hybrid coconut in tree planting at UPLB
The coconut industry stands to get a boost with a new coconut hybrid that will be promoted to replace the senile and typhoon-affected trees all over the country.
And UPLB took centerstage as the site where some seedlings of this new coconut hybrid were planted and showcased during the celebration of National Coconut Planting Day on Dec. 8.
Named after National Scientist Emil Q. Javier, the EQJ hybrid is proven to have a faster growth rate, a higher and uniform yield, and a higher copra yield, among others. These traits will potentially increase production of this high value crop.
National Scientist Javier, who chairs the PCA Advisory Group, is pushing for the planting of coconut hybrids and in bringing this coconut technology closer to the farmers.
Officials from the Department of Agriculture (DA), Department of Science and Technology (DOST), and its attached agencies, the Philippine Coconut Authority (PCA) and the Philippine Council for Agriculture, Aquatic, and Natural Resources Research and Development (PCAARRD), respectively; and from UPLB, graced the tree planting ceremony at the Institute of Plant Breeding (IPB) Experimental Station in Brgy. Tranca, Bay.
The nationwide event, which had its earlier versions in 10 regions in the country this year involving cooperating private farms, was spearheaded by DA-PCA and DOST-PCAARRD.
According to Erlyn Manohar, deputy administrator for research and development of PCA, the EQJ hybrid was bred by farmers from Sampaloc, Quezon, with training and guidance from researchers and extension workers of DA-PCA.
She said that the EQJ hybrid, a cross between Tacunan dwarf and Laguna tall coconuts, possesses the desirable qualities of its parents in terms of high coconut oil content, copra yield, size, and resiliency.
The National Coconut Planting Day, Manohar added, symbolizes partnership, sharing of knowledge, and the advancement of technology transfer of the coconut hybrids.
Chancellor Jose V. Camacho, Jr. was among those who planted the ECQ hybrid. He said that the activity is a big step for the coconut industry. He also committed UPLB's continuing support to coconut research and development.
Prior to the tree planting activity, UPLB-IPB has accommodated projects that have grown new coconut hybrids at the university's experimental farms.
Joining Chancellor Camacho and National Scientist Javier at the tree planting were Dr. Merdelyn Lit, vice chancellor for research and extension; Dr. Eileen Lorena Mamino, assistant to the chancellor and director of the Office of Alumni Relations; Dr. Epidio Agbisit, Jr., dean of the College of Agriculture and Food Science CAFS); Dr. Rodel Maghirang, director of IPB; and Dr. Cristino Collado, an alumnus and a former undersecretary of DA.
DA was represented by Undersecretary for High Value Crops and Rural Credit Evelyn Laviña and PCA Administrator Benjamin Madrigal, Jr. while the DOST-PCAARRD contingents were led by Executive Director Reynaldo Ebora and DOST-CALABARZON Regional Director Alexander Madrigal.
Following the tree planting, a program was held where coconut technologies of PCA and DOST-PCAARRD, including coconut hybridization, embryo cultured macapuno, and coconut somatic embryogenesis technology were presented.
Science Secretary Fortunato Dela Peña, who attended the program via video conferencing, gave a message affirming the commitment of DOST to coconut research and development.
PCA and DOST-PCAARRD also presented a scholarship program for future implementation that would help UPLB students and researchers who conduct studies on coconut.
These are through the possible integration of the upcoming Coconut Research and Education Advancement Program (COCO-REAP) of PCA, and the on-going Graduate Research and Education Assistantship for Technology (GREAT) Program of DOST.
PCA also turned over to UPLB the symbolic cheque for the project "Crafting the Coconut Farmers and Industry Roadmap (COCOFIRM)," an undertaking that Dr. Edna Aguilar of CAFS-Institute of Crop Science is spearheading. (Mark Jayson E. Gloria)
Aligned with our commitment to: