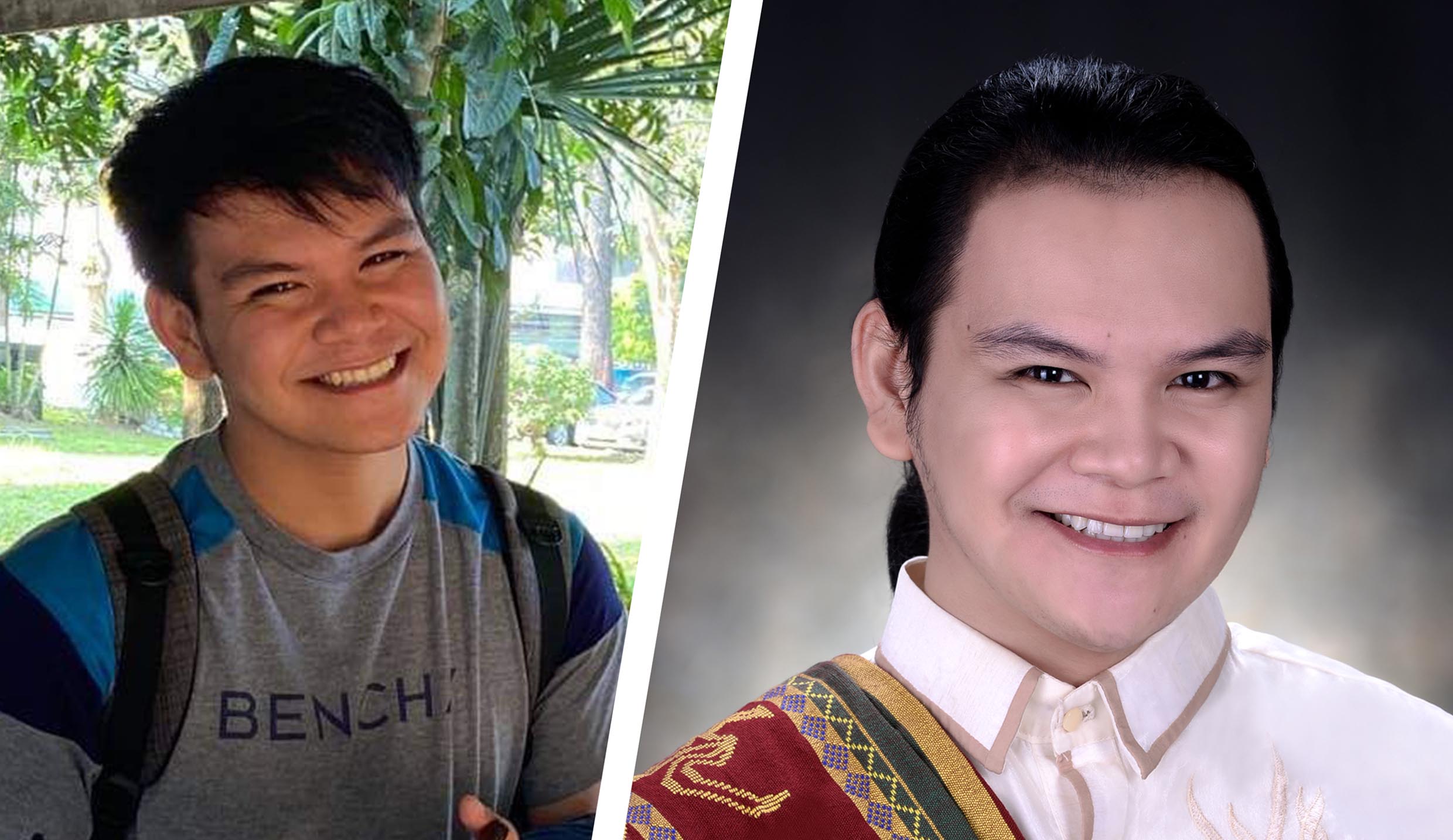 Dean Marc Bolima's bagful of dreams, or when a series of unfortunate events cultivate a hopeful future
College life has its expected ups and downs: juggling academic requirements with social life, pulling an all-nighter for an exam, writing and defending one's thesis, among others. But all too often, life throws in an extra spice that makes things go the unexpected route.
Dean Marc Bolima, BS Agribusiness Management (BSABM), knows this all too well after what he went through before getting his degree.
When his parents lost their jobs in 2017, it fell to him as the eldest child to keep their family afloat. With his pursuit of a degree taking a temporary backseat to ensure their survival, Bolima left his life in UPLB indefinitely to work at an outsourcing company.
His might have turned out to be a different story, if not for his dreams. Fast forward to four years later and Bolima is finally marching virtually with the UPLB Class of 2021.
The road back to university was by no means a smooth one for Bolima. Hard decisions had to be made along the way and circumstances often tested his resolve.
"It felt like hell leaving the University for four years just to work and to be a corporate slave in the real world. It was a very different jungle as they say," said Bolima of his experience.
Despite being pulled away from his relatively comfortable life as a full-time student, Bolima continued to demonstrate UP's excellence in his place of work as a consistent top performer. He used his bonuses to save up for a small farm in their hometown of Samar for his father to put up a swine and poultry business. In a way, it accomplished his dream of creating a farm-based business which he had envisioned as a high school student when he chose BSABM in his UPCAT application. Today, their farm produces 150 piglets a year.
With the constant stream of income and the recognition he achieved at work, Bolima was tempted to leave behind his pursuit of a degree.
"There was a point when I decided not to go back to UPLB to finish my degree since I was already earning a good amount of money to support my family," said Bolima.
With things looking up, Bolima took the opportunity to scale up the corporate ladder and apply for a managerial position. With his experience and gleaming track record, he easily aced his panel interview, however he was still stopped short of his goal.
"I got a rejection from the HR Department stating that my application was invalid for the position since I was still not a college graduate… it was the minimum requirement for the job," he shared.
The rejection he experienced became a tipping point that solidified his decision to finish his degree, after much encouragement from his family and loved ones, especially his mother and partner.
In the second semester of AY 2019-2020, Bolima enrolled himself back in UPLB. By January 2020, he was a bona fide working student, and was navigating in yet another new setup that tested his commitment and grit in juggling two responsibilities.
His work required him to be in Taguig from 9PM to 6AM, after which he would head out immediately to the UPLB campus in Los Baños, Laguna through a long commute to attend his classes from 10AM to 4PM.
As soon as his classes ended in the afternoon, he would take another bus back to Taguig. If he had a few hours to spare before his shift, he did his assignments and academic requirements then.
"It was very arduous in a sense that I had to create lab reports, cases, and case presentations. Literally, the office in Taguig became my second home, it was where I took my bath and ate every day," said Bolima.
In this very busy schedule, his bus commute going to and from UPLB served as brief spaces where he could rest and sleep. His constant companion for his 4-day "adventure" every week was his trusty backpack which contained his laptop, tumbler, extra clothes, hygiene kit and food, and served as a pillow during transit.
This routine would go on for about two months, before the COVID-19 pandemic put the country on a lockdown and classes reverted online.
"The adjustment to working full-time, then becoming a working student and later doing it in the middle of the pandemic was very difficult at first but I was able to adapt and perform very well… I have to give credit to my student organizations, the UP Agribusiness Society and UP Ranchers' Club, for teaching me and embarking with me to tackle and adapt to such changes," Bolima said.
In the past one and a half years, Bolima has continued to persevere toward his undergraduate degree. Now that he is about to reap the hard-earned fruits of his labor, he is also holding on to the hope of cultivating greener pastures not only for his family, but also for his hometown in Samar.
Bolima takes the knowledge that he learns in the classroom to heart and envisions how he can use them to help their community after seeing their hardships and poverty despite the rich lands and resources available to them. He hopes to help them by someday becoming a registered agriculturist and becoming the municipal agriculturist of Samar.
"They do not have enough technical knowledge regarding good agricultural practices. They also mentioned that they were not receiving enough support to continue farming or even livestock raising. So to earn cash, they will just sell their lands to those who have money," he shared about the plight of Samar farmers.
"I think one of the solutions I can do as an Agribusiness Management graduate is to help the farmers realize their entrepreneurial skill through agripreneurship. For us to help the farmers, we need to go back to our roots in agriculture. From there, we can strengthen our foundation as a country and we will be able to transform into something unimaginable," he adds.
Soon after graduating, Bolima hopes to begin the realization of this dream at their farm in Samar.
"My next goal is to improve our farm practices so that we can be consistent in the production of piglets and fatteners so that we can move forward to meat processing. If all goes well, I will proceed with the idea of putting up a cooperative in our province to help our community have additional income and increase their technical skills in hog raising and animal production, in general," said Bolima.
With his persistence bringing him thus far after braving obstacles as he had, accomplishing these dreams are not far behind. (Jessa Jael S. Arana)