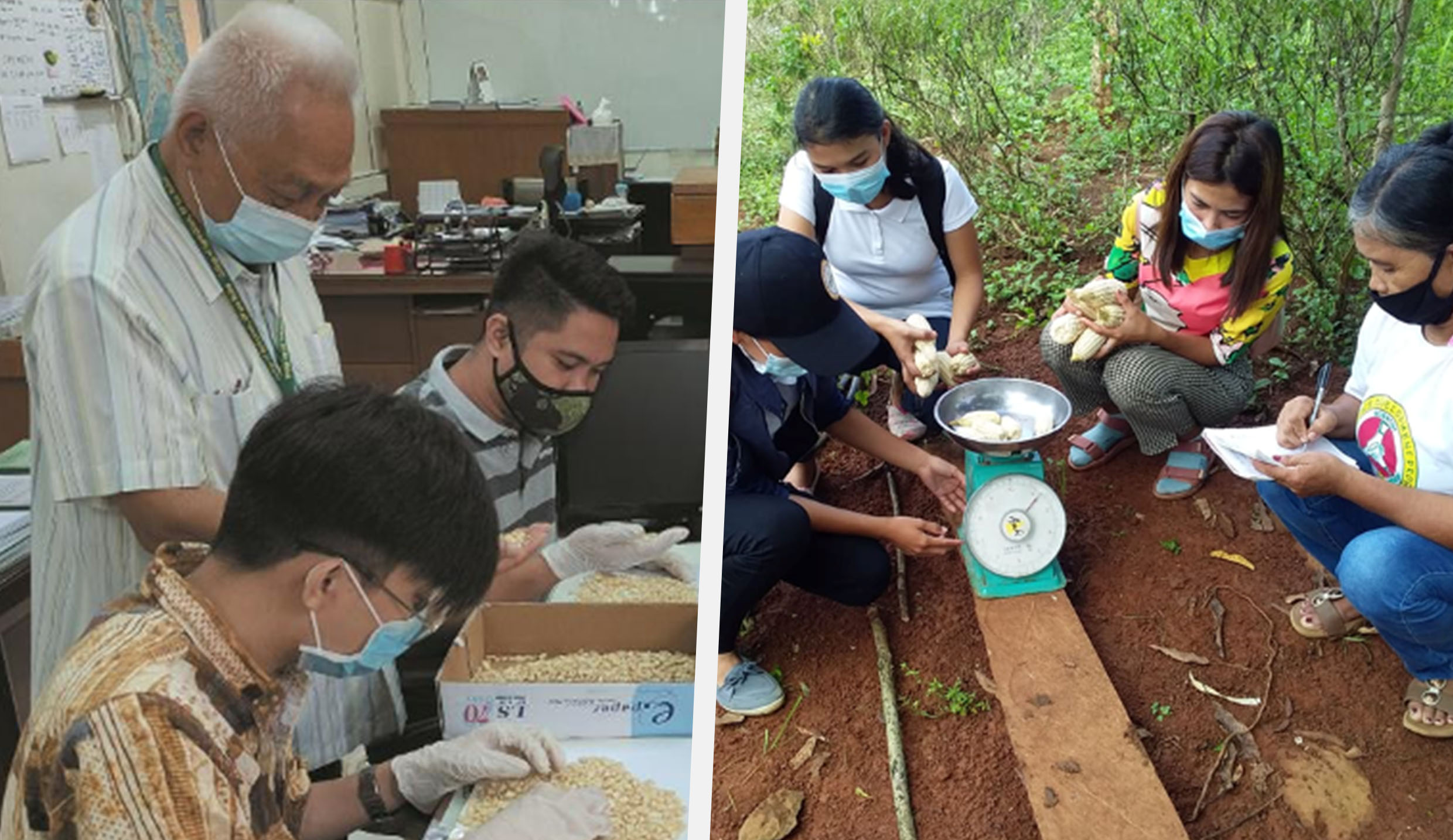 Despite the pandemic, FSTP continues to train farmer-scientists
There is no stopping the National Corn-based Farmer-Scientists RDE Training Program (FSTP) in reaching out to farmers even amidst the COVID-19 pandemic.
The Program hit the ground running at the beginning of 2021 to continue pushing forward its goal of enhancing farmer's knowledge, skills, and attitudes through its three season-long training program and conduct of research and experiments.
Despite the imposition of community quarantines and travel restrictions in 2020, the Program had continuously engaged its stakeholders through massive coordination with program partners and local government units (LGUs).
It used distance learning platforms and video learning materials to continue to provide resources to and engage the farmers who are undergoing the training program nationwide.
The farmer-participants undergo a three-phase training to ensure that they are well equipped to participate in the program.
In particular, they are trained in the scientific methods of farming, to become receptive to the adoption of new technologies, capacitated to engage in agribusiness, and committed to spreading knowledge to their communities.
Phase I involves teaching of spiritual and moral values, research methods, and technical empowerment. Phase II is focused on the replication of the experiments conducted in Phase I in their own farms. In Phase III, the farmer-scientists, this time taking on the role of trainers, teach their fellow farmers the technologies that they (farmer-scientists) had already adopted.
In 2020, FSTP was able to conduct 15 Phase I trainings; eight Phase II trainings; and 13 Phase III trainings in various areas in Luzon, Visayas, and Mindanao.
The Program owes the success of its programs in 2020 to its dedicated partners from the regional offices of the Agricultural Training Institute and LGUs.
In May 2020, select FSTP staff produced a series of video learning materials to aid in the distance learning of ongoing farmer-scientists.
The videos that were produced included: 1) Soil sampling; 2) Farm layouting; 3) Planting and corn breeding; 4) Harvesting; and 5) Data gathering methods.
Meanwhile, video conferencing platforms were used in the conduct of the Regional Training of Trainers for provincial and local government units, academic and R&D institutions and farmer leaders who have been identified as future implementers of FSTP in new sites.
In 2020, FSTP managed to launch new project sites in 15 municipalities in the provinces of Abra, La Union, Nueva Vizcaya, Camarines Sur, Palawan, Oriental Mindoro, Northern Samar, Biliran, Bukidnon, Zamboanga del Sur, and Agusan del Sur.
FSTP has produced 357 Phase I and Phase 1 barangay-level graduates; 12 in Phase 2; and 108 in Phase 3.
This is fewer compared to the previous years, but in the first quarter of 2021, their numbers will be beefed up with the graduation of around 500 FSTP-trained farmers.
Dr. Romulo G. Davide, National Program Leader, assured the farmers that the trainings will continue with safety protocols strictly followed.
He said that the FSTP Center of Management and Operations in UPLB "shall continuously monitor and evaluate the performance of FSTP farmers as well as the municipal and regional coordinators to know their needs and problems that we may have the solution."
Dr. Davide also said that FSTP has sent through courier different varieties of corn seeds, Bio-N fertilizers, and planting materials such as high-yielding varieties of sweet potato and cassava to different regions and municipalities. (AFBJamias)