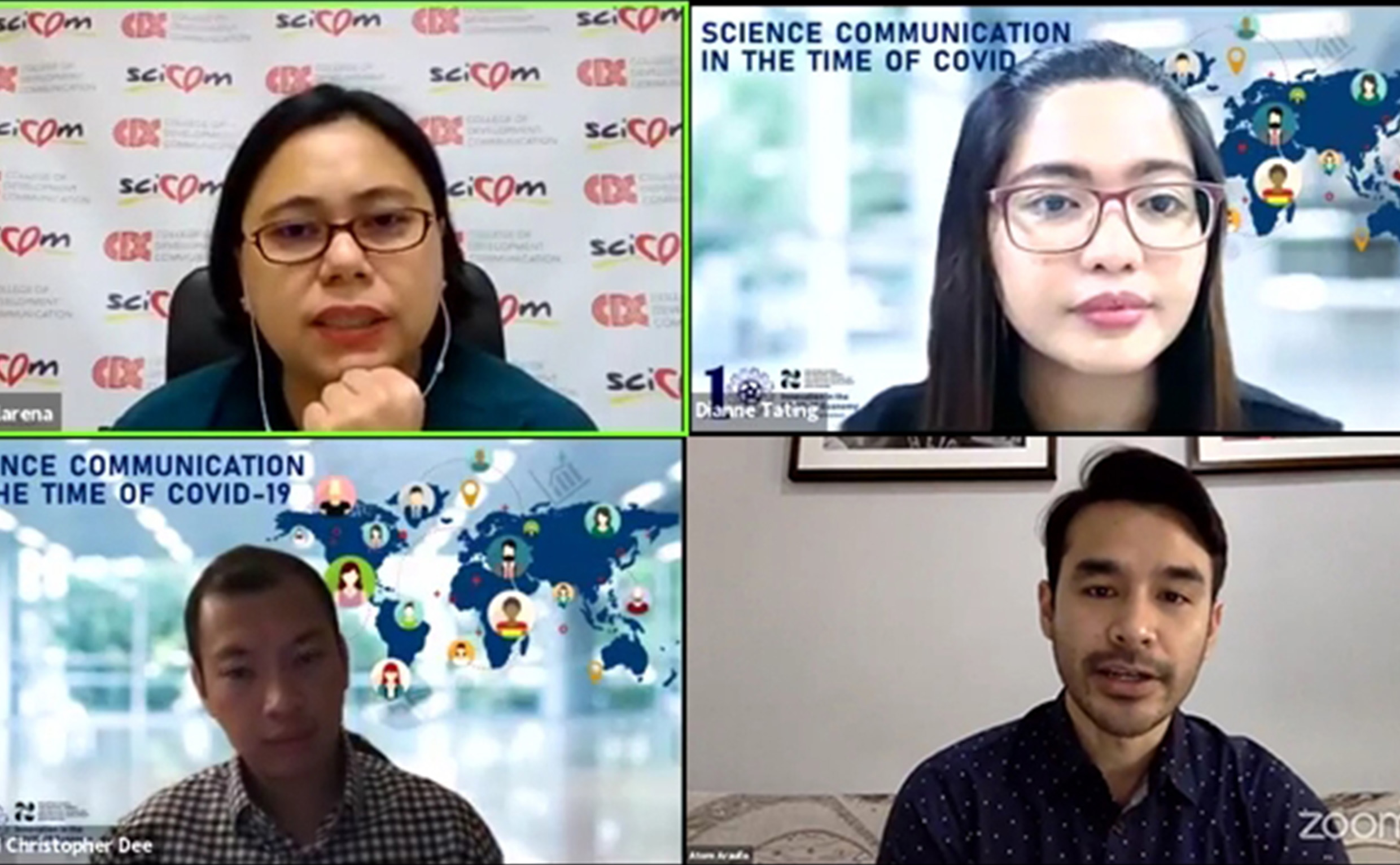 Devcom prof joins scicom in COVID-19 talk
"Today, more than any other time, science communication plays an integral part on how science can become more relevant in overcoming the challenges we face in this pandemic."
Thus, said Elaine Llarena, chair of the Department of Science Communication, College of Development Communication during the "Science communication in the time of COVID-19" webinar that was livestreamed on Zoom and Facebook on July 14.
She joined five communication, science, and information technology (IT) experts in the learning event that was organized by the Philippine Council for Industry, Energy, and Emerging Technology Research and Development (PCIEERD).
Llarena discussed the principles of science communication in popularizing scientific information, facilitating information and knowledge sharing among stakeholders, and promoting research results and science literacy, which are all crucial in decision-making and actions during these times.
She also emphasized the value of participatory communication in addressing the information needs of communities amid the fast-evolving new media.
"Part of science communication is really knowing what the people think about, what information, or what knowledge would they want to know," she explained.
"Science communication has to be attuned with technology, but part of that technology is noting that we should also use participatory approaches,"Llarena concluded.
Fellow speaker Edward Christopher Dee, a Filipino doctor of medicine candidate at Harvard University and a research fellow at the Dana-Farber Cancer Institute, also noted the importance of participatory approach.
Dee, who talked about citizen science and who maintains an online COVID-19 primer, stressed the need to look at and understand the context of communities and to tap their trusted sources of public health information such as health workers and community leaders in order to change their behavior.
For his part, Atom Araullo, a broadcast journalist at GMA-7, acknowledged the changing role of communicators in the age of new media. "The new journalist is no longer a gatekeeper who decides what the public should and should not know," he said.
"To be relevant, journalists must now verify information the consumer already has or is likely to find on their own, and help them make sense of what it means and how they might use it," Araullo noted.
Araullo also contextualized the concepts of accuracy, objectivity, impartiality, neutrality, and balance at the intersection of journalism and science.
Three IT and multimedia company executives completed the roster of speakers and talked about their recent science communication collaborations with the Department of Health (DOH).
Rene de Guzman, vice president for resources development of Toon City Academy, shared to the participants the COVID-19 infomercial that they created for DOH.
Chief executive officers Ralph Vincent Regalado of Senti AI, and Gian dela Rama of Aiah.ai, talked about their experiences in developing and fine-tuning DOH's KIRA and KontraCovid Web App.
KIRA, which stands for Katuwang na Impormasyon para sa Responsableng Aksyon, is DOH's chat bot, through which Filipinos may ask COVID-19-related queries using Facebook Messenger and Viber. KontraCovid is a web platform for activities such as digital triage and contact tracing.
Gracing the webinar were PCIEERD's top officials, namely Dr. Enrico Paringit, executive director, and Engr. Raul Sabularse, deputy executive director.
The science communication talk is first of the ten-part webinar series of PCIEERD, a sectoral planning council of the Department of Science and Technology, in time for its tenth anniversary. (Mark Jayson E. Gloria)
Aligned with our commitment to: