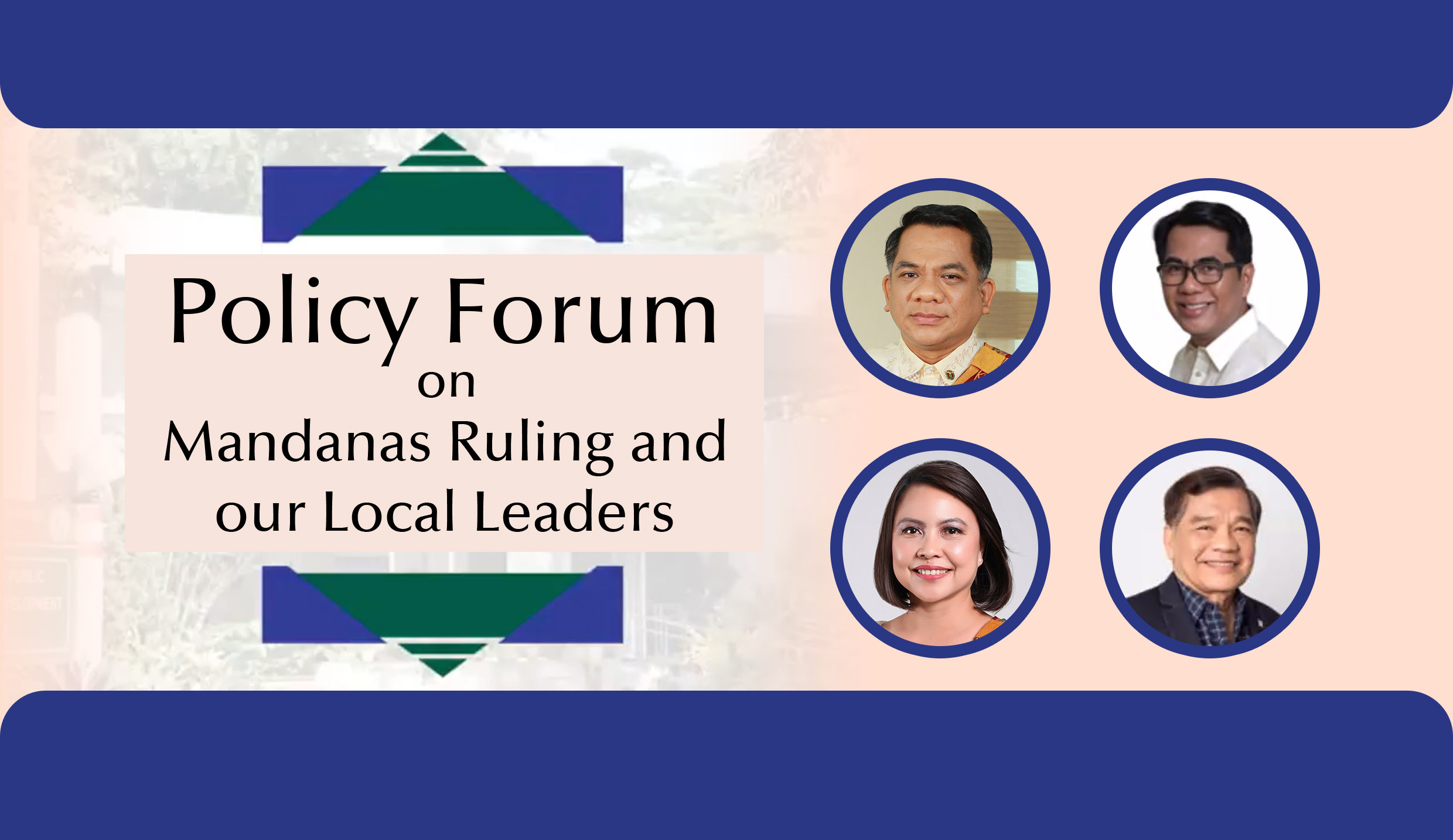 DILG says complete devolution under Mandanas-Garcia ruling to be completed in 2024
The Department of Interior and Local Government (DILG) has called on concerned national government agencies (NGAs) and local government units (LGUs) to prepare their Devolution Transition Plans (DTPs), a requirement under the implementation of the Mandanas-Garcia ruling.
This is according to DILG Assistant Secretary Odilon L. Pasaraba, head of the office's Special Concerns-Local Government Sector, at a policy forum on the Mandanas-Garcia ruling held by the College of Public Affairs and Development (CPAf) on Feb. 4 as part of its 24th anniversary celebration.
The Mandanas-Garcia ruling fully transfers or devolves the delivery of basic services to LGUs.
It resulted from a 2013 petition made by Batangas Governor Hermilando Mandanas and former governor of Bataan, Enrique Garcia, Jr., together with other local elective officials, before the Supreme Court on LGU shares of the internal revenue allotment (IRA).
Mandanas and Garcia were then members of the 15th Congress of the House of Representatives.
The Supreme Court affirmed the ruling in 2018, giving the LGUs a just share on all national taxes collected and not only from the Bureau of Internal Revenue effective 2022.
LGUs currently get their IRA from 40% of national internal revenue taxes collected by the BIR. The Mandanas-Garcia ruling is projected to increase the IRA by 27.61%.
"President Rodrigo Duterte also issued Executive Order No. 138, which directs the full devolution of transfer of certain executive branch functions to LGUs. It enables the smooth transition of the devolved functions from the National Government Agencies (NGAs) to the LGUs," Asec. Pasaraba added.
Asec. Pasaraba also discussed other activities of DILG to oversee preparations for the complete devolution transition.
Atty. Joey D. Lina, Jr., former senator and Secretary of DILG, emphasized the effects of local autonomy, which he said is one way to empower the people in the local government sector to come up with solutions to problems that confront them daily.
"The stakeholders must continuously be engaged and encouraged to participate in decision making. The ruling must be explained through seminars by the LGUs to the people, and their workforce," Lina said.
"The principle of local autonomy is that there should be a strong partnership between the national government and the local government," he added.
Earlier, CPAf Dean Rowena dT. Baconguis said in her welcome message, "devolution is considered a good governance practice as it promises the possibilities of participation, cooperation, efficiency, inclusivity, transparency, and accountability."
The webinar also featured the launching of three new books as products of research and development activities of CPAf researchers.
The event is the second held under a 3-part webinar series in celebration of CPAf@24 with the theme "Forging Leaders for Institutional Government and Development."
Listen to the first webinar on the upcoming national elections in the Philippines and the need for leaders for institutional governance and development on the CPAf Facebook Page. (John Glen S. Sarol)
Aligned with our commitment to: