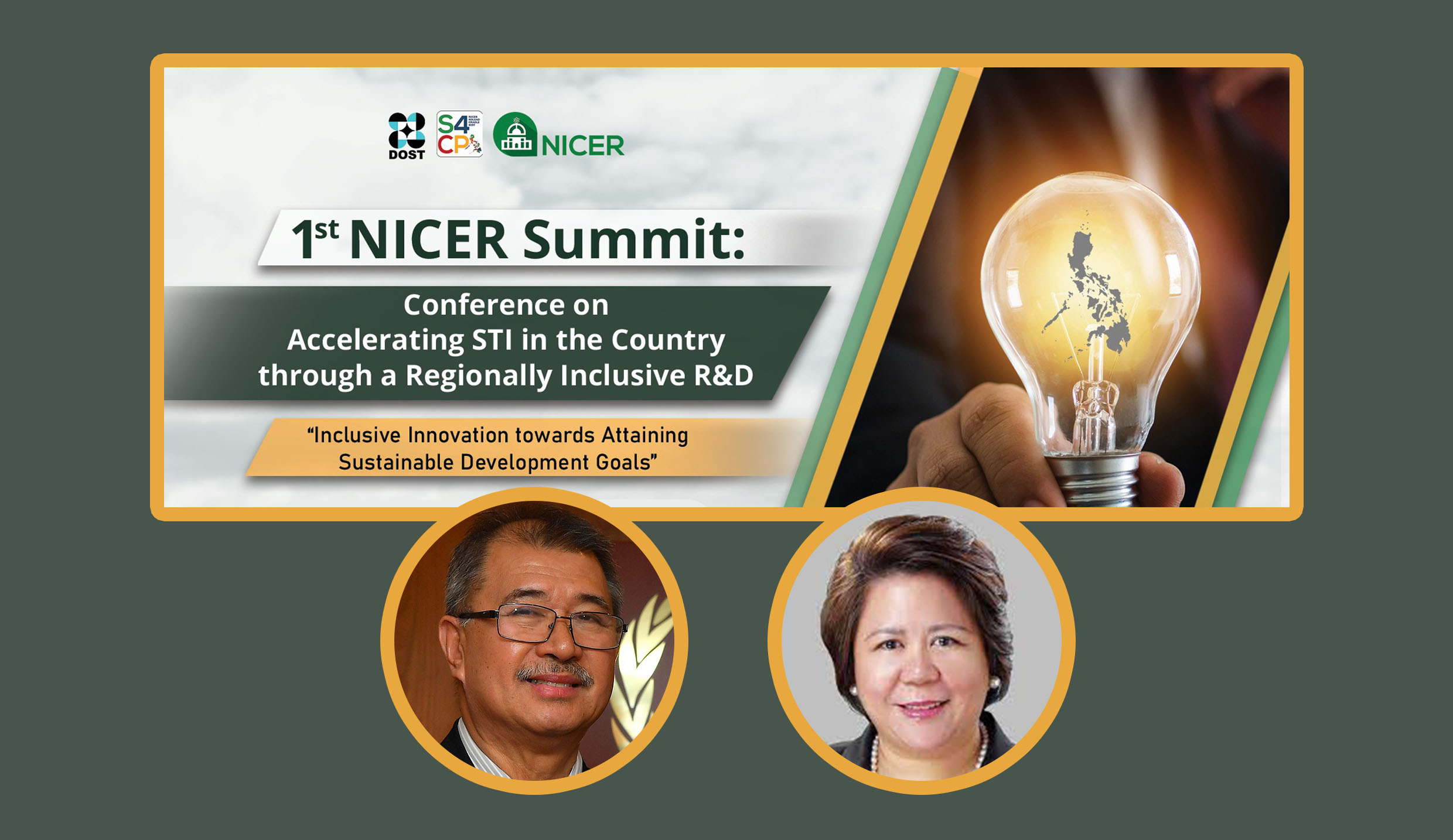 DOST capacitates UPLB, 16 other HEIs for inclusive and sustainable R&D
Imagine 17 higher education institutions in various parts of the country simultaneously pushing forward the goal of making themselves research, development and innovation powerhouses!
This is precisely what the Department of Science and Technology (DOST) had in mind when it established Niche Centers in the Regions for R&D or NICER in 17 HEIs, UPLB being among them.
NICER is a component of the Accelerated R&D Program for Capacity Building of Research and Development Institutions and Industrial Competitiveness under DOST's Science for Change Program.
The NICER Program aims to capacitate the HEIs all over the country, helping them make significant improvements in regional research and development by integrating development needs with the existing R&D research capabilities and resources.
Under NICER, DOST granted funds to the HEIs to establish regional centers of R&D that will cater to the region's specific technological and economic needs.
Driving innovation
Innovation drives progress. For a developing country like the Philippines, innovation is essential to stimulate economic growth and keep up with more developed countries.
Harnessed properly, innovation leads to solutions and technologies that can generate livelihood, empower individuals, and create sustainable and resilient communities.
However, stimulating innovation itself is no easy task. There must be an enabling environment in which innovation is both encouraged and financially supported, and which must be geared towards providing solutions to current and future challenges.
It was in this context that DOST launched the NICER Program in 2017, and held the first NICER summit on Dec. 3, entitled, "Conference on Accelerating STI in the Country through a Regionally Inclusive R&D."
Bearing the theme "Inclusive Innovation Toward Attaining Sustainable Development Goals," the event showcased the "innovation hubs" that were a result of extensive collaboration among academe, local government units, national government agencies, and the private sector through the NICER Program.
The program also outlined how the innovation hubs were contributing to the achievement of the UN Sustainable Development Goals, particularly affordable and clean energy, sustainable cities and communities, climate action, zero hunger, life below water, life on land, good health and well-being, and industry, innovation and infrastructure.
Forty-one NICERS in 17 regions
In her report at the program, Dr. Rowena Cristina Guevara, DOST Undersecretary for R&D, said that there are now 41 approved NICERs in 17 regions throughout the Philippines with a total Php2.19 billion in awarded grants.
At the summit, program leaders from the NICERs presented their research goals and experiences. They expressed their approval and appreciation, as well as their deep optimism for the potential scientific and economic benefits that the NICERs could bring.
The NICER summit can be watched at the DOST-Science for Change Program Facebook page.
Science and Technology Secretary Fortunato de la Peña, in his keynote address during the program, shared his fulfillment at seeing the NICER program come to fruition. "I really cannot contain my joy in seeing something that has started on a simple statement that we would like to have more inclusiveness and sustainability in our R&D including the organizations and partners involved in it, and now we see it happening in front of our eyes," he said.
With the proven success and potential of the niche research centers, Sec. de la Peña stated that the next step was the institutionalization of the Science for Change program via law, so that the initiative would continue to carry over to future administrations. (Albert Geoffred B. Peralta)