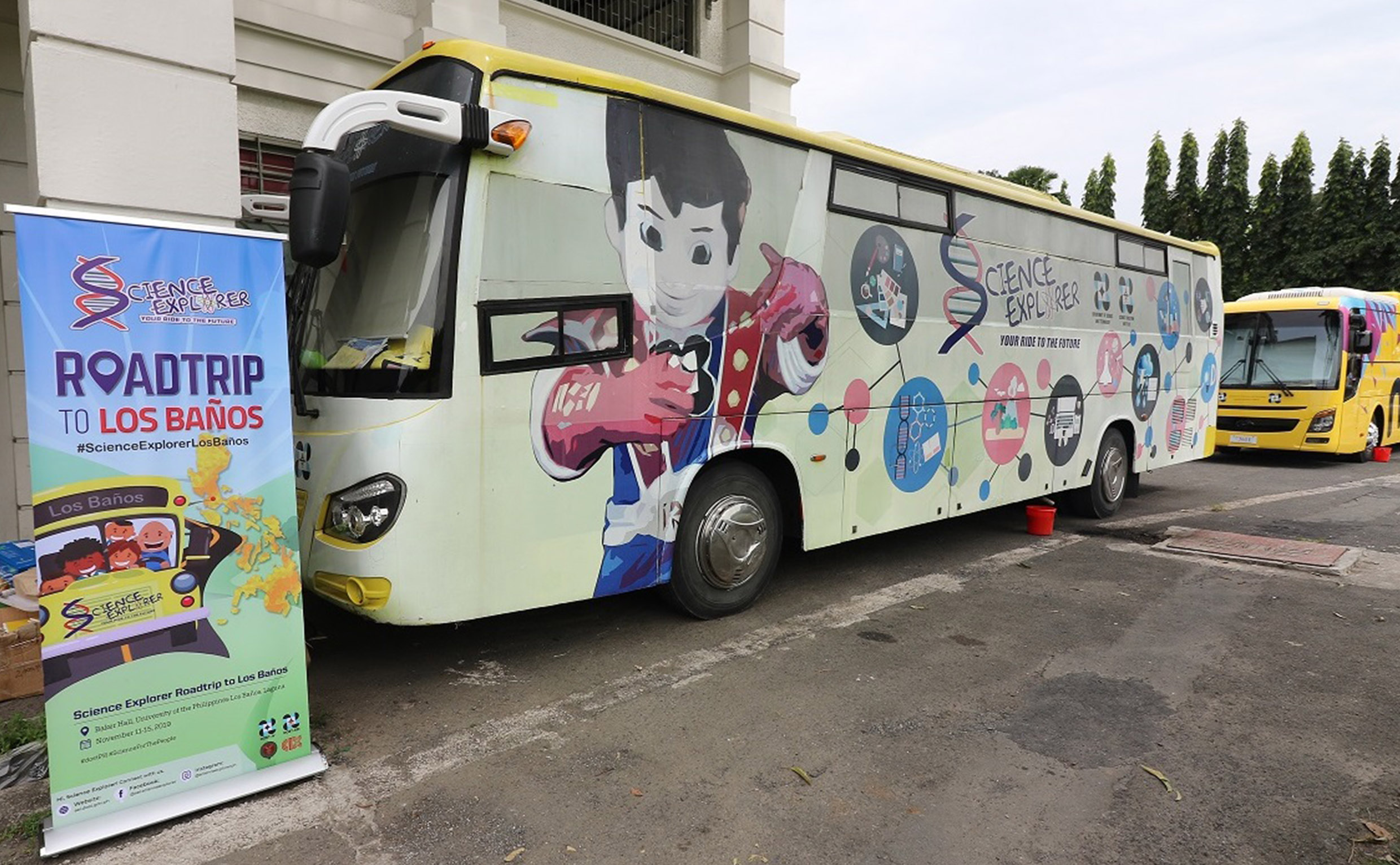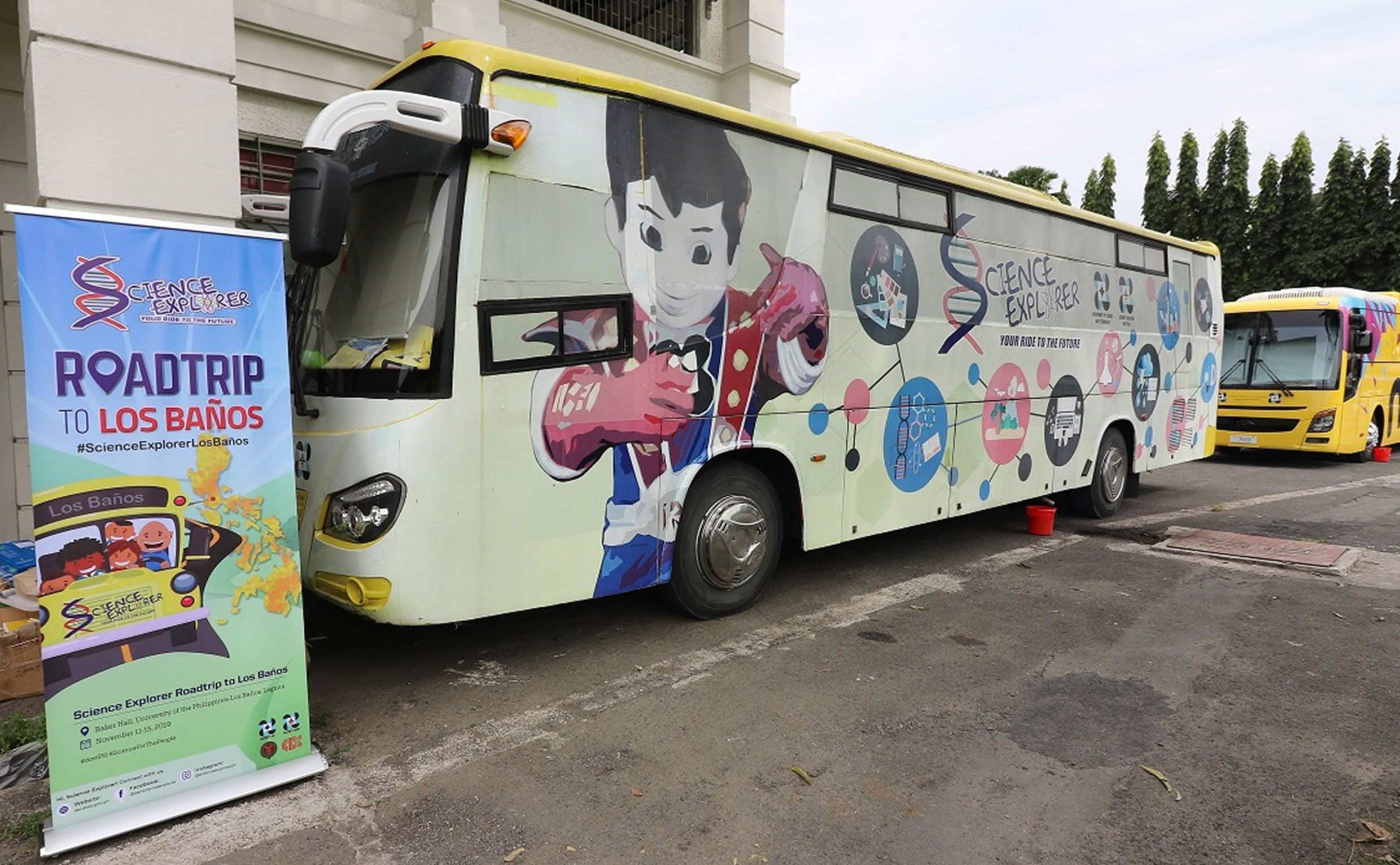 DOST's NuLab and Science Explorer arrive at UPLB
The Department of Science and Technology-Science and Education Institute (DOST-SEI) has chosen UPLB to be the latest stop-over of its two educational buses – the NuLab and the Science Explorer – on Nov. 11-15.
The two mobile and interactive science laboratories introduce a new dimension of science, technology, and mathematics (STEM) to learners – Science Explorer caters to elementary pupils and junior high school students, while NuLab is oriented toward senior high school students.
While parked at the Baker Hall grounds, students from Los Baños and nearby towns participated in various STEM-themed activities inside the two learning spaces.
According to Dr. Ruby Cristobal, chief science research specialist at DOST-SEI, having these mobile facilities is one way of educating children beyond what they would learn in a normal classroom set-up and making them more interested in pursuing S&T courses and careers.
These, she said, are feeder programs that will ensure constant supply of local scientists who will study and develop technologies and resources for the country.
Facilitating the Science Explorer are young researchers who engage students through games, story-telling, and audio-visuals interspersed with lecture.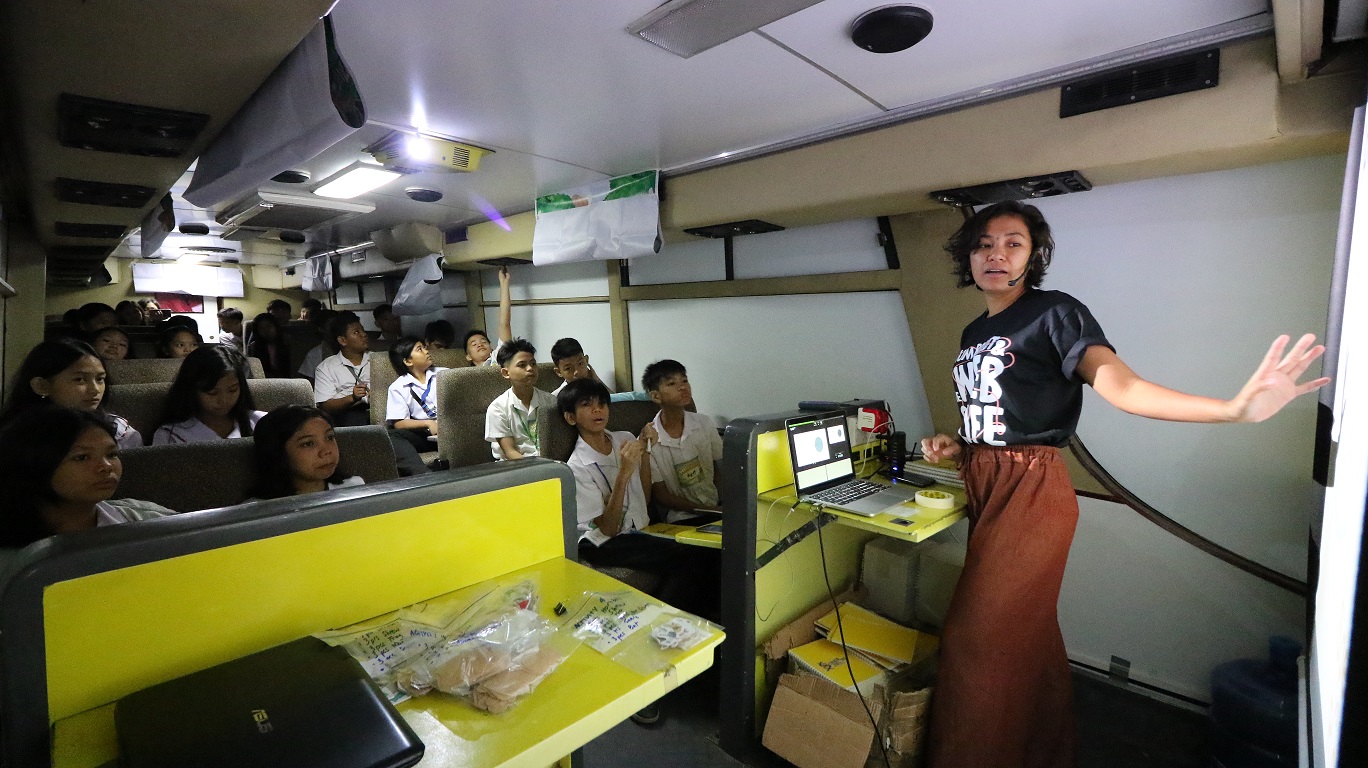 Science Explorer featured topics on wildlife diversity, physics (electronics, batteries, transportation), chemistry (polymers), and climate change led by Max Prado, Ahl Balitaon, Miko Belgado, and JM Lit, respectively, all of whom are young UP alumni.
"We call them 'facilitators' because we want them to really have a conversation, to play with the students," said Dr. Cristobal.
NuLab, on the other hand, is more laboratory-like and features simulation of activities that researchers actually do in the field. Its facilitators are more seasoned researchers, most of whom are PhD degree-holders.
The topics discussed at NuLab were space science, mathematics, entomology, and science communication featuring UPLB alumni and faculty members.
"The topics that were selected for the NuLab were topics that [are] normally [not taught in] school. Since the facilitators are scientists themselves, they have the technical background. The scientist can tell stories [that s/he experienced, therefore it is more] dynamic and it's much more engaging for the students," said Dr. Rogel Mari Sese, program leader of the National SPACE Development Program.
In his session that introduced aerospace engineering, Dr. Sese used flight simulator apps to allow the students to visualize space flight and to see what it is like to man a drone.
Dr. Jomar Rabajante, an associate professor at the Institute of Mathematical Sciences and Physics, led the topic "MathSaya," which explored the math behind fonts and computer graphics.
Dr. Aimee Lynn B. Dupo, a professor at the Institute of Biological Sciences and curator for moths and spiders at the Museum of Natural History, led the session about insects called "Dalubkulisapan"; while Garry Montemayor, assistant professor at the College of Development Communication, introduced the field of science communication.
Science Explorer has been traveling to different municipalities since 2010, while NuLab was recently launched in July.
Dr. Cristobal said that DOST is planning to launch a third bus next year called Science Explorer 2.0, which will delve into immersive learning by combining technology and learning, and emphasizing the affective dimension of S&T.
"Kailangan 'di lang sensory. Kailangan may puso, may damdamin; 'di pwedeng mata at kamay at utak lang. (Learning should not only be sensory and cerebral. It should also touch the heart and the emotion)," she explained.
DOST-SEI brought NuLab and Science Explorer to the campus in conjunction with the Science Film Festival. (Jessa Jael S. Arana, with information from sei.dost.gov.ph)
Aligned with our commitment to: