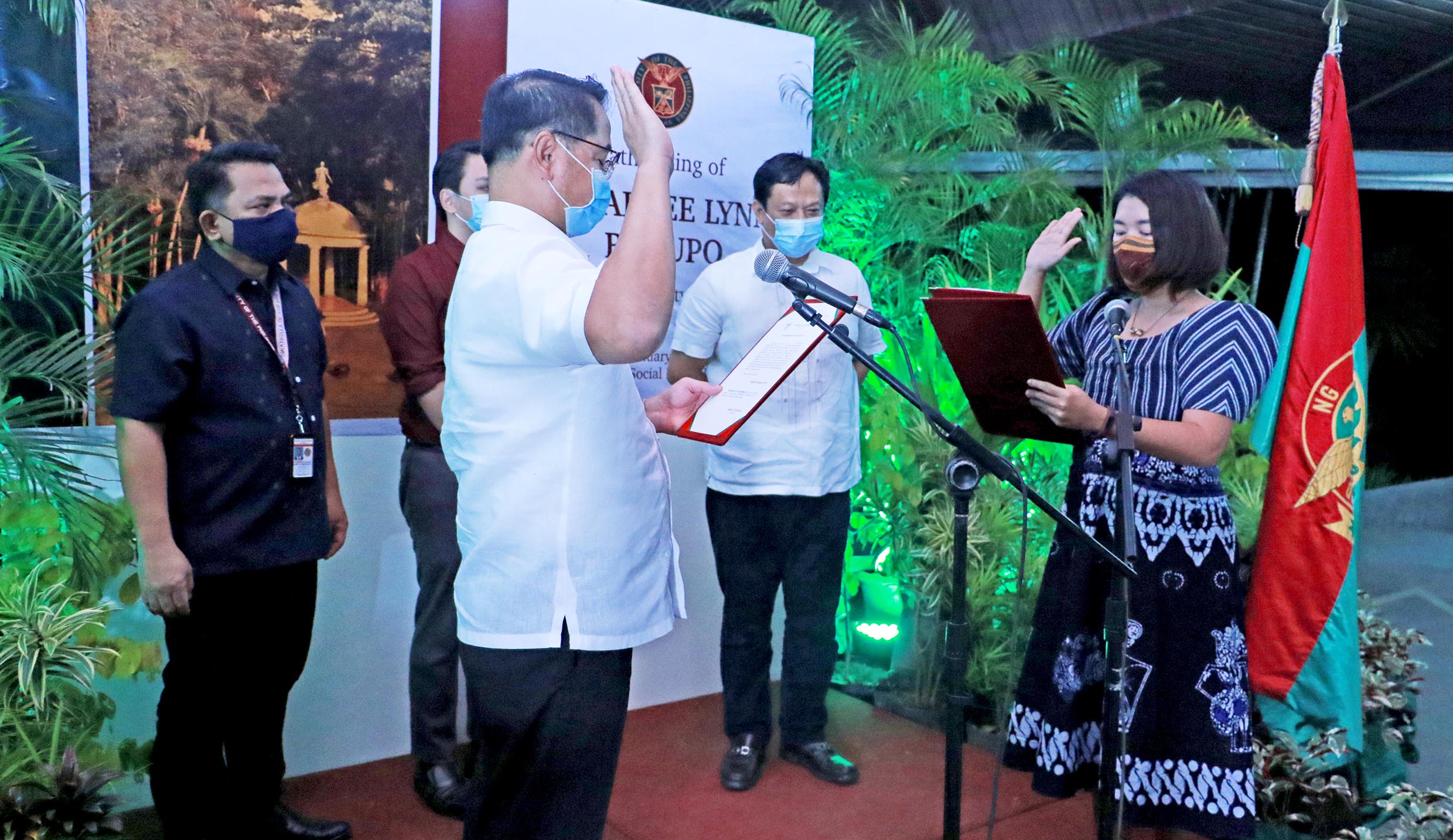 Dr. Dupo takes oath as UP Faculty Regent
UPLB's award-winning biology professor and entomologist now occupies a seat at the UP Board of Regents (BOR) as the representative of the faculty sector in the highest governing body of the university.
Dr. Aimee Lynn Barrion-Dupo of the Institute of Biological Sciences (IBS) took her oath of office as the new UP Faculty Regent before UP President Danilo L. Concepcion on Jan. 8 at the UPCO Social Hall, UPLB.
Her two-year appointment is effective Jan. 1, 2021 to Dec. 31, 2022. She succeeds Dr. Ramon Guillermo of UP Diliman.
Student Regent John Isaac Punzalan and Regent Angelo Jimenez, together with Chancellor Jose V. Camacho, Jr. and the members of the UPLB Executive and Management Committees, witnessed the intimate event.
In her message of acceptance, Dr. Barrion-Dupo likened her service to the UP community to that of because of its remarkable qualities. Bees are among the insects that are the subjects of some of her work in research and public service.
"Altruismo, o ang pagpapahalaga sa kalagayan ng iba ang katangian ng bubuyog na aking bibitbitin sa paglilingkod bilang rehente ng unibersidad (Altruism, or the concern for the welfare of others, is a characteristic of a bee that I will bring with me as I serve as a regent of the university,") the UPLB entomologist said.
Dr. Barrion-Dupo finished her BS Agriculture (Entomology) and MS and PhD Entomology from UPLB. Her scientific productivity in the study of insects, such as bees and spiders, have allowed her to contribute to the body of knowledge and conservation of various insect species. These also earned for her some of the highly coveted recognitions given by reputable award-giving bodies in the science community.
She was 2015 Outstanding Young Scientist of the National Academy of Science and Technology and 2020 ASEAN Outstanding Science Diplomat.
At UPLB, she was 2013 Outstanding Researcher and 2017 Outstanding Teacher. She is also a holder of the UP Scientist II appointment.
Dr. Barrion-Dupo added that her abilities to listen and to analyze are two personal qualities that would help her perform her duties and responsibilities at the BOR.
Academic leadership is not new to Dr. Barrion-Dupo. She served as the school secretary of the Graduate School (2017-2020), deputy director of IBS (2015), and coordinator of the UPLB Bee Program (2012-2018). Recently, she was appointed as technical evaluator for agriculture at the Commission on Higher Education.
In his message, President Concepcion said that Dr. Barrion-Dupo shall serve as the strong voice to the BOR on important and pressing matters concerning the faculty members.
For his part, Chancellor Camacho, the dean of GS when Dr. Barrion-Dupo was its school secretary, attested to the compassion of the latter for academic and non-academic personnel and students in the various struggles that they undergo.
"I hope that the depth and breadth of her experiences will inspire and guide her in influencing policies that will address academic concerns in the UP System at these difficult times," Chancellor Camacho said, as she identified Dr. Barrion-Dupo's potential role in helping the faculty members weather the on-going flexible remote learning system at UP due to the COVID-19 pandemic.
In her Plan of Action during her candidacy, Dr. Barrion-Dupo identified teaching and learning support to the faculty who are implementing remote learning as among the four initiatives that she will prioritize in pursuing her vision-mission of providing "Opportunities to further professional growth and Providing an Enabling and Nurturing environment" or OPEN.
Also included in OPEN are a unified tenure system for the faculty members of all constituent universities, capacity building for all teaching faculty, and faculty welfare and benefits.
Prior to the oath-taking ceremony, President Concepcion met with Chancellor Camacho and his Executive and Management Committees to discuss urgent academic and administrative policies in the UP System.
President Concepcion, together with UP Law lecturer, Atty. Gabriela Concepcion, also visited the research, extension, and production facilities of the College of Agriculture and Food Science the same day. (Mark Jayson E. Gloria)
Aligned with our commitment to: