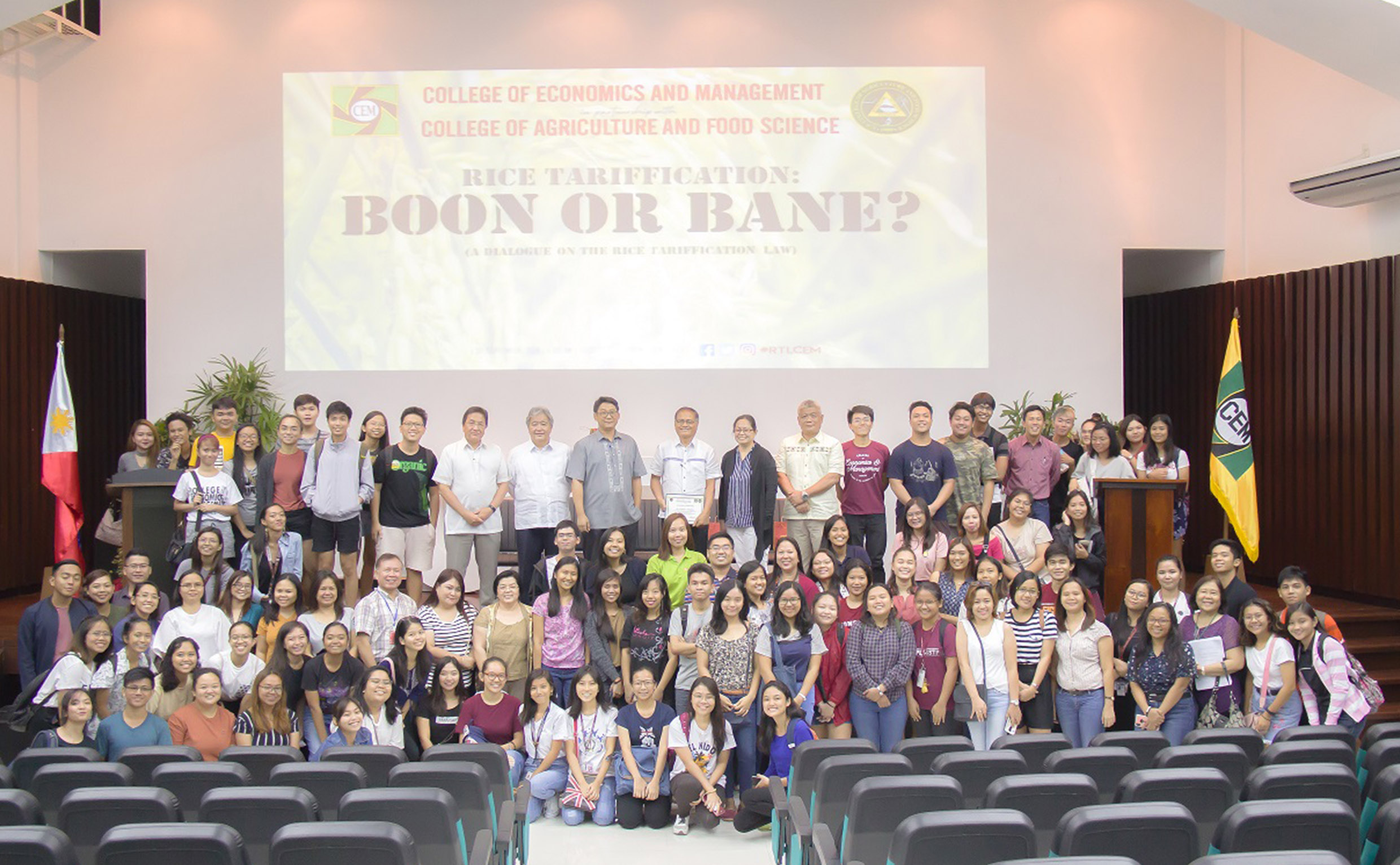 Economists urge youth to speak on Rice Tariffication Law
With the nation witnessing the effects of the Rice Tariffication Law (RTL) since its implementation in March, experts have encouraged students and the youth to participate in the conversation to elevate pressing issues to the country's policymakers.
This transpired at the seminar "Rice tariffication: boon or bane?" on Sept. 30 at the REDREC Auditorium, which aimed to shed light on the effects of rice tariffication on consumers, rice farmers, and Philippine agriculture.
"Make noise in the right places," said Dr. V. Bruce J. Tolentino, a member of the Monetary Board at the Bangko Sentral ng Pilipinas and former deputy director general of the International Rice Research Institute.
"We need to let policy makers know what matters," he said, citing the potential of public clamor to pressure policy makers to include transition budget for the farmers and review land-use conversion laws.
Dr. Tolentino joined two other economists during the learning event – Dr. Cielito F. Habito, professor of economics at the Ateneo de Manila University and former socio-economic planning secretary, and Dr. Flordeliza H. Bordey, deputy executive director for special concerns on the implementation of the Rice Competitiveness Fund (RCEF), Philippine Rice Research Institute.
Dr. Habito urged the youth to put pressure on the Department of Agriculture to prevent them from being complacent and to support the farmers.
He also enjoined the youth to make their voices be heard by registering and voting for "candidates who can be good legislators."
During the seminar, Dr. Tolentino and Dr. Habito explained the nature and consequences of RTL.
According to the two, RTL came after decades of controlling imports instead of focusing on improving local production.
In an effort to help local rice farmers, the government made it a policy in the 1980s to delegate all rice importation to the National Food Authority (NFA). This meant that for decades, half of the budget for rice went to rice importation instead of improving local production.
"It was a shot-gun solution to help 2.1M rice farmers and their families that, at the same time, had collateral damage on more than 100M rice consumers," said Dr. Habito.
The traditional rice policy, they claimed, made local rice two to three times more expensive compared to those from other countries and pressured local manufacturers to increase labor costs for living wages. Controlling the amount of imports also made the government complacent and compromised the competitiveness of Philippine agriculture over time.
"Our rice competitiveness deteriorated because of this artificial barrier that we have put on our own domestic rice production sector. It was the easy way to protect our rice farmers," said Dr. Habito.
They said that the most vital component of the RTL law was the liberalization of the rice trade and limiting the functions of the NFA.
Whereas before, NFA monopolized the rice distribution system, today there are less requirements needed to import and trade rice. RTL also imposes tariffs on imported rice, which will be used to fund the RCEF.
However, they said that RTL also compromised farmers' income just to make cheaper rice available to the public, since they now need to compete with cheap rice coming in from other countries.
Dr. Tolentino said that farmers need two to four planting seasons to adjust since production is dependent on weather and geography. Local rice traders, on the other hand, were thrust into the trade system with limited knowledge of the rice trade due to the years of monopoly by NFA.
To curb these losses, Dr. Tolentino and Dr. Habito said that RTL needs to add a provision for cash transfers and effective productivity support to help farmers during the transition period.
On the other hand, Dr. Bordey, who represented the government, suggested controlling imports through non-tariff measures such as designating a single port of entry or implementing an import calendar that will not jeopardize local rice trade.
Dr. Bordey said that NFA has also been trying to buy from farmers although to be truly efficient, they should buy not only milled rice but also the raw and cheaper palay, and shoulder the process of cleaning and drying them.
Another speaker, Dr. Teodoro C. Mendoza, UP Scientist II and adjunct professor at the College of Agriculture and Food Science (CAFS), said that farmers may instead sell mainly milled rice rather than paláy, and band into cooperatives to lessen the milling cost.
He also proposed creative solutions such as promoting a more plant-based diet and organic farming to lessen production costs and curb dependency on rice as a staple food in favor of nutrition-rich food such as fruits and vegetables.
For the long term, Dr. Habito suggested that government should change its policy direction from achieving food self-sufficiency to food availability.
He said that food security does not always mean full self-sufficiency. He cited Singapore as the 4th most food secure nation in the world despite importing 90% of its food, compared to Thailand and Vietnam, which rank as 51st and 57th, respectively, despite being major food producers.
"What's the use of rice being there physically [if] people cannot afford to buy it?" asked Dr. Habito.
For his part, Dr. Tolentino called for higher investments in science and technology than the current 1% of the national rice program budget. In the medium-term, he called for improvements in building farm-to-market roads and removing corruption in irrigation.
Recognizing that the major players of the game call the shots, the speakers encouraged the students to take action in their own capacity.
"Buy local whenever you can afford it," said Dr. Bordey. "That way the money supports the local trade and circulates back to the farmers."
The seminar was organized by the College of Economics and Management and CAFS. (Jessa Jael S. Arana)